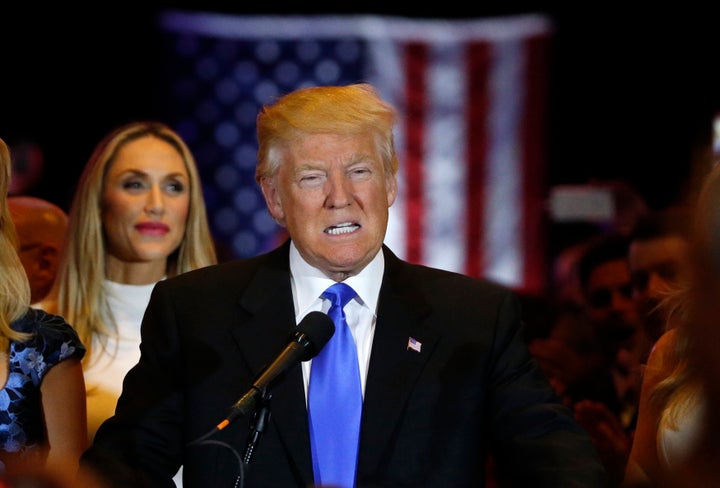 What do you do if you're a Republican lobbyist and your party's presumptive presidential nominee thinks your industry is abominable?
If you're an enterprising influence-peddler like the semi-notorious Jack Burkman, you throw a fundraiser without the candidate's consent, raise as much as possible, and hope it gets you in the door if the nominee becomes desperate for cash.
Burkman will host what he calls "The First General Election Fundraiser for Donald J. Trump for President" on June 1. He hopes to raise as much as $300,000.
Burkman has a penchant for pursuing headlines with as much vigor as he chases clients. He is, among other things, infamous for spearheading a quixotic congressional effort to ban gay players from the NFL -- a campaign made even odder by the facts that, one, his own brother is gay, and, two, lobbyists don't get to openly introduce legislation.
When it comes to Burkman's support of Trump, skepticism seems warranted. Burkman, after all, supported Jeb Bush early in the Republican primary -- a candidate whose humiliation at the hands of Trump was so severe that Bush refuses to back him. Burkman even took out a full-page ad in the Los Angeles Daily News calling Trump a joke.
But there's politics, and there's political business. And Burkman isn't one to let emotional hang-ups get in the way of things like access. Asked if he was hosting the fundraiser as a means of opening doors during a Trump administration, he was refreshingly frank.
"Of course," Burkman said in an interview. "You bet. Of course we do. That's my business."
Apparently, enough people are of the same mindset to form a minyan. Burkman said he expects 150 to 200 government affairs professionals and about 100 defense contractors for his soiree. Ralph Palmieri, a defense contractor (formerly of Lockheed and Sytex), was one name Burkman's spokesman sent as proof that others were indeed attending. Palmieri didn't immediately return a request for comment.
As presidential candidates go, Trump is a tricky one for lobbyists to get behind. For starters, he publicly admonishes them and their ilk. He spent the primary calling his GOP opponents puppets of influence-peddlers and made a big show of how he self-funded his candidacy (which wasn't actually true, of course, since many donations were coming into his campaign).
Burkman is betting that the demands of a general election will make the real estate tycoon reconsider. Trump is, after all, notoriously thrifty. Perhaps he will change his views -- shocking as that may be -- when it becomes clear that he may have to liquidate a building or two to win the presidency.
"He needs to start," said Burkman. "It is already going into June and, as a good Republican, I know this has to get moving or there is not going to be enough time to compete with Clinton. ... Trump has to, he has to get moving."
"Of course. You bet. Of course we do. That's my business."
Trump could, of course, simply refuse to take Burkman's cash; or, more realistically, refund it should he not want to partake in the kind of influence-peddling scheme that he once denounced. But Burkman said he didn't expect a rebuke like that. And he has good reason not to. After all, Trump went from lashing out at casino magnate Sheldon Adelson for funding Sen. Marco Rubio (R-Fla.) to praising Adelson when he announced he'd put $100 million behind Trump's bid.
Even if Trump said no, Burkman said he'd consider launching a super PAC with money from lobbyists and defense contractors to aid the nominee. Trump, he admitted, was a potential meal ticket. But Burkman stressed that there were elements to the candidate that attracted him, too.
There was the fact that Trump reminded Burkman of, well, himself ("He's kind of like a lobbyist"). And then there was one of Trump's most controversial moments during the campaign, which shocked most people, but apparently was inspiring to others.
"I really liked him on the issue when he took on Megyn Kelly in the first debate," said Burkman. "I think he came very close to winning the Republican nomination the first time he spoke on the stage. You remember, Megyn Kelly hit him with a long litany of feminist stuff and he used three words. He said, 'Only Rosie O'Donnell.'
"I think the whole Republican base stood up in unison in that moment and said, 'We have a leader.' That's what did it for me."
Oh, and for the record, Burkman still believes gay football players should be banned from the NFL.
Popular in the Community