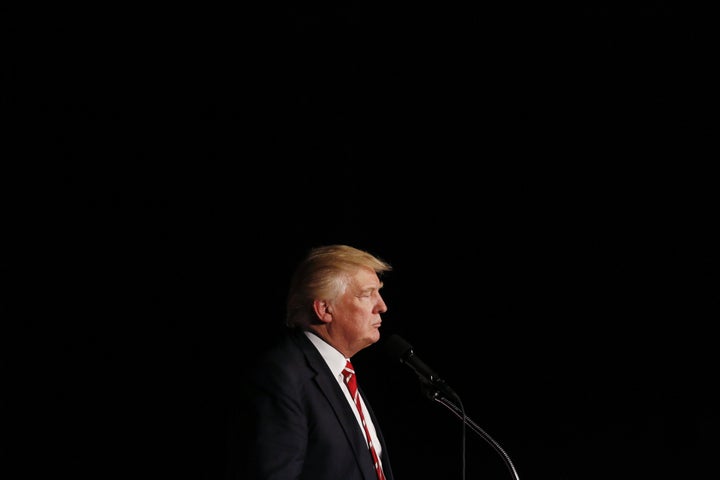 Now, Trump has less than a 15 percent chance of winning the presidency according to HuffPost's election forecast model. And that's all based on polls from before this latest scandal. In order to have a chance at winning the presidency, Trump has to carry several states that are leaning toward his opponent, including Ohio, Florida, Pennsylvania and Wisconsin. 
The worst news for Trump comes out of Ohio. The Buckeye State had been tilting toward the Republican throughout September, but his lead has evaporated in the last two weeks. A new CBS/YouGov poll shows Clinton leading by 4 points, 46 percent to Trump's 42 percent. The HuffPost forecast model was calling Ohio for Trump, but that shifted over the weekend. We're now calling it for Clinton ― only with 57 percent certainty, but the trend line is bad for Trump.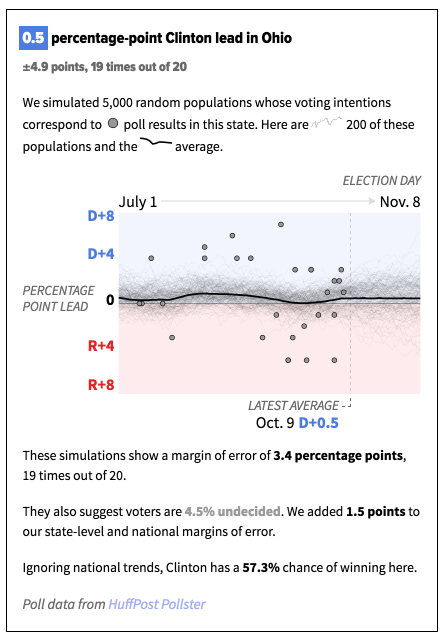 Florida has been leaning toward Clinton on average for most of 2016, but a few occasional polls have shown Trump leading. The new NBC News/Wall Street Journal/Marist poll continues a trend of Clinton leading Trump by a few points ― she's up 45-42, with Libertarian nominee Gary Johnson coming in at 5 percent and the Green Party's Jill Stein at 3 percent. Without Johnson and Stein, she leads 46 percent to 44 percent.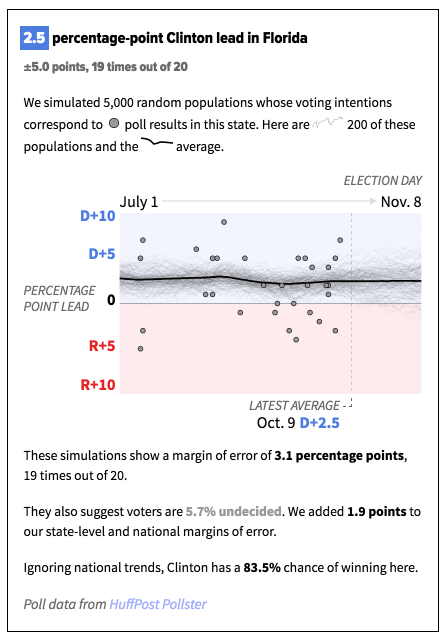 This morning's CBS/YouGov poll puts Clinton up by 5 points in Wisconsin, 43 percent to Trump's 38. Polls have indicated the race is tightening in the Badger State, so keep an eye on this one. However, its 10 electoral votes won't be enough to swing the election without several other states.
Two polls in Pennsylvania show Clinton winning by sizable margins. An NBC News/Wall Street Journal/Marist poll has the Democratic nominee up by 12 points. She leads Trump 49-37, with Johnson coming in at 6 percent and the Stein at 4 percent. Without Johnson and Stein, Clinton leads 51 percent to Trump's 39 percent. A CBS/YouGov poll finds an 8-point lead for Clinton, 48 to 40.
Clinton has led in most recent Pennsylvania polls, and the state has never looked very competitive. But the Keystone State is important because its 20 electoral votes put Clinton up to 247 in the HuffPost forecast model before even accounting for any close states ― and Clinton has a 95 percent chance of winning it. Of the closer contests, Clinton only needs to win in Michigan and Wisconsin to reach over 270 electoral votes. Winning Florida's 29 electoral votes alone would seal the deal. Clinton has more than an 80 percent chance of winning each of those three ― Michigan, Wisconsin and Florida.
The first national poll conducted after the video controversy erupted ― a Politico/Morning Consult poll conducted entirely on Saturday ― showed no decline in Trump's numbers despite largely negative views of the video itself. But the story was still developing as more GOP leaders pulled support from Trump Saturday afternoon and evening. It will take a few days to discern whether the video controversy and subsequent revoked endorsements hurt Trump in the polls.
But it probably doesn't matter much anyway. He was already losing.  
Sign up for the HuffPost Must Reads newsletter. Each Sunday, we will bring you the best original reporting, longform writing and breaking news from the Huffington Post and around the web, plus behind-the-scenes looks at how it's all made. Click here to sign up!
Calling all HuffPost superfans!
Sign up for membership to become a founding member and help shape HuffPost's next chapter