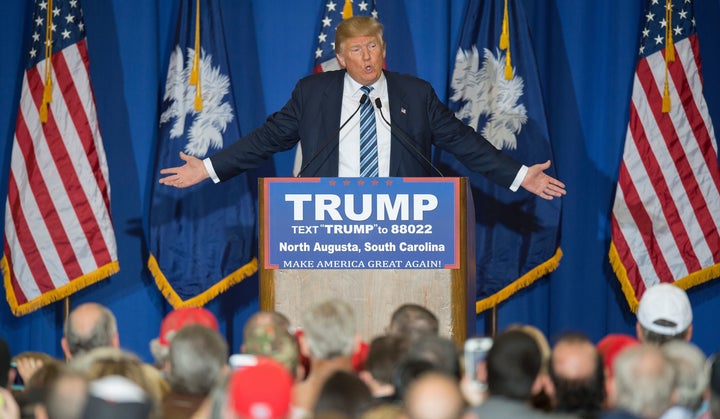 MOUNT PLEASANT, S.C. -- Throughout his 22 years in the trenches of South Carolina politics, U.S. Rep. Mark Sanford has seen more than enough to justify the state's distinctively colorful reputation.
For starters, there was the time in 2009 when, as governor, Sanford forever redefined the meaning of "hiking the Appalachian Trail." And before that came the particularly heated presidential primary campaigns of 2000 and 2008 when a racially charged environment on both the Republican and Democratic sides further cemented South Carolina's status as a breeding ground for campaign trail nastiness. 
Sanford, however, said he has never seen anything that quite matches the overtly rancorous tenor that Donald Trump and several other leading Republican candidates brought to Saturday night's debate in Greenville, which Sanford said was "so far outside the norm" of anything that typically takes place in public view. 
But this is not a typical election. It is, instead, one in which the GOP front-runner has most recently paid no apparent political price for denigrating America's most prominent Republican family and singling out George W. Bush in particular for failing to prevent the 9/11 attacks -- a previously unthinkable challenge for a serious White House aspirant from either party. 
For a brief moment, Sanford -- like many other prominent Republicans -- believed the 9/11 argument would mark the turning point against Trump. 
"I thought, frankly, that that would be a Waterloo moment because everybody's got their Waterloo moment," Sanford told HuffPost at a Wednesday rally for presidential candidate Sen. Marco Rubio (R-Fla.).
Instead, Trump is still riding high, as the rest of the Republican field continues to flail in their uneven attempts to knock him off his horse. 
"I don't understand it," Sanford said. "It defies all political conventions, certainly. I've run statewide six times between primary runoffs and generals. That's a lot of crisscrossing the state over the years. All I can think is there's some deeper things afoot."
The steepest challenge in taking on Trump to date has been the very nature of the still heavily divided GOP field. Without having settled on which candidate is best positioned to take him on, anti-Trump Republicans have been their own worst enemy. 
That dynamic, however, may be in the process of changing. 
The State reported later on Wednesday that Gov. Nikki Haley -- the most popular Republican politician in South Carolina -- will endorse Rubio for president. Haley's move is a significant development that could help the Florida senator to coalesce more of the non-Trump vote.
It also serves as a reminder to other like-minded Republicans who'd like to see Trump defeated: Time is running out. 
"Stop Trump!" It's a rallying cry that large swaths of the GOP previously attempted to shout from the fields of Iowa and the mountains of New Hampshire. And yet Trump is maintaining a massive lead over the rest of the field here with no candidate appearing ready to get out of the race.
"The numbers don't add up -- they don't," said South Carolina Republican strategist Chip Felkel. "There's just not enough votes to go around to slow Trump down, unless everybody takes a humble pill and recognizes that. Now, convincing any number of candidates or campaign managers that it's time to roll up the tent is a whole other equation. If they've got money, they can always make the case that there's another day to fight."
Conversations with several attendees at Rubio's rally revealed a consensus that the first-term senator still has work to do in sealing the deal among Republican voters here who are averse to Trump's candidacy.
Mike Ravis of Mt. Pleasant said he is leaning toward Rubio but still has some misgivings.
"It seems like Trump's got this one locked up right now, so really the determining factor is who is second and third right now in South Carolina," Ravis said. "One thing that concerns me with Rubio is with his experience. We had the same thing with the current president."
Mark Fitzpatrick, also of Mt. Pleasant, said Rubio's collapse in New Hampshire would not preclude him from supporting the Florida senator but added that he still has not made up his mind.
"Of all the candidates, I think he's the smoothest up there -- the most articulate -- and I also think he's got the 'it' factor," he said of Rubio.
Fitzpatrick said he likely would consider the polling data before casting his ballot on Saturday, echoing a common sentiment here that he intends to vote using his head, rather than his heart.
"If it was Jeb [Bush], Rubio and [Ted] Cruz, I would vote for Jeb," he said. "And I would vote for Jeb because he's run something. I like when governors run because they've been CEO of a major state, whereas these guys have not been."
For his part, Rubio has worked recently to emphasize his accomplishments in the Senate and in the Florida Legislature, even as he has argued the election is "not a resume contest."
In his remarks on Wednesday morning, Rubio did not once mention Trump, but with a speech that leaned heavily on defining and defending what it means to be a true conservative, the implied contrast was clear enough.
George Klein, another undecided South Carolina Republican primary voter, sounded like he was almost ready to commit -- assuming that Rubio gets a lift in the polls following the Haley endorsement.
"I pretty much want to vote as strategically as possible to make sure that an alternative to Trump would win," he said. "I don't know how to determine that -- polls, possibly. I like Rubio very much."
Sanford, however, remained inscrutable. 
Dressed casually in a fleece pullover and khakis, the former governor and current congressman greeted well-wishers at the back of the room after Rubio had wrapped up his speech.
Asked whom he was supporting in the race, Sanford said he didn't "have a dog in the fight." But he also made it clear there is one particular dog in the fight that he'd rather see tied to a leash before further damage to the GOP brand is inflicted. 
"Where Trump is doing the best is the upstate -- that's the evangelical Bible Belt of our state -- and there's a degree of civility and decorum in the way that people conduct themselves up there," Sanford said, all but shaking his head in disbelief. "If [Trump] wins with the numbers they're talking about, I think he goes all the way."
PHOTO GALLERY
Declared 2016 Presidential Candidates
REAL LIFE. REAL NEWS. REAL VOICES.
Help us tell more of the stories that matter from voices that too often remain unheard.