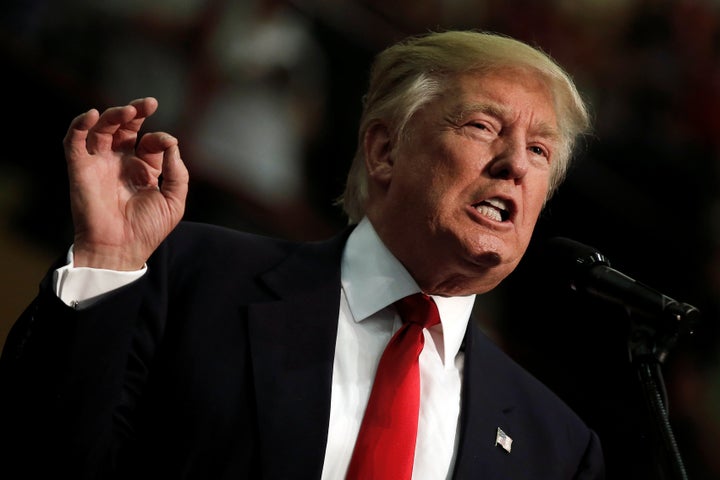 Donald Trump on Tuesday formally proposed that the federal government guarantee up to six weeks of paid leave to new mothers.
Although the plan is characteristically short on detail and appears to lack adequate funding, it represents a sharp break with the Republican establishment, which has traditionally dismissed such proposals as job killers that lead to too much government involvement in Americans' lives.
A Trump advisor, who spoke to reporters ahead of a Tuesday evening speech from the GOP nominee, also filled in details on a widely criticized child-care proposal the businessman floated in August that many saw as a tax giveaway to the wealthy. His daughter Ivanka Trump joined him while he spoke about the plan during an event in Aston, Pennsylvania. She was involved in creating the proposals, according to the campaign.
Trump's updated plan would allow families to deduct child care expenses, up to the average cost of child-care in their states, from their income taxes. The deduction would be available to individuals with incomes up to $250,000 and couples who make less than $500,000 ― thereby excluding the wealthiest American families, but still giving benefits to large numbers of high-income people. Median household income in the U.S. is around $56,000. Families too poor to pay income tax would also get assistance, but it would generally be smaller in value.
The plan all part of a broader effort for the former reality TV personality, at the urging of Ivanka Trump, to appeal to women, who so far haven't warmed to a candidate with a long and troubling track record of insulting them.
And it's a sign of how mainstream maternity leave policy has become over the past few years. Once a pipe-dream of progressives, more and more Americans now seem to agree that something needs to be done for the nation's working parents ― many of whom face hard choices when it comes to having children.
The U.S. is the only developed economy in the world ― one of just a handful of countries on Earth ― that offers no paid leave to new mothers.
Of course, just how much Trump's policies would help people struggling with work-family issues and financial stress is another question.
A campaign advisor said the new leave benefit would be funded by "eliminating fraud" in unemployment insurance, which one 2013 study estimates to be $3.3 billion a year ― but Trump's new proposals would likely cost far more.
Still, Trump seems to be crafting an almost progressive agenda ― albeit one that completely ignores the notion that modern parenting also involves men.
By limiting this benefit to mothers, Trump is inadvertently incentivising employers to discriminate against women, said Carmel Martin, a vice-president for policy at the Center for American Progress. "Conservative economists have acknowledged that limiting benefits to mothers creates an incentive for employment discrimination and an increased gender wage gap," she said.
No GOP presidential candidate has ever proposed anything close to paid maternity leave and Republicans mostly oppose such a benefit. Conservatives have criticized guaranteed paid leave as a giveaway — including Trump adviser A.J. Delgado, who tweeted disparagingly about the idea in 2014 and then praised the Republican nominee's plan on Tuesday.
Delgado objected to the comparison on Tuesday, saying the plans she criticized were different from Trump's.
Sen. Marco Rubio (R-Florida) floated the idea of a tax deduction for companies that offer paid leave during the presidential primary season, but Trump's plan goes way further. His proposal is far more similar to those from Democrats ― including Democratic presidential nominee Hillary Clinton, and her successor in the Senate, Kirsten Gillibrand (D-NY). Gillibrand's Family Act would be funded by a payroll tax split between workers and employers, and provide for 12 weeks of leave for all caretakers ― not just women.
It's striking that Trump's plan would only cover women ― a campaign adviser called it "maternity leave" and made no mention of fathers or other caregivers. The Trump campaign confirmed it would not include paternity or other caregiver leave.
Advocates for paid leave, while encouraged that more politicians were embracing the need for leave policy, were quick to call him out for ignoring men, adoptive parents and those who care for sick relatives.
"It's great to see candidates addressing the need for paid leave, given that the U.S. is at the very bottom of the world's nations," said Ellen Bravo, the director of Family Values @ Work, a coalition of groups that advocate for paid leave. "But we need to remember that it's not just pregnant women who welcome new children. Fathers and adoptive parents need time as well. Even those who aren't parents have parents or partners or other loved ones who occasionally need care, and everyone is liable at some time to have surgery or need to recover from a serious illness." Bravo's group supports Gillibrand's Family Act.
The maternity leave benefit would only apply to women who work at companies that do not provide paid leave. That troubles even some conservatives. "That could be an incentive for employers to reduce the amount of paid leave offered," Ben Gitis, the Director of Labor Market Policy at the conservative American Action Forum the Huffington Post. Gitis also had questions about how the new benefits would be funded and how much they would cost. "Like a lot of people, I'm just kind of scratching my head over a lot of this stuff," he added.
Trump also wants to set up tax-free savings accounts to help parents set aside money for education and enrichment. Those savings accounts would be available to non-parents to care for their elderly parents as well, according to the campaign adviser.
"Donald Trump's proposal, a transparently political attempt to win over the women voters who have fled from him this election, does the bare minimum for women and families," Kate Black, vice-president of research at Emily's List told The Huffington. "Women will see through this charade."
Clinton's proposal would guarantee double the leave that Trump's does ― 12 weeks to his six weeks ― and apply to fathers and those who need to care for an ill family member rather than only to mothers.
Trump had spoken very little about child care until recently. His daughter Ivanka Trump devoted a portion of her Republican National Convention speech to the topic, promising policies to help women that fell outside the party platform. And the GOP nominee said last month that child care would be a part of his economic plan, though he provided very little detail.
As a businessman, Trump has been less positive about maternity leave.
"It's a wonderful thing for the woman, it's a wonderful thing for the husband, it's certainly an inconvenience for a business," he said in a 2004 "Dateline" interview. "And whether people want to say that or not, the fact is it is an inconvenience for a person that is running a business."
Jonathan Cohn contributed reporting.
This article has been updated to include comment from Carmel Martin and Ben Gitis and additional information on Trump's stance on maternity leave.
Sign up for the HuffPost Must Reads newsletter. Each Sunday, we will bring you the best original reporting, longform writing and breaking news from the Huffington Post and around the web, plus behind-the-scenes looks at how it's all made. Click here to sign up!
Support HuffPost
The Stakes Have Never Been Higher
Before You Go
Babies who hate Trump
Popular in the Community