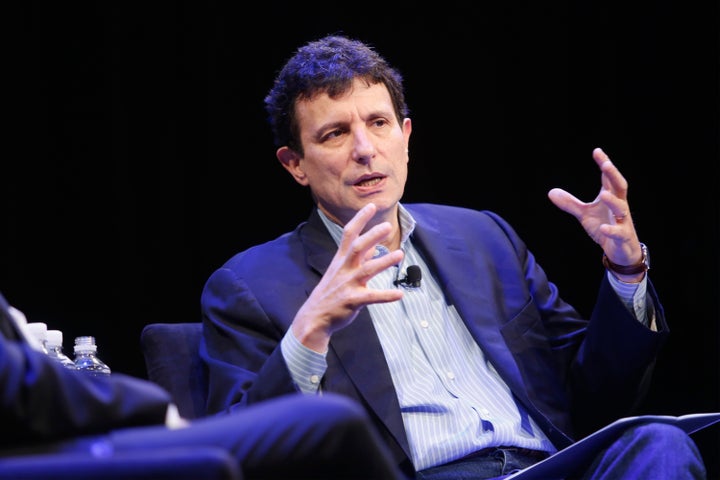 NEW YORK ― The journalist's job, in many ways, remains the same under President Donald Trump: report aggressively and factually and hold power to account.
But even as editors reaffirmed that fundamental role of the press during a Wednesday night panel at NYU, there was a shared sense of urgency and concern that even the most intrepid reporting alone won't cut it during these uncertain times. Trump, said New Yorker editor David Remnick, has already "begun to challenge constitutional and democratic norms,"
"That isn't politics," Remnick said. "That's an emergency."
It's not only Trump's vilification of the press, evident throughout the campaign, that presents a threat to journalists covering his presidency. There's also deep public distrust of the press and the unraveling of a fact-based consensus allowing for government propaganda to gain the same footing as journalistic truth.
NYU journalism professor Jay Rosen addressed this concern in an introduction to Wednesday night's Slate-sponsored panel, which was moderated by CNN's Brian Stelter and featured Remnick, Huffington Post editor-in-chief Lydia Polgreen, Slate chairman Jacob Weisberg and Univision Digital editor-in-chief Borja Echevarría.
"Even if the [the press] successfully investigates the Trump government and publishes Watergate-style revelations, those truths will emerge into an atmosphere that is organized to defeat them and ignore them and belittle them," Rosen said.
Stelter kicked off the conversation by asking about Trump's stated war on the press, which Polgreen said she'd prefer not to be a participant in.
"He seems to feel the need to have a bogeyman, an enemy, someone to point to as the culprit, the people who were getting in the way of making America great again," she said. "At one point, it's immigrants. At another point, it's Muslims. You know, as they say, it's not your fault, it's just your turn."
Polgreen said journalists can respond to Trump's call to arms with "dispassionate reporting of fact," though she questioned whether that weapon will be enough given the increasing distrust of establishment media sources.
"It's almost as if we need to rebuild media literacy in the United States because that trust has been so eroded," she said. "Unless you want to just speak to your media elites, and that's fine."
The sold-out crowd at NYU's Skirball Center surely included a lot of the fans of the so-called media elite and few, if any, Trump supporters. Some jeered at the mention of even a New York Times conservative voice like David Brooks, and many cheered in response to a call for the press to skip the upcoming White House Correspondents Dinner.
"Faced with these attacks on our doing our job, we're going to invite this guy to come and mock us in person?" Weisberg said. "It's abhorrent."
Weisberg argued that Trump's unprecedented "authoritarian tendencies" and the failure of Congress to serve as a check on power has left the press as the only mechanism challenging government power in real time.
Though Remnick argued that this "is not a normal presidency," he said journalistic "principle is the same: pressure on power." And the press, Remnick said, needed to "buck up" and report on the administration "ferociously and honestly and fearlessly."
Echevarría suggested another way to tweak Trump's media "war" by emphasizing to the public that attacks on speech and expression hurt them rather than only journalists.
"I think we have explain to our audience, to the people, that this is not about media," he said. "This is about freedom of information, freedom of speech, access to information. And we have to find way to explaining that to our audience. It's not about us, it's about all of us."
How to reach Trump supporters, and others disenchanted with the news media, wasn't solved in 90 minutes. However, Polgreen suggested the answer to reaching more people is less likely to come in the form of a new widget and more in returning to a crusading style of journalism in which people believe the press is working on their behalf.
"I don't think that the answer to that is a fact-check bot. I don't think the answer to that is a cool explanatory video," she said. "I think the answer to that is fundamentally changing the tone tenor of how we do journalism about people's lives and trying to rediscover that sense of empathy."