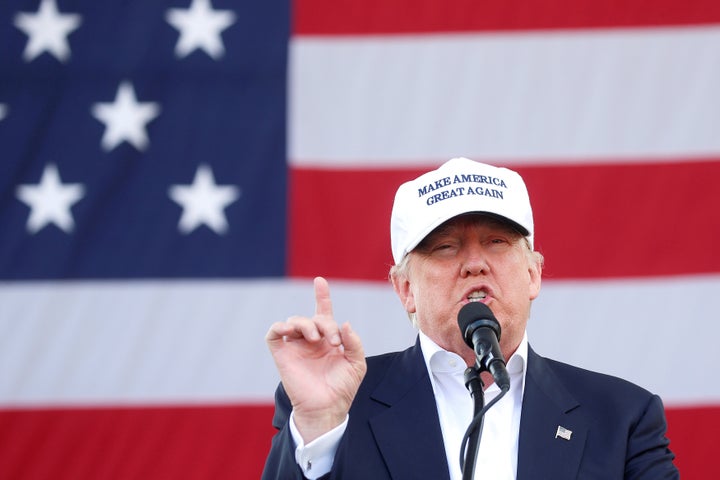 GOP presidential nominee Donald Trump recklessly singled out NBC News correspondent Katy Tur on Wednesday afternoon during a recurring riff about how the media supposedly won't show the size of his audiences.
"We have massive crowds. There's something happening," Trump said. "They're not reporting it. You're not reporting it, Katy. There's something happening, Katy. There's something happening, Katy."
Tur surely knows something is happening, given that she's covered Trump's entire campaign and has also endured several of his onstage outbursts. During a rally in December, Trump called Tur a liar and a "third-rate reporter." As Tur later recalled, the crowd, "feeding off Trump, seemed to turn on me like a large animal, angry and unchained." The Secret Service walked her to her car that night.
Despite Trump's onstage outrage, it is "factually untrue" to say members of the media don't cover his crowds ― and the candidate knows it, Tur said on MSNBC Wednesday night.
"This is a shtick that he does to rile up his base," she said. "It's to give them an excuse for polls that might not be in his favor. It's to give them an excuse to berate somebody other than Donald Trump, and to blame somebody for something that doesn't look as good as they want it to look."
A former reality TV star, Trump grasps in more detail than the average politician how he's filmed onstage.
For instance, TV networks use a stationary "pool" camera to cover what Trump says, and they share that footage. Trump is apparently aware this specific camera won't budge while he's onstage, yet he complains about it anyway.
"Donald Trump has joked in private, because he is a man who does entertainment for a living, he understands how it works, or he used to, at least. He understands the production quality of this," Tur said. "And he's joked about how he knows how a 'pool' camera works."
Tur added that "oftentimes, when he's playing to the camera and saying we don't move our cameras to show these crowds, the cameras are all looking in opposite directions showing crowds."
Another reporter in Miami on Wednesday backs that up.
For instance, here are just a few crowd shots in Miami from Getty and Reuters: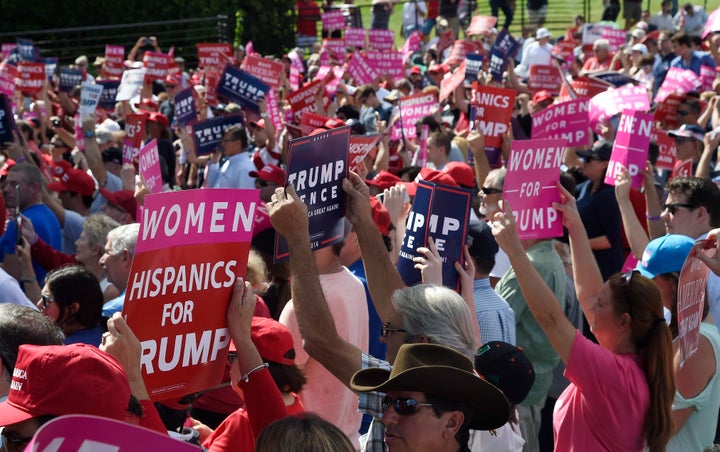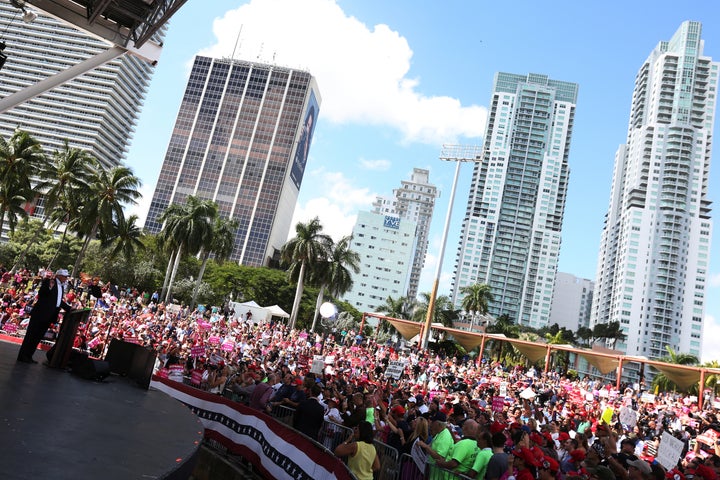 Trump, a creature of the entertainment industry, may be playing up his grievances onstage, but his attacks on the journalists have consequences offstage.
The Republican nominee has shown little regard for the safety of journalists while stirring the crowd into an anti-press frenzy.
Days later, in Phoenix, a Trump supporter chanted "Jew S.A." at reporters. And on Wednesday in Miami, a Trump supporter accused reporters of selling out "for a few shekels."
As ugly as the comments are, the bigger concern is that Trump's vitriol leads to violence. Last week, CNN's Wolf Blitzer told Trump campaign manager Kellyanne Conway that he was worried about journalists at Trump events, especially the young embedded reporters who travel full-time to cover the campaign.
"They go to all these rallies, they're in this pen, he points to them, he sort of eggs the crowd on to go after them," Blitzer said. "They're a lot of young journalists, they're scared sometimes."
Blitzer asked Conway if she'd talk to Trump about the situation. Conway said she would, and suggested Trump was probably watching CNN at the time.
Trump's singling out of Tur prompted solidarity tweets from journalists using the hashtag #ImWithTur. Blitzer raised the issue again on Wednesday with Conway, who said she'd spoken to Trump after their last interview, as well as NBC News.
Conway said the campaign wants "fair coverage" and for "everybody to be safe at our rallies."
"He's not asking people to be mean to her," Conway added, in reference to Tur. "He's not asking people to do anything, God forbid. He basically calls out some people in the media once in awhile to say please show our crowds."
Which is something the media's already been doing for 16 months.
Popular in the Community