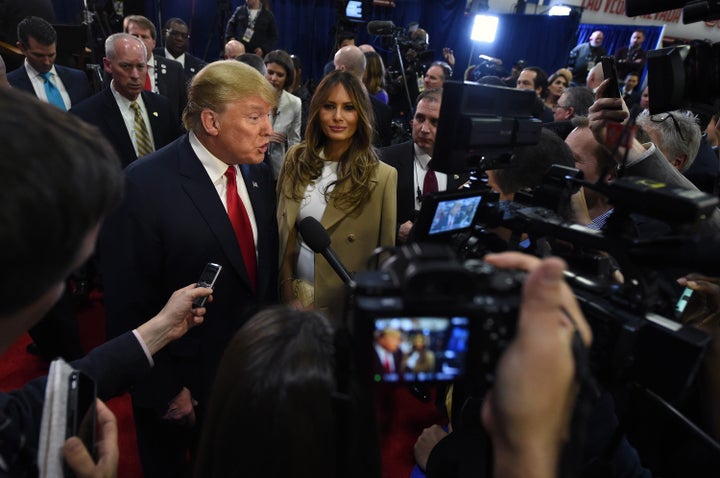 NEW YORK -- Donald Trump's finally getting some much-deserved media scrutiny these days, now that he's perched atop the Republican Party, but he had a much easier time on his way up.
Trump, who launched his presidential candidacy a year ago this week by attacking Mexican immigrants as "rapists" and drug dealers, began receiving obsessive coverage out of the gate, as every outrageous statement fueled news cycles and pushed most of the other Republican candidates to the margins.
While news organizations have typically focused on the actual frontrunners in the year leading up to a presidential election, journalists this cycle quickly turned the spotlight on a low-polling reality star quick to make incendiary, headline-grabbing remarks.
Professor Thomas E. Patterson examined news coverage from 2015, a period dubbed the invisible primary, and found that Trump received an "unusual" amount of attention at time when there was little indication by way of polls that he could win.
"Upon entering the race, he stood much taller in the news than he stood in the polls," Patterson wrote. "By the end of the invisible primary, he was high enough in the polls to get the coverage expected of a frontrunner. But he was lifted to that height by an unprecedented amount of free media."
Though Trump certainly received some negative coverage last year, Patterson found the media's heavy focus on him to be beneficial to his candidacy.
"Trump's coverage was positive in tone—he received far more 'good press' than 'bad press,'" Patterson wrote. "The volume and tone of the coverage helped propel Trump to the top of Republican polls."
The Shorenstein report cites data from Media Tenor, a firm that analyzes news coverage, and focuses on eight major news outlets: CBS, NBC, Fox, The New York Times, The Washington Post, The Wall Street Journal, The Los Angeles Times and USA Today. Patterson found that each outlet's coverage of Trump was generally favorable.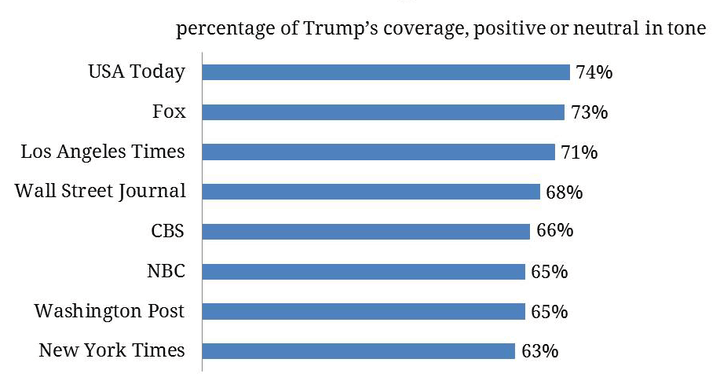 A lot of the favorable coverage stemmed from the media's tendency to focus on the campaign horserace instead of candidates' policy positions. More than half of the coverage of Trump was focused on the horserace and campaign activity, Patterson found, while "only 12 percent of Trump's coverage addressed his issue stands and political beliefs."
Patterson also looked at the Democratic contest, which "got less than half as much news exposure as the Republican race" and really only picked up as presumptive nominee Hillary Clinton's lead over Sen. Bernie Sanders (I-Vt.) began to shrink late in the year.
Though he was largely ignored early on, Sanders received the most favorable coverage of any Republican or Democratic candidate during his unlikely rise, according to the study. Meanwhile, Clinton got the least favorable coverage of any leading Republican or Democratic contender.
"Whereas media coverage helped build up Trump, it helped tear down Clinton," Patterson wrote. "Trump's positive coverage was the equivalent of millions of dollars in ad-buys in his favor, whereas Clinton's negative coverage can be equated to millions of dollars in attack ads, with her on the receiving end."
News organizations gravitated toward the Trump phenomenon, Patterson concluded, because "journalists are attracted to the new, the unusual, the sensational—the type of story material that will catch and hold an audience's attention."
"Trump fit that need as no other candidate in recent memory," he wrote. "Trump is arguably the first bona fide media-created presidential nominee. Although he subsequently tapped a political nerve, journalists fueled his launch."
Related
Popular in the Community