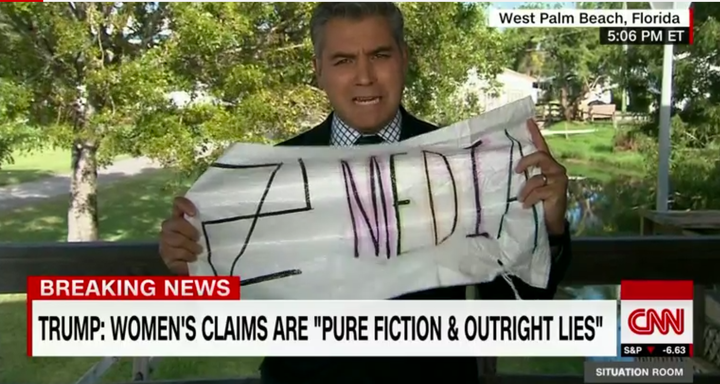 When reporters returned to the media section of a Donald Trump rally Thursday afternoon in West Palm Beach, Florida, there was a swastika waiting for them.
The nominee, appearing desperate and unhinged, had just unloaded on the New York Times and other news outlets for reporting on allegations of inappropriate sexual conduct, behavior consistent with the vulgar and predatory boasts he made on a hot mic recording unearthed last week. During the Florida rally, Trump claimed the media and banks were part of a global "conspiracy" being waged against the American people, basking in anti-Semitic themes once relegated to the white nationalist fringe.
It's unclear if whoever left the swastika was a neo-Nazi or was calling the media Nazis. Either way, the message was clear: We hate you.
Trump has vilified the "dishonest" and "sick" media throughout his presidential run and treated journalists with unmatched hostility on the campaign trail. The Committee to Protect Journalists took the unprecedented step Thursday of designating Trump a threat to press freedom "unknown in modern history."
Reporters covering Trump aren't strangers to having insults hurled from the rafters or even enduring sexist and anti-Semitic tirades from the nominee's fans. But journalists say the abuse has only escalated in recent days as Trump's rhetoric becomes even more vitriolic.
"It's shaping up to be a race to the bottom in the final weeks of this campaign," CNN's Jim Acosta said Thursday, holding the swastika image on air.
"It is, at times, getting downright scary," Acosta said. "The people who are surrounding our press pen at the end of these rallies are really yelling some things at us that they would not want caught on a hot mic moment. It's pretty bad stuff."
Several journalists covering Trump's rally that followed, in Cincinnati, described the mood getting darker.
"Crowds that once booed and shouted at the press mainly at Trump's prompting — when he would decry them as 'dishonest' and 'scum' or demand that television cameras pan his crowds — have now begun spontaneously targeting the press on their own, at a scale not yet seen in this campaign, or any in memory on American soil," wrote Politico's Ben Schreckinger.
Some reporters who've covered Trump agreed that the situation has been worse in recent days, but also cautioned that geography and crowd size can play a role the level of antagonism toward the press.
At Thursday night's large rally in Cincinnati, The Washington Post's Jose DelReal tweeted that the "the vitriol toward the media here is as bad as I've ever seen it."
DelReal wrote about "boos and cursing and middle fingers as soon as traveling press walked in," a scene he and other Trump reporters captured on video.
Want all the latest news in politics that matters to you? Sign up here to get it delivered straight to your inbox.
Popular in the Community