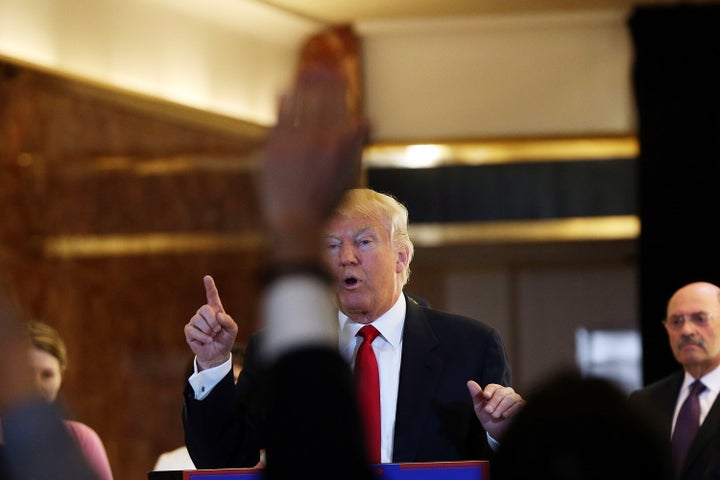 NEW YORK ― Donald Trump repeatedly attacked the "dishonest" press on Tuesday for pressing him to explain where the nearly $6 million he claimed he'd raised for veterans had gone.
The business mogul's open hostility toward reporters was on full display throughout the press conference at Trump Tower ― a contentious performance he suggested would continue if he is elected president. Stories asking where the money went were "probably libelous," he said, a troubling accusation given his open musing about modifying libel laws to better target news organizations.
In the days leading up to the Feb. 1 Iowa caucuses, Trump received extensive media coverage for savvily skipping a Fox News Republican debate due to his on-again, off-again spat with anchor Megyn Kelly. During this gambit, he not only stole the spotlight but also claimed to have raised almost $6 million for veterans, $1 million of which he'd personally pledged.
News organizations understandably followed up, and were met with a Trump campaign unwilling to provide details.
In March, Trump spokeswoman Hope Hicks criticized reporters for asking about the money, telling The Washington Post's David Fahrenthold, who has doggedly covered the issue, that the press shouldn't "disparage Mr. Trump's generosity."
Trump campaign manager Corey Lewandowski recently declined to reveal where the $1 million personal donation had gone after the Post reported that 22 veterans charities said they hadn't received it. Last week, Trump called Fahrenthold a "nasty guy" for staying with the story.
The reality TV star kept the insults rolling on Tuesday as he berated other reporters who asked him about the donations.
"It seems as though you're resistant to scrutiny, the kind of scrutiny that comes with running for president of the United States," CNN's Jim Acosta said during the news conference.
"I like scrutiny," Trump responded. "But you know what? Excuse me. Excuse me. I've watched you on television, you're a real beauty." (He wasn't being complimentary). He next called ABC News' Tom Llamas a "sleazy guy."
"I have never received such bad publicity for doing such a good job."
Trump's view that "the press should be ashamed of themselves" for following up on his claims shows a fundamental misunderstanding of reporters' roles. The news media isn't just there to promote his candidacy, but to vet him him as he seeks the nation's highest office.
"Instead of being like, 'Thank you very much Mr. Trump' or 'Trump did a good job,' everyone says, 'Who got it? Who got it?'" he said early in the press conference. "I have never received such bad publicity for doing such a good job."
CBS News' Major Garrett later asked Trump, "Don't you believe you should be accountable to the people?"
"I'm totally accountable," he replied. "I didn't want to have credit for it. Actually, what I got was worse than credit. They were questioning me."
Trump's press conference was carried live for around 45 minutes on CNN, MSNBC, and Fox News. The GOP hopeful was less critical of reporters who veered away from questions over his campaign's evasiveness about the donations.
Related
Popular in the Community