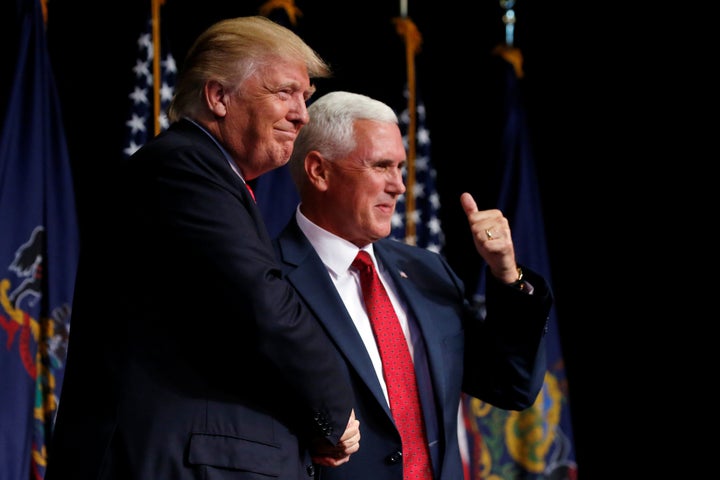 Even as Donald Trump's presidential campaign has denied press credentials to news organizations throughout the 2016 election season, journalists generally have had another option: Get a ticket, like anyone else, and walk in.
But in a disturbing interaction Wednesday night, private security, in tandem with local Milwaukee law enforcement, detained and patted down Washington Post reporter Jose DelReal while searching for his cellphone at a public event featuring GOP vice presidential candidate Mike Pence. DelReal, who had already been denied entry with the press, was then also prohibited from attending as a member of the public.
Trump placed the Post on his campaign's media blacklist last month in response to the paper running a headline he considered unfair. The refusal to grant press credentials to nearly a dozen news outlets, including Politico, BuzzFeed, The Daily Beast, Univision and The Huffington Post, is unprecedented in American presidential politics. The Trump campaign has also placed harsh restrictions on journalists' movements at events, which have at times been enforced by the Secret Service.
It's bad enough that the Trump campaign has denied press credentials, but Wednesday's episode was more troubling ― essentially, security decided that a journalist can't enjoy the same rights as any other citizen. Members of the public can take pictures with their phone and share the images on social media, but apparently a journalist attending with the public cannot.
While Candidate Trump has already invited comparisons to authoritarian rulers in dealing with the press, the heavy-handed tactics relayed in the Post's account of the incident should only heighten concerns about how a President Trump might clamp down on the media.
"[DelReal] was stopped there by a private security official who told him he couldn't enter the building with his laptop and cellphone. When DelReal asked whether others attending the rally could enter with their cellphones, he said the unidentified official replied, "Not if they work for The Washington Post."

After placing his computer and phone in his car, DelReal returned to the line and was detained again by security personnel, who summoned two county sheriff's deputies. The officers patted down DelReal's legs and torso, seeking his phone, the reporter said.

When the officers — whom DelReal identified as Deputy John Lappley and Capt. Michelle Larsuel — verified that he wasn't carrying a phone, the reporter asked to be admitted. The security person declined. "He said, 'I don't want you here. You have to go,' " DelReal said.
Pence press secretary Marc Lotter told the Post that campaign volunteers misinterpreted the campaign's policy and noted that "our events are open to everyone."
However, a Politco reporter who attended a rally with a general admission ticket last month was ordered out of the event while working on a laptop.
Lotter did not respond to HuffPost's request for clarification as to what the campaign's position is on reporters attending events with the public.
"I haven't received any updates or assurances from the Trump-Pence campaign about attending their events," Steven Ginsberg, the Post's senior editor for politics, told HuffPost. "We will continue to cover their campaign in the same aggressive, comprehensive and unflinching way we have for the past 18 months, no matter what form their ban takes on any given day."
The Post, and other banned outlets, face several disadvantages beyond simply being blacklisted from events. Last week, the campaign began using a press charter, which allows journalists to fly close behind Trump or Pence as they criss-cross the country. Banned journalists have to arrange domestic flights that make it more difficult to reach events on time.
And even if they get to an event and are allowed to enter with the public, they still probably won't be allowed to bring along a laptop. The advantage to entering with the press isn't just getting in faster, but also having a workspace and Wi-Fi access to file stories on deadline.
Some journalists have hoped that the Republican National Committee would intervene now that Trump is officially the party's nominee. So far, that hasn't happened.
An RNC spokesman did not immediately return a request for comment.
Editor's note: Donald Trump regularly incites political violence and is a serial liar, rampant xenophobe, racist, misogynist and birther who has repeatedly pledged to ban all Muslims ― 1.6 billion members of an entire religion ― from entering the U.S.
Related
Popular in the Community