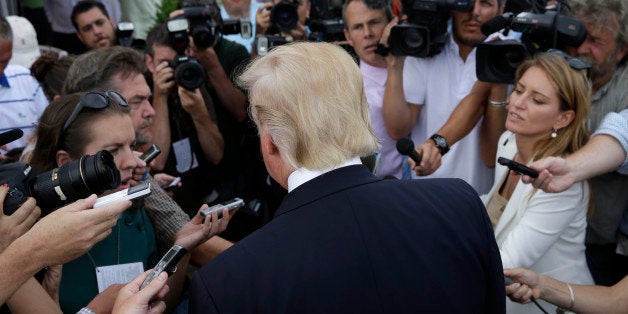 NEW YORK -- During CNN's heavily promoted first national TV interview with Hillary Clinton Tuesday, correspondent Brianna Keilar didn't ask the Democratic frontrunner about the economic crisis in Greece, ongoing Iran nuclear negotiations or President Barack Obama's remarks the previous day about his strategy for fighting the Islamic State group.
However, Keilar did ask the former secretary of state for her response to Donald Trump's "recent comments that some Mexican immigrants are rapists and criminals," offensive remarks the business-magnate-turned-Republican candidate made three weeks earlier during his rambling presidential announcement speech.
Clinton, unsurprisingly, said she was "very disappointed" in Trump's June 16 comments. CNN's public relations department blasted out her "exclusive" response to Trump in a release 15 minutes before the interview aired. The clip was later picked up by other networks and covered by numerous outlets online.
Though Keilar may be the most recent, she's certainly not the only political journalist putting the Trump question to politicians and pundits over the past several weeks. The Trump immigration fracas has been, perhaps, the longest-running storyline of the 2016 cycle and indicative of the codependent relationship between the media and the attention-seeking real estate developer.
The pattern is familiar by now. Trump makes a controversial claim, which garners headlines online and provides easy fodder for pundits to slam him on cable news. He then goes on Twitter to blast his critics, leading to even more coverage. Media outlets give Trump publicity, which he enjoys, while they get clicks and ratings.
In June, Trump made more appearances and received more total airtime on Fox News than any of the other Republican candidates, according to Media Matters. His awful Mexican "rapist" comments, and the reaction to them, have also been frequently discussed on CNN and MSNBC, including several times Wednesday morning.
Journalists have fueled the story by pressing just about every 2016 contender to respond, with the resulting denouncement, defense or dodge becoming a story in and of itself.
On Saturday, former Florida Governor Jeb Bush's criticism of Trump's remarks at an Independence Day parade got widespread pickup and fellow Republican candidates were asked to weigh in.
On Monday, Fox News host Bill Hemmer asked Chris Christie for his take. The New Jersey governor denounced Trump's views before taking an opportunity to knock Cruz for defending Trump. The same day, former New York Gov. George Pataki called in to CNN to say Trump was "flat out wrong" about Mexicans.
It's not that Trump's comments are a non-story. From a business perspective, there's been significant fallout as companies such as Univision, NBC, Macy's and Serta have severed ties with Trump. One can also argue that he should be taken seriously given his high national poll numbers, even if they are presumably the result of better name recognition than his competitors. And clearly, immigration is an important issue to tackle this election cycle.
But the weeks-long media discussion has focused more on rehashing Trump's comments, and covering new responses to them, than on the intricacies of immigration policy. The cycle continued Wednesday afternoon as MSNBC aired an "exclusive" interview with Trump in which he fired back at Republican rivals. He's also scheduled to appear Wednesday night on CNN's "Anderson Cooper 360."
"One thing I've learned about the press is that they're always hungry for a good story, and the more sensational the better," Trump wrote in his 1987 book, The Art of the Deal.
"It's in the nature of the job, and I understand that," he continued. "The point is that if you are a little different, or a little outrageous, or if you do things that are bold or controversial, the press is going to write about you."
Support HuffPost
The Stakes Have Never Been Higher
Related
Popular in the Community