President Donald Trump met with Russian Ambassador Sergey Kislyak in the Oval Office Wednesday morning, less than 24 hours after firing FBI Director James Comey, whose agency is investigating Trump associates' ties to Russia. 
White House reporters weren't the first to inform the American public that Kislyak attended the scheduled meeting between Trump and Foreign Minister Sergey Lavrov. That's because the White House insisted the event be closed to the press. And the White House didn't inform the public, either. It's official readout of Trump's meeting with Lavrov didn't even mention Kislyak.
A White House spokesperson did not respond to HuffPost's request for comment. However, an unnamed senior administration official told The Washington Post that the White House was unaware the photographer also worked for Russian state news agency TASS, which distributed images of the pair gripping and grinning ― including one that the Russian embassy tweeted. 
The presence of Kislyak on Wednesday isn't necessarily nefarious, but it is notable given that former national security adviser Michael Flynn resigned after it was revealed he misled Vice President Mike Pence about his discussions of sanctions with the ambassador. It's also clearly newsworthy to see how the president interacts with top Russian officials, such as Lavrov and Kislyak, given that the U.S. intelligence community concluded that Vladimir Putin's government interfered in the presidential election to support Trump's candidacy. 
The Russian incident Wednesday is the latest example in which foreign governments have ended up providing more details about Trump's engagement with world leaders than the Trump White House has. 
For instance, the White House released a 28-word readout of the president's call last month with his Chinese counterpart amid increasing concerns about the North Korean nuclear threat. It read:
President Donald J. Trump spoke last night with President Xi Jinping of China to follow up after President Xi's visit to Mar-a-Lago. It was a very productive call.
Trump offered slightly more information in a tweet on the "very productive" call, acknowledging that North Korea was discussed. 
But China's state-run news agency Xinhua provided more details of the call in a 400-plus-word dispatch, including that the discussion also involved Syria and Trump's plan to make a state visit to China. 
A couple of weeks later, the White House provided a readout of the president's call with his Canadian counterpart, a day after the Trump administration imposed new tariffs on softwood lumber imports and sparked fears of a broader trade war. It read:
President Donald J. Trump and Prime Minister Justin Trudeau spoke today. The two leaders discussed the dairy trade in Wisconsin, New York State, and various other places. They also discussed lumber coming into the United States. It was a very amicable call.
The Canadian government's readout of the "very amicable" call was five times longer and described pushback to the Trump administration's plans. Trudeau "refuted the baseless allegations by the U.S. Department of Commerce and the decision to impose unfair duties," it noted.  
There's a self-serving quality to government readouts, with each side framing the conversation in a more favorable light. And they aren't a substitute for independent reporting, which can shed more light on a discussion than either government in real time. 
The Washington Post reported in February on a tense exchange a day earlier between Trump and Australian Prime Minister Malcolm Turnbull that was a far cry from the bland White House readout describing "enduring strength and closeness" between the two nations. Details of conversations between Trump and other world leaders have similarly leaked out later.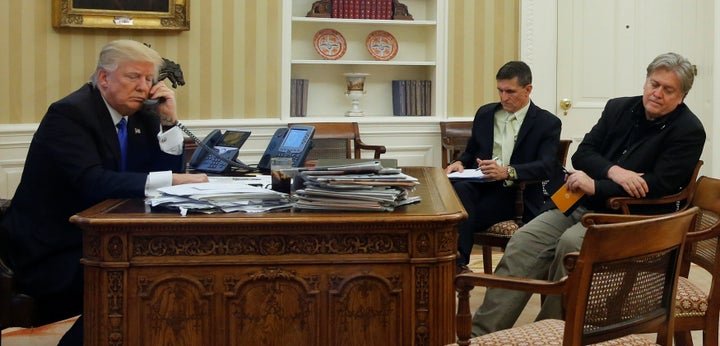 But in the short term, readouts are what the press, and the public, have to go on. The Trump administration's refusal to provide significant details of closed-door conversations, or accommodate U.S. media to independently cover meetings, gives foreign governments an opportunity to fill the news vacuum with their version of events. 
That's what happened during Secretary of State Rex Tillerson's first trip to Asia in March. Tillerson broke with decades of bipartisan tradition in refusing to fly with the diplomatic press corps or allow for a press pool. The former Exxon Mobil CEO instead brought only one reporter, an individual from a conservative news site with no history covering the State Department. When Korean officials told a local newspaper that Tillerson skipped a meeting due to "fatigue," there wasn't a contingent of reporters on hand to confirm or dispute the story as it began circulating in U.S. media. 
Jeff Mason, a Reuters correspondent and president of the White House Correspondents' Association, told HuffPost the WHCA requested that the meeting with Lavrov be open to the White House pool, a small rotating group of reporters who cover events when the broader press corps can't be accommodated. 
The White House declined. And so the press, and by extension the public, relied on a Russian photographer to get a glimpse into the Oval Office on a consequential morning.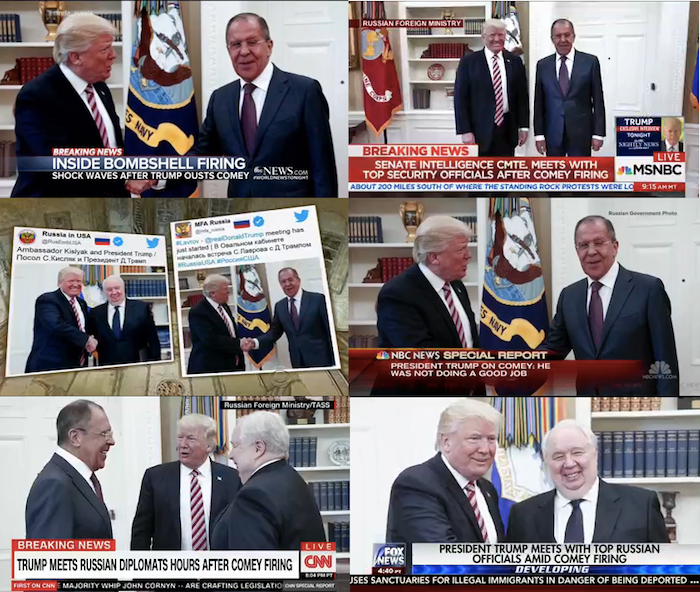 Calling all HuffPost superfans!
Sign up for membership to become a founding member and help shape HuffPost's next chapter