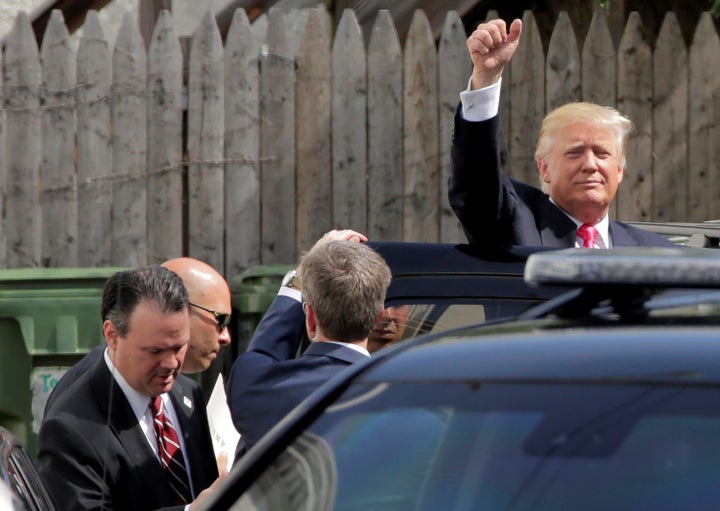 WASHINGTON ― Thursday was a typical day for Donald Trump. In one meeting, Republicans seemed to think the presumptive GOP nominee was finally acting more presidential ― pivoting! ― and taking strides to unify the party. Then, just minutes later, Trump was back to his old belligerent self, attacking Senate Republicans who had not yet endorsed him.
He started the day in a meeting with House Republicans, where, by most accounts, the mood was positive. Trump spoke about supporting Republican ideals, picking Supreme Court justices from a Heritage Foundation-approved list, even softening on some of the rhetoric that has concerned many in the GOP (namely, his anti-trade positions).
Most Republicans ― or at least the ones who came into the meeting already supporting Trump ― left the gathering at the Capitol Hill Club saying he had taken a step forward.
And then, in a meeting with Senate Republicans, it was two steps back.
According to The Washington Post, when Sen. Jeff Flake (R-Ariz.) got up to ask the presumptive GOP presidential nominee a question, Trump reportedly said, "You've been very critical of me."
"Yes, I'm the other senator from Arizona — the one who didn't get captured — and I want to talk to you about statements like that," Flake responded, according to two Republican officials.

Flake was referencing Trump's comments last summer about the military service of Sen. John McCain (R-Ariz.), who was a prisoner of war during the Vietnam conflict. Trump questioned whether McCain was a war hero because he was captured.

Flake told Trump that he wants to be able to support him — "I'm not part of the Never Trump movement," the senator said — but that he remains uncomfortable backing him, the officials said.

Trump said at the meeting that he has yet to attack Flake hard but threatened to begin doing so. Flake stood up to Trump by urging him to stop attacking Mexicans. Trump predicted that Flake would lose his reelection, at which point Flake informed Trump that he was not on the ballot this year, the sources said.
A source familiar with the Senate meeting said Trump was also critical of Sen. Mark Kirk, characterizing the Illinois Republican who was not in attendance as a loser. (Kirk withdrew his endorsement of Trump almost exactly a month ago.)
He also reportedly had an exchange with Sen. Ben Sasse (R-Neb.), who's been one of the leaders of the so-called Never Trump movement. Sasse's spokesman, James Wegmann, told The Huffington Post the senator's position was unchanged after the meeting. "This election remains a dumpster fire," Wegmann said.
But the back-and-forth between Sasse and Trump was actually less of an exchange and more of Trump just talking in Sasse's direction, the source told HuffPost.
According to the source, Trump said that those who didn't support him for president must be supporting presumptive Democratic nominee Hillary Clinton. Trump also reportedly claimed to have knowledge of Clinton's Supreme Court nominees, saying he knew for a fact they'd be younger and more liberal than anyone currently on the court.
Then, the source said, Trump went on to tell senators there is polling out there showing him winning in Illinois and Oregon.
"It was the normal stream-of-consciousness that's long on hyperbole and short on facts."
While the House meeting was decidedly less tense, it was similarly a Rorschach test for Republicans. If a member entered the meeting supporting Trump, that member was likely to leave thinking the presumptive nominee had done well. And if a Republican had taken a stand against Trump, well, he was unlikely to have changed his mind.
"There was nothing in there that was new," said Rep. Reid Ribble (R-Wis.), who says he won't support Trump, after the meeting. "It was not a persuasive conversation for me."
Rep. Charlie Dent (R-Pa.), the chairman of the moderate Tuesday Group who has yet to endorse Trump, said the meeting was mostly subdued and didn't do anything to change his impression of Trump. "I'm in the same place," Dent said.
Another Republican who's shown great reluctance with Trump, Rep. Mark Sanford of South Carolina, said he wasn't particularly impressed.
"It was the normal stream-of-consciousness that's long on hyperbole and short on facts," Sanford said.
Sanford noted that Trump was asked at one point about protecting Article I powers in the Constitution. "I think his response was 'I want to protect Article I, Article II, Article XII ― go down the list," Sanford said, noting that there is no Article XII.
According to members present at the House meeting, the topics Trump talked about included Hillary Clinton's email scandal, his latest fundraising numbers, a pathway to victory through a number of nontraditional states, and his recent comments about Saddam Hussein.
Trump mostly blamed the media for the controversy surrounding his comments that Hussein had done a "good job" of killing terrorists, saying outlets ignored that he'd also called Hussein a "bad guy."
While Trump cleaned up that controversy a bit, House Republicans didn't ask Trump about his Star of David tweet, his racist attack on Judge Gonzalo Curiel, or any other number of shameful gaffes the GOP standard bearer has made.
The toughest question Trump seemed to get was the first one of the day, from embattled Rep. Cresent Hardy (R-Nev.).
Hardy noted that his district was heavily Hispanic and asked Trump what he was going to do to ensure that he didn't hurt Republicans in Nevada.
According to Hardy, Trump said he'd do everything he could to win Nevada and claimed he has more Hispanic support than former GOP nominee Mitt Romney did in 2012. (That was true in one poll, showing Trump with about 5 percent more support than Romney's 27 percent in 2012, but he consistently polls between 18 and 23 percent with Hispanics.)
Regardless of the actual polls ― because nothing matters ― Hardy said he was satisfied with that answer.
Trump's interaction with House Speaker Paul Ryan (R-Wis.) was also a matter of opinion. Many Republicans said there wasn't much to speak of, but others said they seemed to get along well, that Trump mentioned Ryan "20 or 25 times" and even seemed to defend the speaker for making critical comments about him.
"There were a couple times where he said, 'Look, I said this,' and then he said 'Paul had to react this way, and I understand it, I get it,'" Rep. Bill Flores (R-Texas) reported. "But he said, 'I'm going to make you proud.'"
Ryan himself said it was "great meeting with our presumptive nominee."
"We had a very good exchange on just lots of ideas and lots of policy issues. So I thought it was a very good meeting," he added.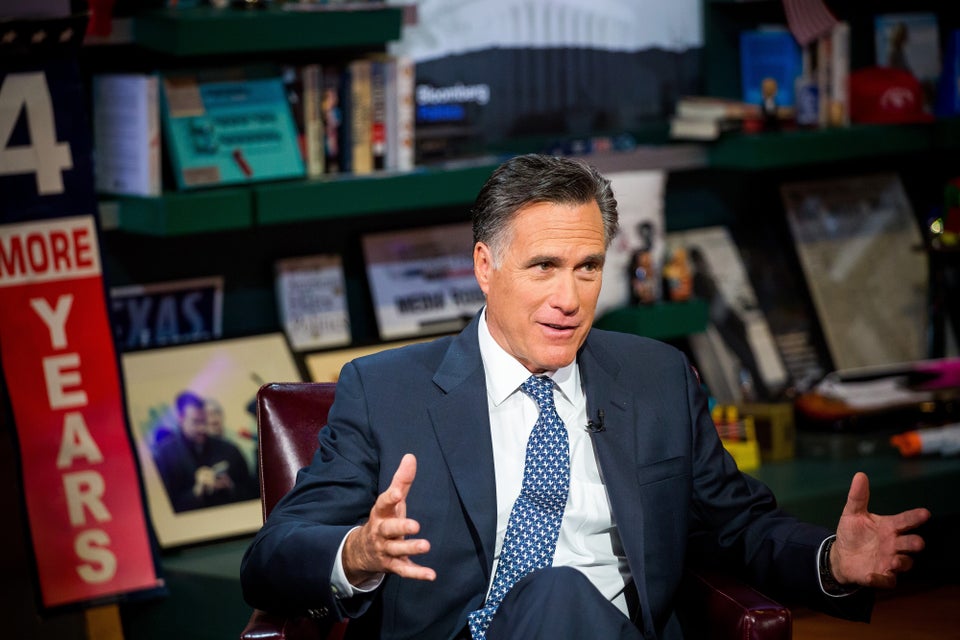 Republicans Who Have Refused To Back Donald Trump
Popular in the Community