Addressing an adoring crowd of supporters in Melbourne, Florida, on Saturday, President Donald Trump promised new action to restrict immigration next week, and a plan to replace the Affordable Care Act soon after that.
"I've ordered the construction of a great border wall, which will start very shortly. And I've taken dramatic action to keep radical Islamic terrorists the hell out of our country," Trump said at the rally in a hangar at the Orlando-Melbourne International Airport, drawing some of the loudest cheers of his speech.
Trump acknowledged, however, that a federal appeals court had halted his earlier attempt to ban refugees and citizens of seven Muslim-majority nations from entering the country. After criticizing the ruling by the panel of three judges on the U.S. Court of Appeals for the 9th Circuit, he announced his intention to proceed with alternative plans.
"We will do something next week. I think you'll be impressed," Trump said. "Let's see what happens. Here's the bottom line: We've got to keep our country safe."
It was not clear if Trump meant that his administration will try to challenge the 9th Circuit's ruling at the Supreme Court, or if he'll instead issue a modified executive order that might avoid some of the legal challenges of the directive he issued late last month.
Trump went on to cite alleged instances of refugee-perpetrated crimes and terrorism in Europe as evidence that the U.S. should adopt a more restrictive refugee policy.
Naming a host of different European countries and cities, Trump suggested that there had been a terror attack in Sweden the previous night.
"You look at what's happening in Germany, you look at what's happening last night in Sweden. Sweden. Who would believe this? Sweden," he said. "They took in large numbers. They're having problems like they never thought possible."
Many observers promptly pointed out that no such attack had occurred in the Scandinavian nation.
He also repeated his false claim that the United States has already let in thousands of people who "there was no way to vet."
In fact, refugees undergo the most rigorous vetting process of any immigrants admitted to the United States, often waiting upwards of two years to be cleared for entry.
Trump's now-halted travel ban froze the admission of all refugees for 120 days and indefinitely barred refugees from Syria.
But Trump reiterated his plan to create so-called safe zones to protect civilians in Syria, a controversial proposal that he cut from an earlier draft of his travel ban.
"We're gonna have the Gulf States pay for those safe zones. They have nothing but money," Trump said Saturday.
The president also claimed that he would unveil a proposal for replacing the Affordable Care Act, commonly known as Obamacare, in two weeks.
"We are going to be submitting, in a couple of weeks, a great health care plan that's going to take the place of the disaster known as Obamacare," Trump said, prompting applause. "It will be repealed and replaced."
Trump's professed timetable echoes comments he and House Speaker Paul Ryan (R-Wis.) made at separate press conferences on Thursday, when they claimed the White House and Congress would be rolling out their replacement plan some time next month.
On Saturday, Trump did not provide much additional detail about what the plan will entail, other than to say, "Our plan will be much better health care at a much lower cost."
Most experts believe there is virtually no way to maintain levels of insurance coverage, reduce costs and ensure quality of care without some combination of the regulations, subsidies and individual insurance mandate that form the nucleus of the ACA.
Congressional Republicans initially planned to repeal the landmark health care law when they took office in January and replace it later at a time to be determined. Angry constituents have since accosted dozens of Republican members of Congress at town hall meetings, demanding to know how they would replace the law.
In response to public uproar and Trump's own admonitions, they have slowed down their efforts to deliberate over how best to execute the law's repeal.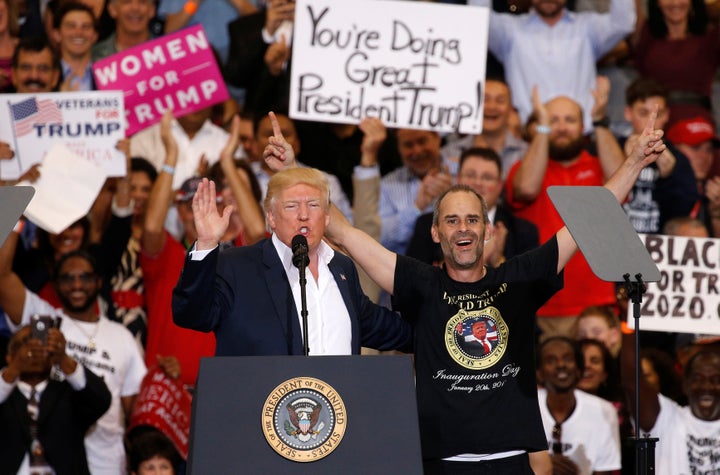 Trump's boisterous gathering in Florida comes on the heels of a similar rally on Friday at a Boeing factory in North Charleston, South Carolina.
Holding campaign-style rallies is an unusual, if not unprecedented, move for a sitting president ― let alone one rounding out the first month of his presidency.
But Trump, who has at times been visibly frustrated with his administration's early stumbles and the coverage of the White House press corps, was evidently in his element among his throngs of supporters. First lady Melania Trump made her first public appearance since the inauguration to introduce him and recite the Lord's Prayer.
Trump then launched into his typical campaign themes, castigating the media, lavishing praise on his supporters and running through his ordinary talking points about bringing jobs back to the country and eliminating the crime he claims is plaguing America's cities.
At one point, Trump harkened back to the theatrics that made him such a skilled campaigner. Spotting Gene Huber, a supporter he had seen interviewed on television, Trump invited him on stage with him.
"I saw this man on television just now ― you," Trump said, pointing to Huber in the audience. "He said, 'I love Trump. Let Trump do what he has to do.' That's my guy right there."
"Let him up, let him up ― I'm not worried about him. I'm only worried he's gonna give me a kiss," he said, apparently addressing the Secret Service.
Huber, clad in a black Trump t-shirt, made his way through the barriers and onto the stage, clearly overcome by emotion. Trump hugged him and asked him to address the crowd from the podium.
"Mr. President, thank you sir. We the people, our movement is the reason why our president of the United States is standing here in front of us today," Huber said. "When President Trump, during the election, promised all these things that he was gonna do for us ― I knew that he was gonna do this for us."
"A star is born. A star is born," Trump declared when he was done as the crowd chanted "U-S-A!"
Although the crowd of Trump supporters inside the hangar was thousands-strong, there was also a sizable contingent of protesters across the street.
"I felt compelled to come, even though I was a little frightened because this is not always an easy thing," Elizabeth Faiella, who was protesting, told CNN. "But I don't want the world to think that this gentleman represents how we feel ― about immigrants, about our environment, about our justice system."
Before You Go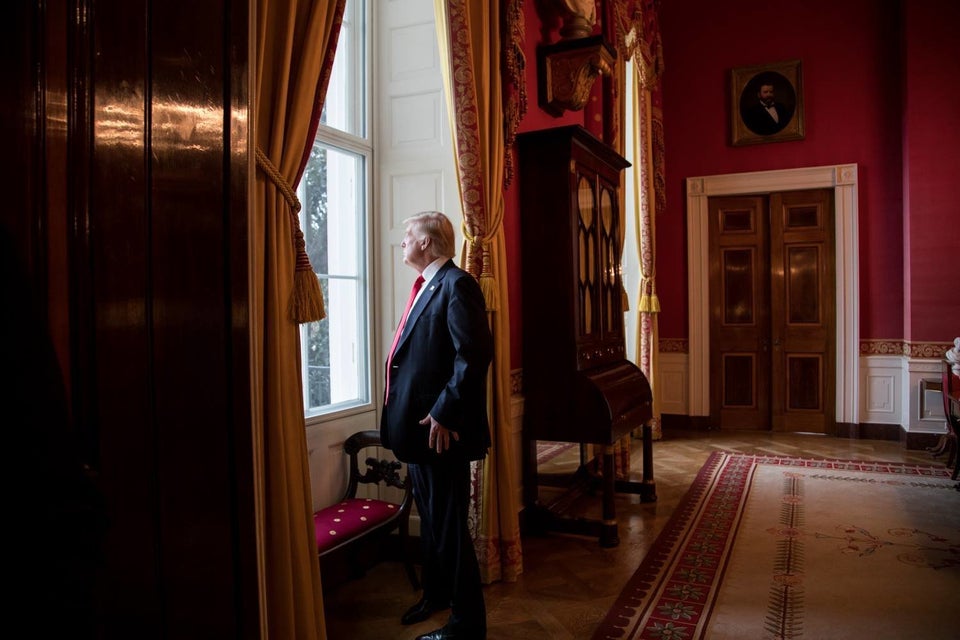 Trump's First 100 Days
Popular in the Community