WASHINGTON -- When Rep. Tony Cárdenas (D-Calif.) was a child, he remembers walking through the grocery store with his mother as judgmental whispers were directed her way.
Both his parents were Mexican-born and they had 11 children, which made them the objects of derision in certain parts of the neighborhood. People would make quips about Mexicans having more kids than they could afford and say cruel things to his father that Cárdenas, the youngest of the bunch, left out when he translated for his dad.
"My father worked with a first-grade education in this country and managed every single day without a hiccup," Cárdenas said. "He managed every single day to feed his wife, himself and eventually his 11 children. ... They didn't deserve those kinds of comments."
That was decades ago, and attitudes have changed since. But not completely.
Over the past few weeks, the presidential campaign has been fixated on comments made by GOP candidate Donald Trump that mirror the type of vitriol that Cárdenas recalls from his youth. In his announcement speech, the real estate mogul accused Mexico of sending rapists, drug dealers and other criminals to the United States. While the majority of the country has responded with condemnation, Trump has still risen to the top ranks of the Republican primary field.
Cárdenas has watched in horror. For him and other children of Mexican immigrants, Trump's statements were an affront to their parents. He takes solace in the backlash.
"I think the response shows that it's changing and I'm glad to see that," Cárdenas said, adding, "Everybody should be defended and people should be willing to stand with them to let them know that an attack on them is an attack on me."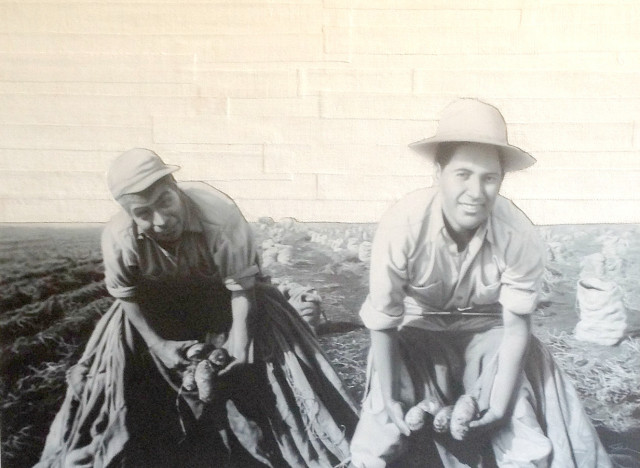 Rep. Tony Cárdenas has this picture of his grandfather, Ciriaco Quezada, and his father, Andrés Cárdenas, on the wall in his Capitol Hill office. (Courtesy of Cárdenas' office)
Cárdenas' parents moved to the U.S. from Mexico in 1946, shortly after they were married. While his father was Mexican-born, his mother, Maria Cárdenas, had been born in the U.S. but lived in Mexico since she was a child. Neither spoke English, but they chose to join his mother's father, a migrant farmer, in California in search of a better life. In addition to gardening, his father, who was a legal permanent resident, worked on farms and in construction, and was later self-employed. They made enough money to get by, bought a house, and never skipped a payment.
That their son ended up in the U.S. House of Representatives is a remarkable generational advancement. But Cárdenas is not a complete anomaly. There are many members of Congress whose parents came to this country as immigrants. The Huffington Post spoke to six members with Mexican-born parents about their families, their heritage and their thoughts on the debate kicked up by Trump.
Reps. Loretta and Linda Sanchez, Democrats from California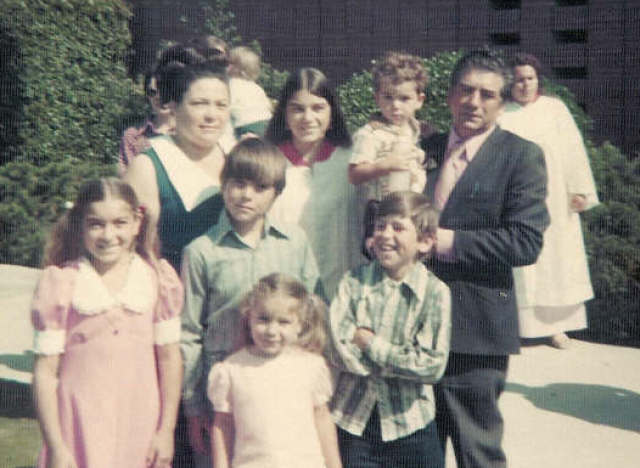 Reps. Loretta and Linda Sanchez as children with their family. (Courtesy of Linda Sanchez's office)
Linda Sanchez, who chairs the Congressional Hispanic Caucus, and Loretta Sanchez are the sole pair of sisters currently serving in Congress. Their parents, Ignacio and Maria Sanchez, immigrated separately from Mexico in the late 1950s and met in Los Angeles while working at the same factory. They were married and, in due course, had seven children.
Their parents experienced some discrimination, Loretta Sanchez said. When the couple bought their first house in Anaheim in the early 1960s, for example, the houses on either side quickly went up for sale.
Their father always stressed that his children get an education so that no one would call them "a dumb Mexican." They did -- all seven went to college. And as both Sanchez sisters pointed out, their parents achieved another rare feat.
"My mom and dad are, of course, the only parents in the history of the United States to send two daughters to the United States Congress," Loretta Sanchez said.
Linda Sanchez said there was "no logic" to Trump's decision to tar an entire population with its criminal element, which exists in every group.
"When I hear people say that Mexican immigrants or the people that come from Mexico are rapists and murderers, it's hard not to be offended," she said. "They're talking about my parents, essentially."
Rep. Grace Napolitano, Democrat from California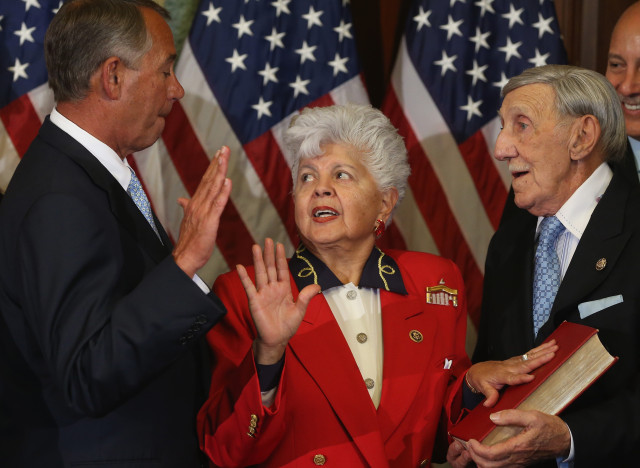 Rep. Grace Napolitano participates in a ceremonial swearing-in by House Speaker John Boehner. (Photo by Mark Wilson/Getty Images)
Napolitano's mother was from Mexico, and her father was from just across the border in Brownsville, Texas, where the congresswoman was born. They divorced when she was 3 years old.
In Mexico, her mother had worked as a teacher, but she didn't speak English and couldn't get a similar job in the U.S. So she babysat and worked at stores and taverns. She took whatever job she could find to support her two children, Napolitano said, and eventually was able to buy her own home. She died in 1980.
Napolitano has faced discrimination as well. When the congresswoman was young and working in a law firm, she said one of the partners acted as if Napolitano didn't understand English and didn't speak to her.
"A lot of people work very hard to have accomplishments in this country, much like many other immigrants from throughout the world," Napolitano said. "For [Trump] to not pay respect to the one minority that's growing and will be a majority is a bad mistake."
Rep. Ruben Gallego, Democrat from Arizona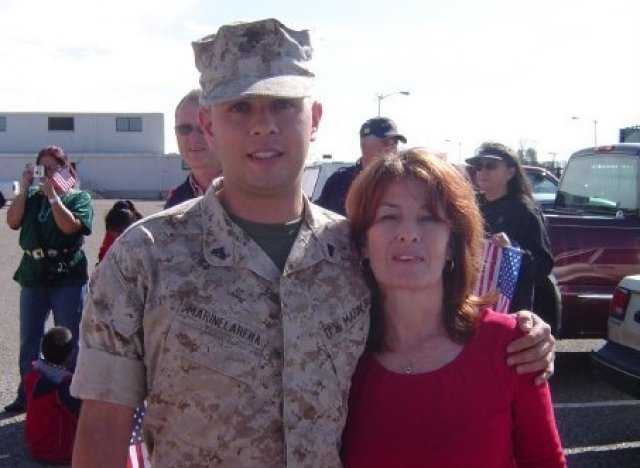 Rep. Ruben Gallego and his mother, when he was serving as a Marine. (Courtesy of Gallego's office)
Gallego is the son of two immigrants: a father from Mexico and a mother from Colombia. His father, who was a construction worker, left the family when Gallego was young. After that, his mother, who had moved to the U.S. in her late teens, raised his sisters and him alone. She was a legal secretary.
Many members of his extended family in Chicago worked in construction, Gallego said. He labored in a meat-packing factory one summer where almost all of the workers were Mexican immigrants.
He said he's heard plenty of derogatory statements about Latinos, but it worries him more that people like Trump are in positions of power where they may be holding back others based on their personal prejudice.
"It's an experience that obviously does hurt," Gallego said. "But what scares a lot of us isn't the overt racists. It's the people who are quietly keeping their racism to themselves and stopping men and women from getting good jobs or men and women from getting a contract or getting promoted."
Rep. Raul Ruiz, Democrat from California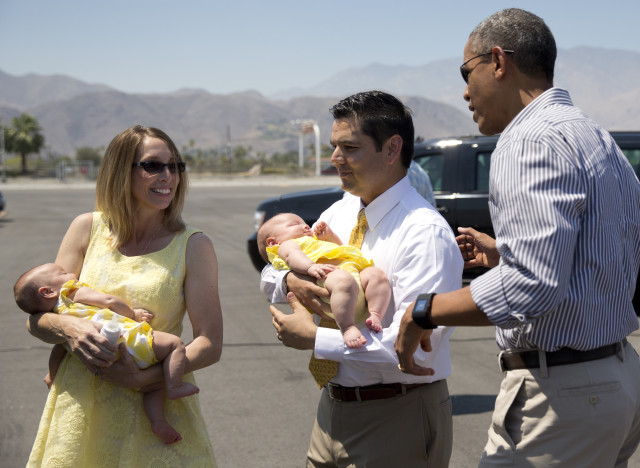 Rep. Raul Ruiz and his wife, Monica Ruiz, hold their twin daughters as they greet President Barack Obama in Palm Springs, California. (AP Photo/Carolyn Kaster)
Ruiz was born in Mexico in 1972. When his biological mother died months later, he was adopted by his biological father's sister, who was from Mexico, and her husband, who was born in the U.S. He and his parents moved to the U.S. when he was an infant and settled in California's Coachella Valley. In those early years, they lived in a trailer.
His father, who is now deceased, worked as a farm mechanic. His mother still works in the fields. Their son earned three graduate degrees from Harvard University and worked as a doctor before running for Congress.
Ruiz said in a statement that Trump is "a circus sideshow" and that he thinks the focus should be on those Republican candidates who have failed to condemn Trump's statements.
"What does it say about this field of candidates that most are unwilling to take a stand against his hateful statements?" Ruiz said. "What does it tell us about their attitudes towards immigrants, working families, and the pursuit of the American Dream? These candidates are showing us where their hearts lie, and it's not a pretty picture."
REAL LIFE. REAL NEWS. REAL VOICES.
Help us tell more of the stories that matter from voices that too often remain unheard.