When President Donald Trump was asked Friday to weigh in on a Washington Post report that his national security adviser, Michael Flynn, had discussed sanctions with Russia's ambassador to the U.S. prior to the inauguration, the president claimed he was unaware of the news.
"I don't know about that. I haven't seen it. What report is that? I haven't seen that. I'll look into that," Trump said on Feb. 10, according to a White House pool report.
But White House Press Secretary Sean Spicer said on Monday that the president knew about Flynn's communication with Russia for weeks. When Trump said, "I don't know about that," he simply meant he didn't know about the Washington Post report specifically, Spicer claimed.
"We've been reviewing and evaluating this issue with respect to General Flynn on a daily basis for a few weeks, trying to ascertain the truth," Spicer said during a daily press briefing.
What Trump and his team have failed to explain in detail is why it took a "few weeks."
Flynn spoke on the phone with Ambassador Sergey I. Kislyak on Dec. 29, the day President Barack Obama's administration announced sanctions against Russia in response to its reported efforts to influence the 2016 presidential election.
On Jan. 15, Vice President Mike Pence spoke on CBS's "Face the Nation" about the Trump's campaign's interaction with Russia, calling any reports that someone tied to the campaign had spoken with Russian officials "bizarre rumors." He specifically denied that Flynn and Kislyak had discussed sanctions.
"It was strictly coincidental that [Flynn and Kislyak] had a conversation; they did not discuss anything having to do with the United States' decision to expel diplomats or impose censure against Russia," Pence said.
Media scrutiny of Flynn died down as Trump took office and immediately began signing controversial executive orders, including the ban on refugees and visitors from Muslim-majority countries entering the U.S.
As the Post later reported, acting Attorney General Sally Yates warned White House counsel on Jan. 26 that she believed Flynn had misled the administration about his calls with Kislyak. She warned that Flynn could be susceptible to blackmail by the Russians. (Trump fired Yates on Jan. 30 after she declined to enforce his travel ban.)
On Tuesday, Spicer confirmed that Trump was first briefed on Flynn on Jan. 26, after Yates issued her warning about Flynn's discussion with Kislyak.
"Immediately after the Department of Justice notified the White House counsel of the situation, the White House counsel briefed the president and a small group of senior advisers," Spicer said.
NBC News reported Tuesday that Pence didn't learn of the DOJ warning until Feb. 9 ― about two weeks after the White House had first been notified.
That same day, the Washington Post reported that, despite the Trump administration's claims to the contrary, Flynn had indeed discussed Russia sanctions with Kislyak during their December phone call.
Flynn initially denied this, until his spokesman said he "couldn't be certain" that the topic of sanctions hadn't come up.
On Monday, Trump adviser Kellyanne Conway said the president had "full confidence" in Flynn, and denied that he was on his way out. But a half hour later, Spicer was less certain of Flynn's future at the White House, telling reporters Trump was "evaluating the situation."
The next morning, Conway struggled to explain the timeline of events surrounding Flynn's departure and would not explain why the White House failed to act immediately after learning he had misled top officials.
"The fact is that I can't reveal what the White House knew or didn't know and who in the White House knew or didn't know," she said on ABC's "Good Morning America."
On Tuesday, Spicer said Trump chose to keep Flynn on for more than two weeks because the White House was undergoing a "very thorough review" of the situation "to understand the legal aspect." Spicer said the White House council determined "immediately" Flynn had not done anything illegal while communicating with Pence about his conversations with the Russian ambassador, and said there was no legal issue with Flynn's conversation with Kislyak.
"That was simply concluded," Spicer said.
Then, the conversation shifted to trust.
"Whether or not [Flynn] actually misled the vice president was the issue," Spicer added. "The issue, pure and simple, came down to a matter of trust."
Support HuffPost
The Stakes Have Never Been Higher
Before You Go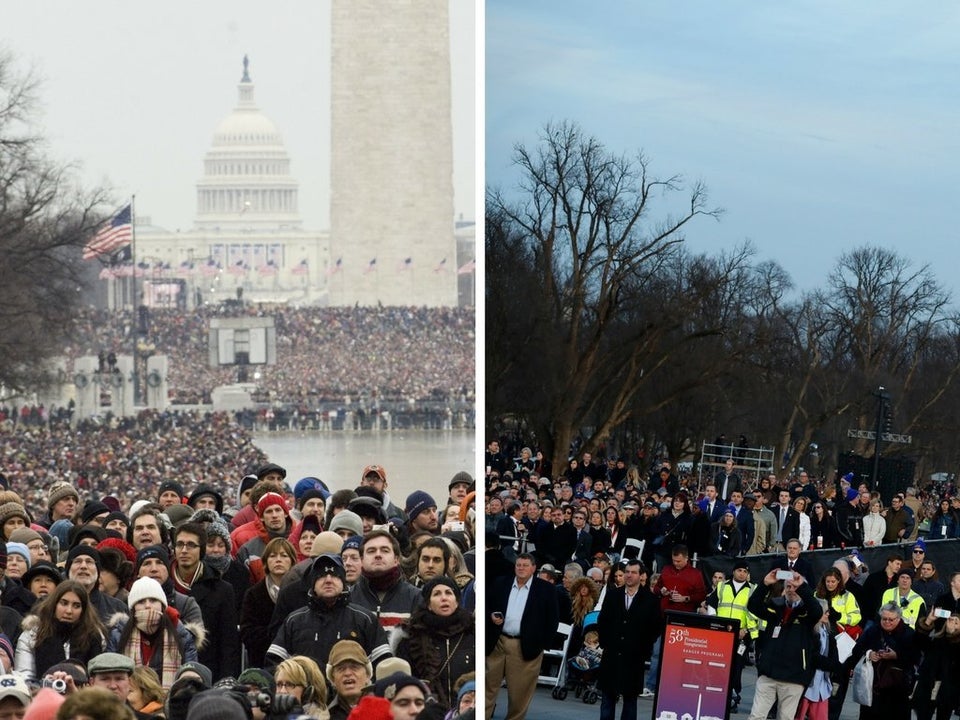 Obama /Trump Inauguration Crowds
Popular in the Community