President Donald Trump refused to state whether he'd consider pardoning former national security adviser Michael Flynn, saying, "We'll see what happens."
"I don't want to talk about pardons for Michael Flynn yet. We'll see what happens," Trump told reporters Friday on his way to Marine One, before speaking at the FBI National Academy graduation. "Let's see, I can say this: When you look at what's gone on with the FBI and the Justice Department, people are very, very angry."
Flynn pleaded guilty earlier this month to lying to the FBI about his communications with the Russian government.
On Friday afternoon, White House attorney Ty Cobb told CNN: "There is no consideration being given to pardoning Michael Flynn at the White House."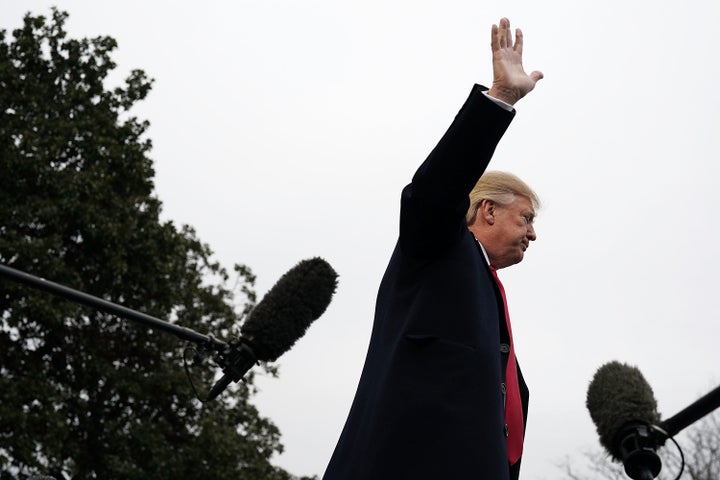 In his Friday comments, Trump referenced messages critical of the president that were sent between an FBI lawyer and an agent who later worked for special counsel Robert Mueller, who is leading the investigation into Russian meddling in the 2016 presidential election. They caused "anger," the president said.
"It's a shame what's happened with the FBI, but, we're going to rebuild the FBI, it'll be bigger and better than ever," Trump said. "But it is very sad, when you look at those documents and how they've done that is really, really disgraceful and you have a lot of angry people who are seeing it."
"The level of anger at what they've been witnessing with respect to the FBI is certainly very sad," Trump added.
Earlier Friday, deputy press secretary Hogan Gidley told Fox News "there is extreme bias against this president" with high-ranking officials at the FBI.
Trump again called Mueller's investigation into Russia and his campaign a "hoax."
"There is absolutely no collusion, that has been proven," Trump claimed, arguing even his "worst enemies" say there was no collusion between his campaign and Russia.
"I didn't make a phone call to Russia. I have nothing to do with Russia. Everybody knows it," Trump said. "That was a Democrat hoax. It was an excuse for losing the election. And it should have never been this way ... so now even the Democrats admit there's no collusion. There is no collusion. That's it."
In addition to Flynn, former Trump campaign foreign policy adviser George Papadopoulos pleaded guilty to lying to the FBI about his contacts with Russians during the campaign. Paul Manafort and Rick Gates, two top Trump campaign staffers, were also charged as part of Mueller's investigation.
This story has been updated with more details and background and with comment from Ty Cobb.
Support HuffPost
The Stakes Have Never Been Higher
Popular in the Community