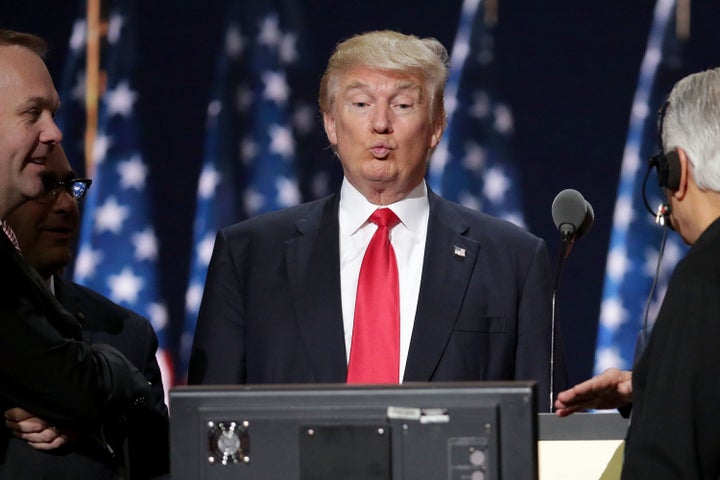 "My microphone, in the room they couldn't hear me, you know it was going on and off which isn't exactly great," Trump said Tuesday after his first debate against Democratic nominee Hillary Clinton. At that event, Trump said many words the American people needed to hear, like "the cyber." He also informed black and Hispanic people that they were "living in hell." Did someone sabotage his microphone?
"I don't want to believe in conspiracy theories, of course," Trump said. "But it was much lower than hers and it was crackling." Trump needs a working microphone so people can hear the many, many conspiracy theories he doesn't want to believe in.
The real estate mogul has had bad luck when it comes to audio equipment. Earlier this year, CNN asked him about a person named "former KKK Grand Wizard David Duke" and a group called "white supremacists." Trump said, "I don't know anything about David Duke, OK, I don't know anything about what you're even talking about with white supremacy." He added that "you wouldn't want me to condemn a group that I know nothing about."
Trump, with his stamina and good brain, managed to magically repeat these phrases with perfect accuracy. But no thanks to his stupid earpiece! Some people were upset that Trump did not initially say white supremacists were bad. That wasn't his fault. "I'm sitting in a house in Florida with a very bad earpiece that they gave me, and you could hardly hear what he was saying," Trump said.
Trump is not the kind of man to let a broken microphone go. He is going to hold someone responsible. Someone has to pay. One time, a "son of a bitch" set up his microphone poorly at a Florida campaign rally. "Stupid mic keeps popping, do you hear that George?" Trump said. "Don't pay him. You know, I believe in paying, but when someone does a bad job like this stupid mic, you shouldn't pay the bastard."
"I thought that was disgusting," Trump said. "That showed such weakness, the way he was taken away by two young women ― the microphone; they just took the whole place over."
Another woman who takes over microphones is Hillary Clinton. She is a woman who makes microphones work. She may also be wearing a secret earpiece. That's a conspiracy theory shared by Donald Trump Jr., though. Donald Trump Sr. does not want to believe in conspiracy theories. But why else does Clinton's microphone work? This is a question.
"Anybody who complains about the microphone," she said, "is not having a good night."
Sign up for the HuffPost Must Reads newsletter. Each Sunday, we will bring you the best original reporting, longform writing and breaking news from the Huffington Post and around the web, plus behind-the-scenes looks at how it's all made. Click here to sign up!
Calling all HuffPost superfans!
Sign up for membership to become a founding member and help shape HuffPost's next chapter
BEFORE YOU GO
PHOTO GALLERY
Trump And Clinton Face Off In First Debate But Whose Face Won?