When presumptive Republican presidential nominee Donald Trump and his newly minted running mate, Indiana Gov. Mike Pence, sat down for their first joint interview, which aired Sunday on CBS' "60 Minutes," their differences in everything from policy positions and demeanor were immediately apparent.
Ahead of the Republican National Convention this week, when the two men ― barring any last-minute commotion ― will formally accept their party's nominations for president and vice president, Trump and Pence attempted to put on a united front.
But their interview was an awkward start to what could become a rocky marriage, with Trump at one point arguing that he didn't need Pence.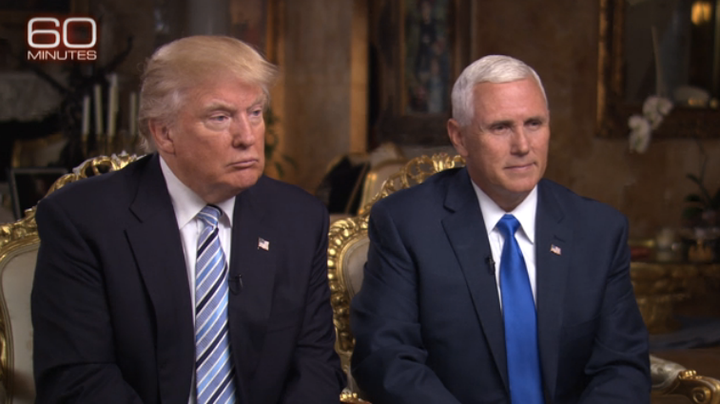 Commenting on the violence throughout the world this week ― from the terrorist attack in Nice, France, to the attempted coup in Turkey ― Trump again vowed to "declare war against ISIS" and was critical of NATO, of which the United States and Turkey are both members.
Pence, meanwhile, was more measured, proposing unity against "the enemies of our freedom."
"I'm very confident that when Donald Trump becomes president of the United States, he'll give a directive to our military commanders, bring together other nations, and we will use the enormous resources of the United States to destroy that enemy," he told CBS' Lesley Stahl.
Stahl immediately dug into their policy differences on the military and trade and on Trump's proposal to ban Muslim immigrants, which Pence now supports.
"He's entitled to make a mistake every once in a while," Trump said of Pence.
When Stahl noted that Pence's more conservative and religious background could help Trump win over more GOP voters, Trump bragged that he didn't need Pence's help.
"I don't think I needed him, no, because I won with evangelicals," he said.
Trump has continually engaged in name-calling and ad hominem attacks against his opponents, in contrast to Pence, who has previously decried negative campaigning.
But Pence on Sunday said he was fine with Trump's style of campaigning.
"I think this is a good man who's been talking about the issues the American people care about," he said.
Trump asserted that he would handle attacks against his Democratic opponent Hillary Clinton and leave Pence out of them.
"I call her 'Crooked Hillary.' She's crooked Hillary. He won't... I didn't ask him to do it, but I don't think he should do it because it's different for him," he said.
The interview was similar to Trump and Pence's first campaign appearance together on Saturday, in which Trump barely mentioned his running mate.
"I knew him during the primaries, during many trips to Indiana, I'd be with him. I think we have a great chemistry," Trump said on Sunday.
Trump dismissed concerns that the Republican party is divided on his candidacy.
"I think it's very close to unified," Trump said. "Having Governor Mike Pence has really, people that I wasn't necessarily liking or getting along are loving this pick, because they have such respect for him, and the party unity is okay."
Popular in the Community