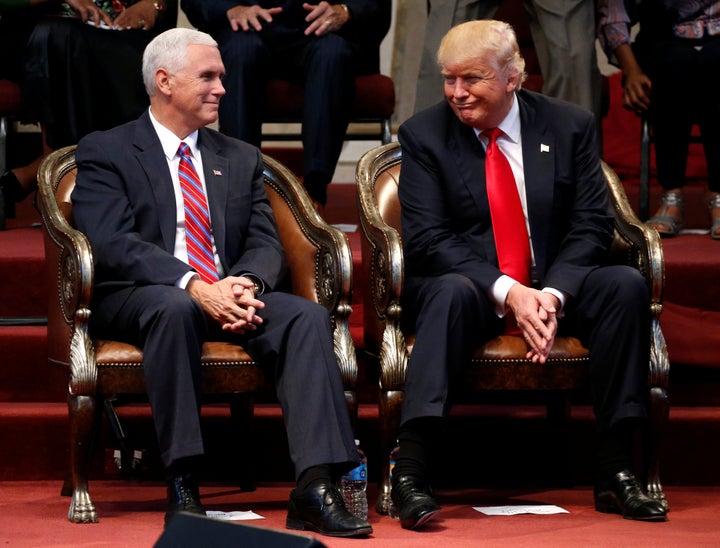 If Donald Trump is elected president next month, the nation and the world might have to learn to ignore things that are normally given great weight when they come from the leader of the free world: his actual words.
Or so said his running mate, Indiana Gov. Mike Pence, when confronted in Tuesday night's vice presidential debate with statements the Republican presidential nominee has made over the course of the campaign.
"You know, the words don't always come out exactly the way he means them," Pence said. "But I'm telling you what the policy of our administration would be."
That particular exchange with Democratic VP nominee Tim Kaine came after Pence claimed, incorrectly, that Trump had never said that women should be punished for having an abortion. Pence also denied Trump had made statements in support of letting other countries acquire nuclear weapons, creating a "deportation force," and expressing admiration for Russian leader Vladimir Putin. Trump, in reality, made all of those statements, but, according to Pence's theory, presumably did not mean them.
You know, the words don't always come out exactly the way he means them.

GOP vice presidential nominee Mike Pence
John Weaver, a top adviser to 2008 GOP nominee John McCain and then to Ohio Gov. John Kasich in his unsuccessful run this year, said the party's cavalier attitude toward its presidential nominee's statements is unprecedented.
"We've never had anything like this before, frankly. Words matter," Weaver said. "For the running mate to say, 'Well it doesn't matter, because everyone, including our adversaries, will know he doesn't mean it' is extraordinary."
Trying to explain away Trump's statements is nothing new for Republicans, particular since May 3 when he handily won the Indiana primary and for all intents and purposes became the presidential nominee. This is the first time Trump's ever run for office, they argue, so people shouldn't take his words as literally as they might an experienced politician's.
For the running mate to say, 'Well it doesn't matter, because everyone, including our adversaries, will know he doesn't mean it,' is extraordinary.

John Weaver, GOP consultant
"He's been trying very hard to be presidential and gracious and I think he's actually done a nice job of that lately," Republican National Committee chairman Reince Priebus told the Associated Press on May 13, referring both to the content of Trump's remarks as well as his tone. "I expect him to continue working at it and getting the job done."
As the months have passed, though, Trump's care with words has not necessarily improved, except at those times when he is reading off prepared notes or a script written for him on his teleprompter.
At a news conference the day after his nomination in July, Trump repeated his earlier accusation that the father of vanquished GOP rival Ted Cruz may have been involved in the assassination of President John F. Kennedy in 1963.
A few days later, at a news conference the RNC staged in Philadelphia to criticize Democratic nominee Hillary Clinton at her convention, Priebus first had to explain Trump's assassination theory.
"He's got a right to talk about whatever he wants to talk about. However, I don't think he was ever saying this was some sort of factual information," Priebus said. "It was something he referred to. He's talked about it. He's gotten off from it. As far as I'm concerned, we can move on from it."
California Rep. Duncan Hunter gave perhaps the most explicit explanation from a Republican why Trump should not be taken literally. "You're treating Donald Trump's words like he is the most articulate person who's ever graced our ears," Hunter told CNN's Wolf Blitzer on Aug. 9. "He is not a politician. He is not a person like you who's very articulate."
CORRECTION: Due to an editorial error, an earlier version of this story reported the wrong day of the vice presidential debate. The debate was Tuesday.
Calling all HuffPost superfans!
Sign up for membership to become a founding member and help shape HuffPost's next chapter