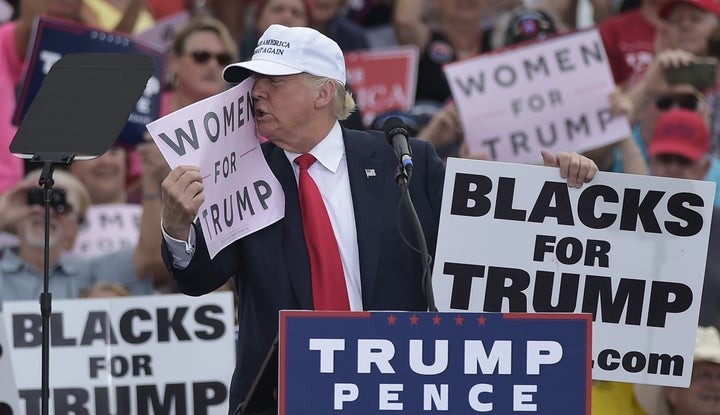 Donald Trump's campaign is set to launch an aggressive strategy to convince millennial women that he doesn't want to "grab them by the pussy," as he boasted about in a 2005 video ― by bringing up the sex scandals around former President Bill Clinton from the 1990s and laying some of the blame at the feet of his wife, Hillary Clinton.
"We're going to turn him into Bill Cosby. He's a violent sexual predator who physically abuses women who he assaults. And she takes the lead on the intimidation of the victims," Trump campaign CEO Steve Bannon told staff Tuesday, according to Bloomberg Businessweek.
The offensive has already started. Just hours before Sunday night's debate in St. Louis, Trump held a surprise press conference with several women who have accused Bill Clinton of inappropriate sexual behavior in the past. On Thursday, those women will appear on Sean Hannity's Fox News show ― a program that few millennial women watch ― for a one-hour special.
"With rape culture being what it is, these facts are going to shock millennial women," Deputy Campaign Manager David Bossie told Bloomberg Businessweek. "There will not be a millennial woman who will want to vote for her when these facts come out."
The effort to attract millennial women will be led by three men: Bannon, Bossie and Trump's son-in-law, Jared Kusher.
What the Trump men are doing is trying to blame Clinton for the indiscretions of her husband. They claim that she was essentially just as bad as he was, arguing that she helped him go after the victims and cover up what he did ― which includes an alleged rape.
Many outlets (including The Huffington Post) have looked into the allegations by Bill Clinton's accusers, but it's important to remember that he is not running for president. Hillary Clinton is running for president. And there's no evidence that Hillary Clinton knew what her husband was doing ― she has said Bill lied to her about what happened with Monica Lewinsky, for example ― and therefore willingly helped cover it up.
This strategy is also politically risky for the Trump campaign, threatening to further erode the low support he already has with women. When former New York City Mayor Rudy Giuliani (R) was considering a Senate run in 2000, he convened a focus group to test out prospective attacks. One of them was bringing up Bill Clinton's infidelities. Voters reacted extremely negatively to them, making Hillary Clinton appear more likable and sympathetic.
Bossie's quote about "rape culture being what it is" also makes it clear that the Trump campaign isn't serious about addressing the concerns that millennial women (and men) have about the issue of sexual assault, which has increasingly become a topic of debate on college campuses.
And advocates who work with victims of sexual assault say that Trump and his 2005 sexual assault comments ― as well as his dismissal of them as just "locker room talk" ― hurt their efforts to combat the violence.
"It normalizes a culture in which sexual assault goes excused," Anna Voremberg, managing director of End Rape on Campus ― a group that works to prevent sexual assault on college campuses ― told The Huffington Post recently.
On Wednesday evening, The New York Times published the accounts of two more women who said that Trump sexually assaulted them. Jessica Leeds said that when she sat next to Trump decades ago in the first-class section of a plane, he "grabbed her breasts and tried to put his hand up her skirt." Rachel Crooks was 22 when she introduced herself to Trump in an elevator. She said she shook his hand, but then he began kissing her cheeks and then kissed her directly on the mouth.
Trump surrogates made clear they don't fully understand the problem, either, when they went on cable news Wednesday night. One supporter tried to cast doubt on Leeds' story by saying there was no way something like that would have happened in a fancy place like first class. Another said that the women weren't credible because they waited so long to come forward to tell their stories.
On Tuesday, Trump held his first post-debate interview ― and the first interview since The Washington Post released the damning 2005 video ― with Fox News host Bill O'Reilly, a man who has faced allegations of sexual harassment and has implied that a woman who was raped and murdered was partially to blame for what happened to her because of what she was wearing and how much she had had to drink.
"With rape culture being what it is these days," in the crude words of Bossie, the public understanding of sexual assault is much more sophisticated than it once was. There's more attention on the fact that sexual assault too often goes unreported, and it's not uncommon for victims to wait years to tell their stories. "Locker room talk" and the "boys will be boys" mentality is no longer acceptable.
Only one person in the race has been caught on tape bragging about sexually assaulting women and has been accused multiple times of actually sexually assaulting women ― and it isn't Hillary Clinton.
Popular in the Community