Long before he stared down Hillary Clinton in a high-stakes presidential campaign; before he bested 16 other Republicans for the party's nomination; before he needled President Barack Obama with conspiracies about his birth; before he looked Gary Busey in the eyes and uttered those two cold words -- "you're fired" -- before he clotheslined Vince McMahon on "Wrestlemania" and jilted Jesse "The Body" Ventura in a proposed run as a "Reform Party" presidential contender, Donald Trump squared off against another foe altogether: drag queens.
The disputes began shortly after Trump purchased the Miss Universe Pageant in the mid-1990s. The real estate tycoon was keen on transforming the relatively stodgy affair into something, well, glitzier, more Trump-like. And part of his plan involved stamping out any potential imposters, including many drag shows that were using the "Miss Universe" name.
Within a few years, Trump and his team of lawyers went to work, targeting multiple "Miss Gay Universe Pageants" under the auspice of a trademark violation.
In 1998, Trump's legal team ordered promoters of one such drag queen forum -- alternatively described in press accounts as a "gay gala" -- to stop promoting their "Miss Gay Universe Pageant." Though the event had been taking place in Atlanta for 27 years -- long before Trump had emerged on this particular scene -- the organizers agreed to abandon the title.
"[I]t is very sad that after 27 long years the straight community could come in and tell you that you could not use a word or words in Webster's Dictionary," they said, according to the New York Post.
In 2000, it happened again, this time in Texas. Once more, Trump and his team fought a trademark application from a Miss Gay Universe pageant organizer, claiming that viewers might think Trump had authorized the Lone Star State drag show.
"I thought everyone in this day and age knew the difference between a drag queen and a real woman," Francis Alvarez, a treasurer for that Miss Gay Universe pageant, told LA Weekly in response. "It's a contest for drag queens and not for women."
Trump reportedly offered a $90,000 settlement, which Alvarez balked at. But it's not clear what happened in the case: The Huffington Post could not reach Alvarez, and Trump's campaign didn't return a request for comment. Either way, the end result didn't dissuade other Miss Gay Universe pageant organizes from plowing ahead with the name.
In 2003, Trump's attorneys were once again threatening a lawsuit against organizers trying to trademark "Miss Gay Universe." This time, Ben Kuhns, an interior designer from Buffalo who performed under the name "Lauren Fox," was on the receiving end. The argument was identical: Trump insisted the drag affair would confuse fans, which Kuhns found preposterous.
"We'll be the ones with bigger hair, bigger boobs and three-times-bigger shoes," he told The Advocate.
A year later, there was no apparent resolution. Kuhns was deluged with paperwork but seemed to enjoy the attention. "They're little anorexic girls and we're 6-foot drag queens with more talent and more hair," he said, according to the New York Post. Kuhns also pledged that he would make a reality television show to shine a light on his plight.
Attempts to track Kuhns down were ultimately unsuccessful. But if the internet is any guide, it seems that he ultimately was bested by Trump as well. There is no evidence of any recent involvement in a Miss Gay Universe pageant.
"They're little anorexic girls and we're 6-foot drag queens with more talent and more hair."
There are Miss Gay Universe pageants still. But they're small affairs, and they appear to take place outside of the United States.
Trump, it turns out, had a solid case to argue.
University of Southern California law professor Dan Klerman argued as much to LA Weekly when Alvarez was the target, saying there was "reasonable likelihood" that there would be consumer confusion between Trump's show and the gay gala.
Reached by email Tuesday, Klerman stood by his past legal assessment. "I still believe what I am quoted as saying in that article. It was a plausible lawsuit," he wrote. "Now if you were to ask me my professional estimation of some other things Trump has done....."
Amanda Terkel contributed reporting.
Before You Go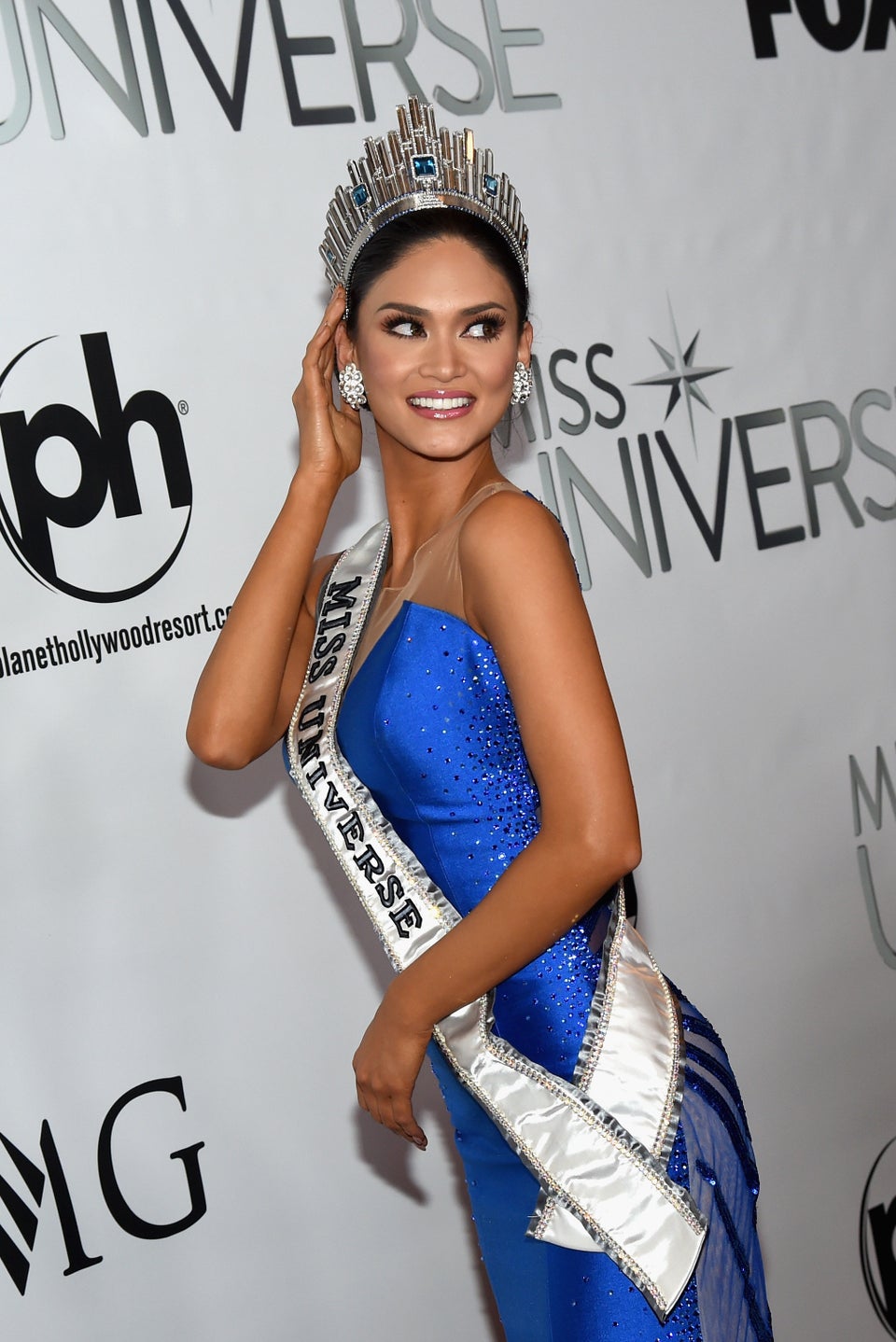 Miss Universe 2015
Popular in the Community