A review of campaign finance records finds that just slightly more than 10 percent of the 22,000 donors who gave $5,000 or more to Romney's 2012 presidential bid had donated to Trump's campaign by the end of July. On the other hand, about 1 percent, or more than 260, of Romney's largest donors contributed to the campaign of Democratic presidential nominee Hillary Clinton.
The underwhelming financial support from these major donors demonstrates the split Trump's nomination has caused between the Republican Party's elite and its voter base. While the real estate mogul has about the same percentage of support from GOP voters as Clinton has from Democratic voters, it's the Republican donor class that has largely not gotten on board with his candidacy.
The whole Jeb experience was so bizarre in terms of how unsuccessful it was and how out of place all of us were with the sentiment that I think a lot of us are just, 'Let this year be over.'

GOP operative who raised money for Jeb Bush and previously, Mitt Romney
Those who supported Romney with big contributions in 2012 but have not donated to Trump include a who's who of major party donors. Billionaire brothers Charles and David Koch, hedge fund billionaires Paul Singer and Ken Griffin, casino magnate Sheldon Adelson, TD Ameritrade founder Joe Ricketts, former Anheuser-Busch chairman August Busch III, Oracle CEO Lawrence Ellison and others like David Humphreys, John W. Childs, Stan Herzog, Robert Rowling and Julian Robertson have so far kept their pocketbooks shut.
Adelson endorsed Trump earlier in the summer and was reportedly willing to spend $100 million to ensure his victory. But by the end of July, he had not made any contribution to either the Trump campaign or any pro-Trump super PAC. The casino billionaire gave more than $100 million to super PACs in 2012 and reportedly made eight-figure donations to dark money nonprofit groups helping to protect Republican congressional majorities.
Frank Vandersloot, the billionaire owner of the multi-level marketing nutritional supplement company Melaleuca and a major Romney donor, also expressed support for Trump, but has failed to make a donation by late July. "Who knows if he'll need our money?" he told Politico.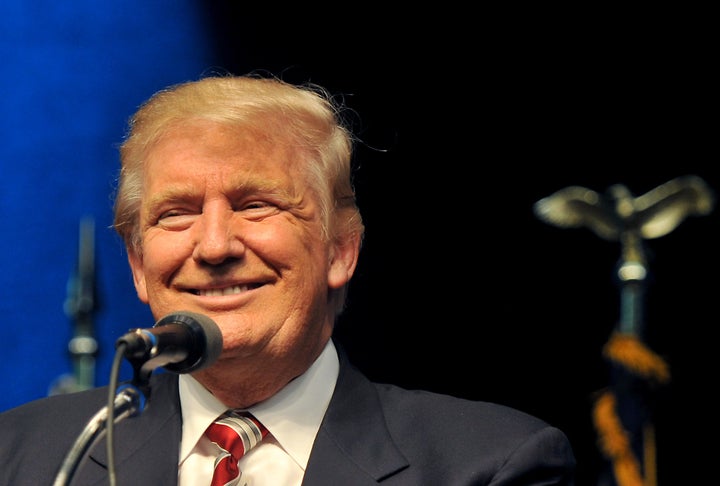 Many of the biggest donors who are avoiding Trump donated to one or more of the Republican opponents he savaged in the primary campaign. There is still lingering animosity over the way Trump ran roughshod over their preferred candidates with his typical barrage of insults and campaigned toward the basest prejudices in the electorate. This is especially true of those who supported former Florida Gov. Jeb Bush, a large number of whom were major Romney donors.
"Most of them are shot in the head," a longtime Republican Party operative who raised money for Bush this cycle and Romney in 2012 said about Bush's donors. "The whole Jeb experience was so bizarre in terms of how unsuccessful it was and how out of place all of us were with the sentiment that I think a lot of us are just, 'Let this year be over.'"
And Trump attacked many of the donors themselves over the course of the primary campaign.
"Paul Singer. Take a look at what he represents," Trump told a crowd in New Hampshire after Singer backed Florida Sen. Marco Rubio's primary campaign. "And he represents other things, beside. Paul Singer represents amnesty and he represents illegal immigration pouring into the country."
Trump asked in one tweet whether those attending the Koch brothers' annual donor meeting in California were puppets. In another tweet, he said that Adelson was supporting Rubio ― he wasn't ― because "he feels he can mold him into his perfect little puppet. I agree!" 
As a Republican who has contributed millions of dollars to the party's causes, I ask: Why has our party not sought a psychological evaluation of its nominee?

Mike Fernandez, MBF Healthcare Partners founder
Even without these major party donors, Trump appears to have raised significant sums for his campaign and the Republican Party thanks to some big money donors and large hauls from small donors. He reportedly raised $90 million in August after pulling in more than $80 million in July. The only problem is that these sums are far behind what Romney raised during the same months in 2012, and they also still trail Clinton's totals. Further, they do little to help cut into Clinton's advantage in campaign infrastructure.
A handful of former Romney donors have flipped to support Clinton ― often citing Trump's coarse language and blatantly racist rhetoric and policies.
Massachusetts hedge fund billionaire Seth Klarman announced his support for Clinton in August. He called Trump's statements throughout the campaign "shockingly unacceptable" and said he would donate to and fundraise for the Clinton campaign.
Klarman had given $10,000 to Romney and a joint fundraising committee supporting Romney's campaign in 2012, and he remains a prominent Republican super PAC donor. He has also been a major supporter of the Israeli right wing and U.S. groups that opposed the Iran deal negotiated by Clinton, Secretary of State John Kerry and President Barack Obama. Still, he gave $2,700 to the Clinton campaign in June. 
Other donors who have gone from Romney to Clinton have also made their views of the Republican nominee publicly known on social media.
Bob Arum, a boxing promoter, contributed $10,000 to support Romney in 2012 and has so far donated $16,700 to support the Clinton campaign and the Democratic Party. Arum has made his distaste for Trump clear multiple times on Twitter this year, including after the Republican candidate doubled down on his hardline anti-immigrant policies.
In July 2015, during the Republican primary campaign, comScore chairman and co-founder Magid Abraham, who gave $25,000 to support Romney, tweeted that Trump was "an embarrassment to this nation." Four months later, Abraham and his wife Linda Abraham, also a co-founder of comScore, donated $2,700 each to the Clinton campaign.
However, Clinton's fundraising from ex-Romney donors may only just be getting started.
In August, Meg Whitman, head of Hewlett-Packard and a major fundraiser for Romney in 2012, publicly endorsed Clinton, stating she would raise money for her. Whitman further called Trump "a dishonest demagogue." The billionaire tech executive ran for governor of California as a Republican in 2010 and lost to current Gov. Jerry Brown, a Democrat who has also endorsed Clinton.
Mike Fernandez, the founder of MBF Healthcare Partners, previously gave $3 million to Romney's super PAC and $3 million to the super PAC supporting Bush this cycle. Yet, like Whitman, he announced he was endorsing Clinton in August but had not yet donated to her campaign.
Calling all HuffPost superfans!
Sign up for membership to become a founding member and help shape HuffPost's next chapter
BEFORE YOU GO
PHOTO GALLERY
Donald Trump Is Name-Caller In Chief