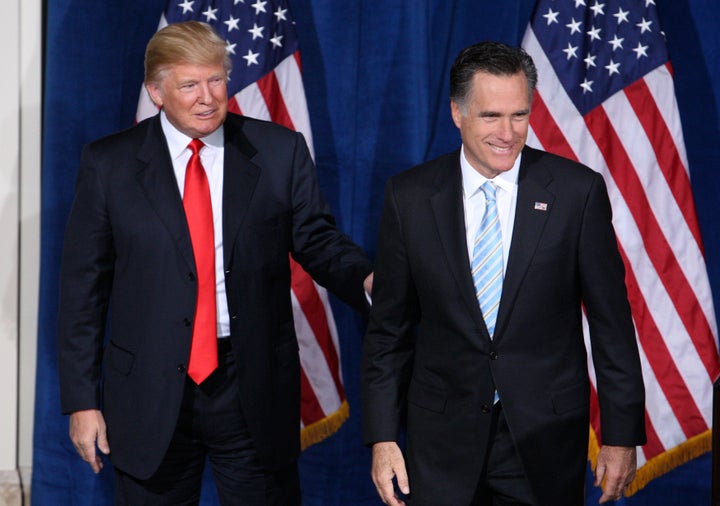 But even before the video was leaked, Trump's poll numbers showed him significantly behind where Republican nominee Mitt Romney stood at this point four years ago.
In mid-October 2012, Romney lagged President Barack Obama by just about half a percentage point in HuffPost Pollster's model of the race. By contrast, Trump's current polling average, which still largely reflects polls taken before the latest revelations, puts him more than 6 points behind Hillary Clinton in a head-to-head race. That's a gap more than 10 times larger than Romney's.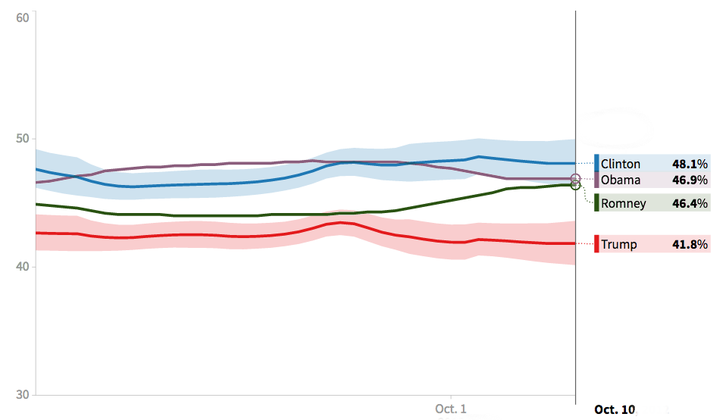 State polling tells a similar story. In most of the states where HuffPost Pollster has enough data for a model, Trump's current margin against Clinton is less than Romney's final margin against Obama in the 2012 election.
In Iowa, for instance, Trump currently leads Clinton by a 3-point margin, while Romney lost the state to Obama by a 6-point margin, meaning that Trump is outperforming Romney by 9 points. In Utah, by contrast, Trump leads Clinton by 18 points, but Romney won the state by 48 points, putting Trump 30 points behind the 2012 nominee.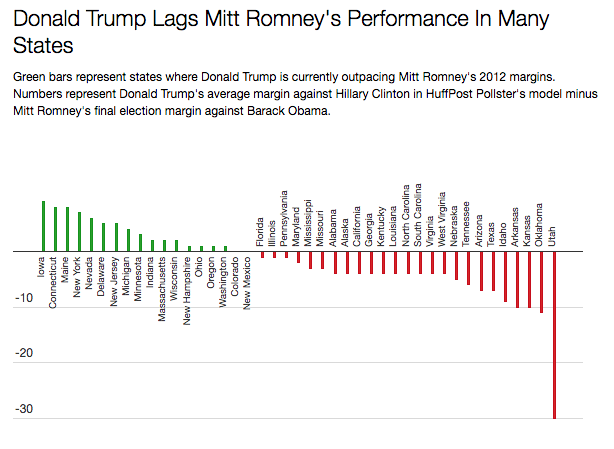 As the chart shows, Trump is out-polling Romney significantly in Iowa and Nevada, as well as in a host of Northeastern states. He's doing significantly worse, though, in battleground states like North Carolina and Virginia, and in some traditionally red states.
Again, nearly all of that data was collected prior to this weekend's disastrous news cycle for Trump. The GOP nominee may now face greater woes in states like Utah, where Gov. Gary Herbert (R) and other politicians dropped their support for him after Friday's revelations.
And Romney, of course, lost the 2012 election by a larger-than-predicted margin. For Trump's campaign to be on track to victory, he would likely need to be outperforming his predecessor. Instead, he's behind and facing the specter of even worse numbers to come.
Perhaps even more troubling for Republicans, who were already fretting about holding onto the Senate, their relatively low numbers this year aren't limited to Trump. Democrats currently lead Republicans by an average 4 points on generic House polling, which asks voters which party they'd prefer to see elected to Congress. At this point during the 2012 cycle, Democrats were ahead on that measure by less than 1 point.