LAS VEGAS -- "He doesn't want to talk about it."
Cohen, in a phone interview, called the renewed controversy over Trump's questioning of whether Obama was born in the U.S. "a distraction," and blamed it on "the liberal media."
But five minutes after The Huffington Post talked to Cohen on the phone, a call to Trump's New York offices resulted in the casino, real-estate and reality-TV mogul being patched through on the line, from here in Las Vegas.
Adding to the surreal nature of the day, Trump openly disagreed with his own spokesman's assessment.
"I don't imagine this is distraction at all," Trump said. "In fact, we have a fundraiser that's going to take place in a couple of hours, and I'm just walking through the lobby of Trump international and this place is packed."
And that, in a nutshell, is the problem for Mitt Romney.
Romney is set to mathematically clinch the Republican nomination on Tuesday evening when polls close in Texas and he is expected to finally cross the line of winning the required 1,144 delegates. But it was Trump's theatrics ahead of an evening fundraiser with Romney in Las Vegas that stepped all over the day's triumphs for the presumptive GOP candidate.
Trump went on CNBC in the morning to double down on his comments last week, when he seized on a report earlier this month from a conservative website, Breitbart.com, that uncovered a "promotional booklet" from 1991 in which Obama's "then-literary agency, Acton & Dystel … touts Obama as 'born in Kenya and raised in Indonesia and Hawaii.'"
Even the Breitbart site said at the time that they considered the booklet an act of biography embellishment by Obama, and that they have always believed that Obama was born in Hawaii on Aug. 4, 1961, as his long-form birth certificate states.
But Trump told HuffPost Tuesday that he disagreed with Breitbart's assessment, and talked for almost 10 minutes about why the Obama campaign -- which released a web video and a statement condemning Romney for not disavowing Trump's comments -- actually wants the birther issue to go away.
"It's hitting very close to home and they're very nervous about it," Trump said. "They're very afraid of the issue. They don't like the issue. And you know what? You'd say the same thing if you were in their position."
He said the Obama campaign was trying to use "reverse psychology."
"When something that they don't like gets put in papers the best thing you can do is say, 'Oh we love it, we love it.' What they're doing is reverse psychology and I don't blame them one bit. They hate this subject. They hate it more than anybody has hated any subject, and the best they can do is to just say, 'Oh we're so happy it was brought up,'" Trump said. "And people like you, who I assume they consider are suckers, write exactly what they say. And I don't know if you're a sucker or not. It depends on whether or not you write it."
"They don't love it at all. They hate it. And let me tell you, I have plenty of friends in there and they will tell you, they will tell me, they do not like this subject one bit. This is not a good subject for them," he said.
Trump also said Obama should release his college transcripts.
"Why isn't he showing his college transcripts that have a little clause at the bottom that say, a little space at the bottom that says, 'You were born where.' It says, 'Born where.' And for some reason nobody's been able to find those applications for college," he said.
Trump dismissed those who say he is hurting the Romney campaign.
"This is a very big subject for very many people. People can try to belittle it, but I will tell you I know better than anybody because I walk down the streets and I have people screaming with love because of it," he said. "I have a tremendous following whether you like or don't like it."
Moments after Trump talked with HuffPost, he appeared live by phone on CNN. His tone at the beginning of his interview with Wolf Blitzer was different. He said he had not come on the air to talk about Obama's birth certificate, but then commenced to spend several minutes arguing with Blitzer about the subject. The interview got heated at one point, with Blitzer telling Trump, "Donald, you're beginning to sound a little ridiculous, I have to tell you."
Trump shot back: "You are, Wolf. Let me tell you something, I think you sound ridiculous."
Trump told HuffPost that the Romney campaign had not asked him to stop talking about the birther subject, but the fact that Trump's own spokesman in Las Vegas clearly wanted to make the issue go away, only to have Trump connect by phone to a HuffPost reporter through his New York office, was the clearest illustration that Trump is apparently accountable to, and controllable by, no one.
"This manufactured conflict is just another attempt by Democrats to distract Americans from President Obama's abysmal record," Cohen gamely argued, minutes before his boss added to the controversy. "Things would be getting better for Americans if President Obama paid half as much attention to the economy as he does to Mr. Trump."
"It's my belief, as I had just said to you, that the Democrats are using this as a distraction," Cohen said.
Trump was expected to give the Democrats even more ammunition at the evening fundraiser.
UPDATE: At an afternoon event at a furniture warehouse in Las Vegas, Romney did not mention Trump's remarks, but also made a comment that touched on the topic of a president's birth place.
He said that a local restaurant owner, in a conversation earlier in the day, told him that he'd like the change the Constitution.
"'I'm not sure I could do it,' he said. 'I'd like to have a provision in the Constitution that in addition to the age of the president and the citizenship of the president, and the birth place of the president being set by the Constitution, I'd like it also to say that the president has to spend at least three years working in business before he can get the job of president,'" Romney said the man told him.
Romney's campaign message is that he understands the economy and Obama doesn't. But this comment appeared to be an attempt by the Romney campaign to signal that it is not worried by Trump's remarks.
This is a developing story and has been updated.
Leigh Owens contributed to this report.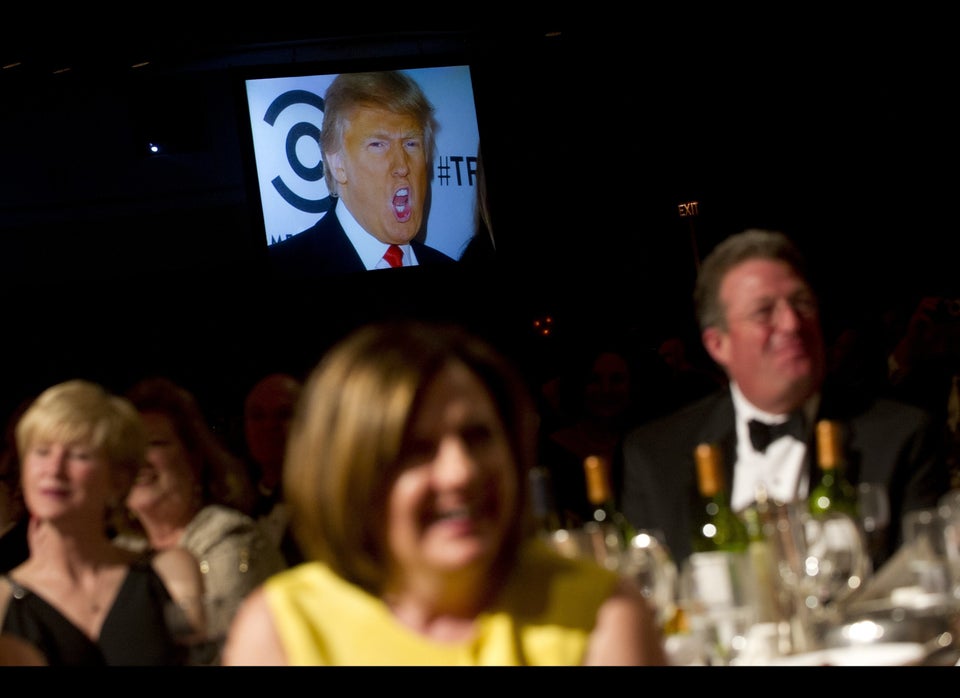 Donald Trump
Popular in the Community