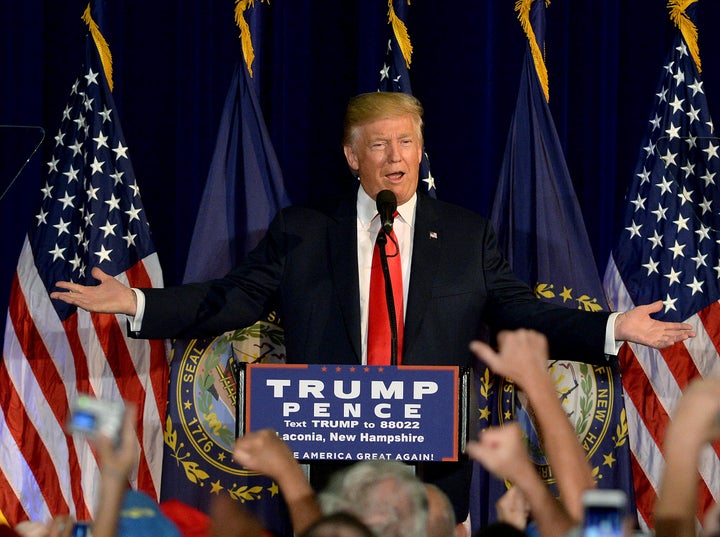 Donald Trump frustrated his traveling press corps Thursday night by taking the stage in Laconia, New Hampshire, while reporters were still en route to the event.
"I have really good news for you. I just heard that the press is stuck on their airplane. They can't get here. I love it," Trump said. "So they're trying to get here now. They're going to be here about 30 minutes late. They called us and said, 'Could you wait? I said, 'Absolutely not.' Let's get going, right? Let's get going, New Hampshire."
Trump has already bucked tradition this election cycle by not allowing his traveling press corps to fly with him to events or form a "protective pool" covering his movements whenever outside the home, similar to a system White House reporters use to track the president.
Still, news organizations expect to at least make it to the Trump events on time by paying to fly on a press charter arranged by the campaign. But the press charter left from a different airport than Trump, and reporters only caught the last few minutes of the candidate's rally.
A Trump spokeswoman did not immediately respond to a request for comment.
Not surprisingly, reporters weren't happy.
But the Trump campaign's restrictions on the press have been more severe, including removing journalists, controlling their movements and maintaining a blacklist of nearly a dozen news organizations (only lifted last week). That's in addition to Trump routinely attacking reporters on stage, to the delight of his supporters.
Eli Stokols, a reporter for Politico, which had been shut out of events for months, noted Thursday that "access to Trump post-blacklist is at times worse than it was on the blacklist."
Related
Popular in the Community