Republican presidential nominee Donald Trump used a campaign rally on Friday to mock women who have said he sexually assaulted them, pantomiming his alleged attacks and suggesting the accusers weren't attractive enough to earn his attention.
"Believe me, she would not be my first choice, that I can tell you," he said of one of the women during a rally in Greensboro, North Carolina.
More than 10 women said this week that Trump has assaulted them over years ― the latest accusation, from Summer Zervos, came while Trump was on stage. Most said they spoke out after The Washington Post published audio from 2005 last week in which Trump can be heard boasting about using his fame to kiss and grope women without their consent ― and after Trump said on Sunday, during the second presidential debate, that he had never acted on those statements. Multiple high-profile Republicans revoked their support for Trump after the audio was leaked.
Trump said on Friday that he has "no idea who these women are" and accused them of conspiring with the media and the campaign of Democratic presidential nominee Hillary Clinton. He called the stories "total fiction" and "100 percent made up."
"They have no witnesses," Trump said. "There's nobody around. ... Some are doing it for probably a little fame. They get some free fame. It's a total setup."
Then he moved to mocking the women one by one, although without using their names.
"[The media] would rather talk about this: Somebody that you've never seen that said, 'Oh, in 1992, he went like this,'" he said, making a gesture as if he was grabbing someone.
Trump referenced a woman who said he assaulted her in a nightclub. He jokingly slumped his shoulders and said he was "sitting alone like this, and then I went wah," pointing his finger to the side.
Trump again alluded to the appearance of People magazine writer Natasha Stoynoff, who wrote Wednesday that he attacked her in 2005 when she was writing a profile of him and his wife, Melania Trump. "She is a liar," Trump said on Friday. "Check out her Facebook page, you'll understand."
Of another woman, he said, "When you looked at that horrible woman last night, you said, 'I don't think so.'"
The crowd ate it up ― they laughed and, at one point, even began chanting "lock her up."
"She walked in front of me and believe me, I wasn't impressed."
Trump also attacked The New York Times, which published the account of two of his accusers on Wednesday, saying the paper was biased against him.
"The largest shareholder in the Times is Carlos Slim. Now, Carlos Slim, as you know, comes from Mexico. He's given many millions of dollars to the Clintons and their initiatives," Trump said. "Reporters at The New York Times, they're not journalists, they're corporate lobbyists for Carlos Slim and for Hillary Clinton."
Trump also questioned why President Barack Obama, who he called "incompetent," is never accused of sexual assault.
"Why doesn't some woman maybe come up and say what they say falsely about me ... about him?" he said.
Trump responded to Clinton saying she felt as if her opponent has been "stalking" her onstage by commenting on her appearance.
"The other day I'm standing at my podium and she walks in front of me. She walks in front me and when she walked in front of me and believe me, I wasn't impressed," he said.
Trump appeared to be more supportive of alleged sexual abuse victims at the presidential debate earlier this week. He invited three women who say Clinton's husband, former President Bill Clinton, sexually assaulted or harassed them.
"Hillary Clinton attacked those same women and attacked them viciously," he said at the time.
UPDATE: 8:05 p.m. ― Trump complained he was "a victim" as he continued defending himself Friday night at a rally in Charlotte, North Carolina.
"As you've seen, I am a victim of one of the greatest political smear campaigns in the history of our country," Trump said.
He called firsthand accounts that he sexually assaulted women "wild and ludicrous," and claimed there was "not a single shred of evidence" to substantiate them. He said his accusers were motivated by "personal fame" or "financial purposes."
Trump urged supporters to boycott People magazine, which this week published a reporter's first-person account of Trump forcing himself on her and tongue-kissing her during a 2005 interview.
Before You Go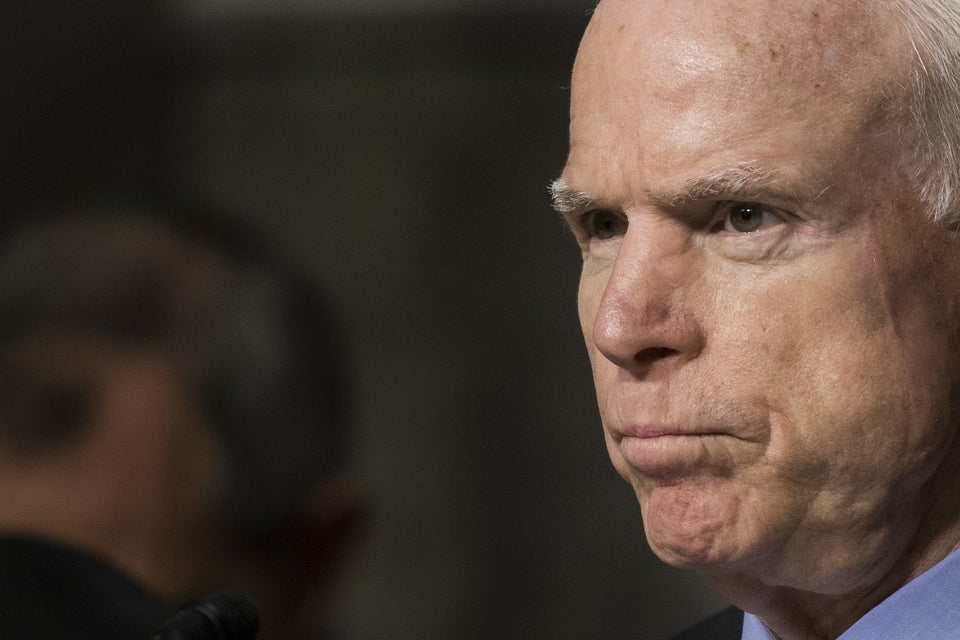 Republicans Who Have Withdrawn Their Support For Donald Trump
Popular in the Community