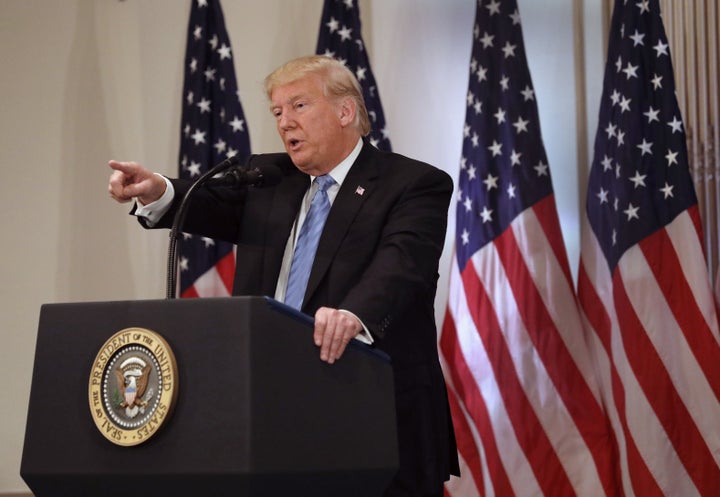 While taking questions, Trump called on the reporter and said, "Yes, please. Mr. Kurd, go ahead."
The reporter, identified by The New York Times as Kurdistan TV reporter Rahim Rashidi, didn't seem disturbed by the reference and thanked Trump for calling on him.
"Thank you very much for your time, Mr. President," Rahim replied, before asking Trump what the U.S. relationship with Kurds will be like now that ISIS has been defeated.
The moment quickly went viral on social media as people were left in disbelief over Trump's cavalier reference. 
While many people were surprised by the moment, Rashidi welcomed it, according to the Times.
"I love it," he told Times reporter Michael M. Grynbaum after the news conference. "He made me happy by this sentence."
In response to Rashidi's question, Trump said that the U.S. and the Kurds are "trying to get along very well."
"We're trying to help them a lot," the president said. "We do get along great with the Kurds. We're trying to help them a lot."
He added: "They fought with us. They died with us. They died. We lost tens of thousands of Kurds, died, fighting ISIS. They died for us, and with us. And for themselves. They died, but they are great people. And we don't forget."
In an earlier exchange, Trump asked a journalist where he was from, and the journalist identified himself as a Kurd. This prompted Trump to compliment Kurds as "great people" and "good fighters" who helped the U.S. defeat ISIS.
Swetnick is the third woman to come forward with allegations of sexual misconduct against Kavanaugh. 
At the news conference, Trump told reporters that he believed all of the allegations against Judge Kavanaugh are "false." 
Calling all HuffPost superfans!
Sign up for membership to become a founding member and help shape HuffPost's next chapter