The Department of Homeland Security announced on Monday that the Trump administration will end temporary protected status (TPS) for about 200,000 Salvadorans living in the U.S. Immigrants from El Salvador had been granted the protections in 2001, after earthquakes devastated the country. Now those individuals ― who have been living in the U.S. legally for the past 17 years or more, and many of whom have children who are U.S. citizens ― will have to leave by September 2019 or face deportation, if they don't find another way to gain legal status.
Yet the administration is now forcing thousands to potentially have to return to El Salvador, where violence by the gang poses a significant risk to residents.
"The Trump administration is on the one hand decrying the danger of gang violence, and on the other sending families who have lived in this country for years back into the arms of those very dangerous gangs," Eleanor Acer, senior director at Human Rights First, told HuffPost on Monday.
"People's lives are on the line," Acer added. "And the administration clearly knows about the grave dangers in El Salvador."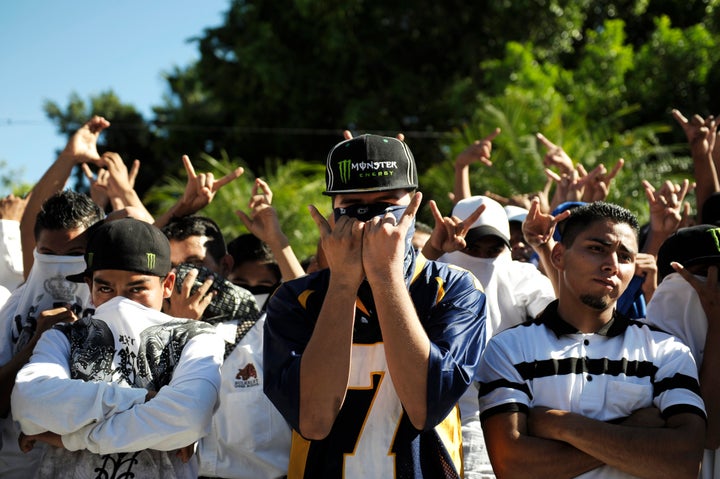 DHS officials told reporters in a call on Monday that in making the decision to end TPS, the agency had considered El Salvador's recovery since the 2001 earthquakes. Since that was the reason for the initial designation, it had not considered gang violence as a factor.
"Ironically while administration officials have repeatedly and very publicly asserted concerns about the dangers of gang violence, they're certainly not hesitating to put many families who have lived in the U.S. for years, and their U.S. citizen children, at risk," Acer said.
"We're talking about deporting your neighbor, who has lived here legally, has bought a house, is employed or started a business," Human Rights Watch senior researcher Clara Long told HuffPost. "Think about how many people who have made lives and contributed to this country are now going to be living in situations of severe vulnerability."
Combined with the almost 700,000 young immigrants who saw their Deferred Action for Childhood Arrivals protections ended last year as well, that makes nearly 1 million immigrants who will soon be at risk of deportation.
Calling all HuffPost superfans!
Sign up for membership to become a founding member and help shape HuffPost's next chapter