President Donald Trump "certainly believes he has the power" to fire special counsel Robert Mueller, a spokeswoman for the White House said Tuesday.
"We've been advised that the president certainly has the power to make that decision," White House press secretary Sarah Huckabee Sanders told reporters during a press briefing.
Mueller is head of a federal probe into Russia's interference in the 2016 presidential election. Many legal experts have said Deputy Attorney General Rod Rosenstein is the only person who can directly fire Mueller. But Sanders said the White House had been advised otherwise.
"I know a number of individuals in the legal community, and including at the Department of Justice, said he has the power to do so," Sanders told reporters.
Sanders did not specify which individuals she was referring to. Her office did not immediately respond to a request for comment for this story.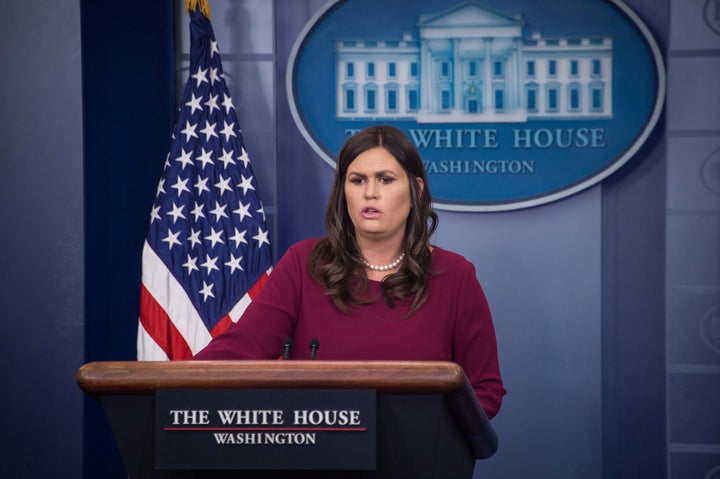 "I think it's a disgrace what's going on," Trump told reporters Monday. "We'll see what happens, but I think it's really a sad situation... Many people have said 'You should fire him.'"
When asked Tuesday why Trump had described the FBI raid as "an attack on our country," Sanders simply responded that "the president is clear that he feels it's gone too far."
Both Democratic and Republican lawmakers have defended Mueller's role in the Russia investigation and have warned Trump not to terminate him.
Sen. Chuck Grassley (R-Iowa), chairman of the Senate Judiciary Committee, said Tuesday that it would be "suicide" for Trump to fire Mueller.
"I think the less the president says about this whole thing, the better off he will be," Grassley said during an interview with CNN. "I think that Mueller is a person of stature and respected, and I respect him. Just let the thing go forward."
"It's still my view that Mueller should be allowed to finish his job," Senate Majority Leader Mitch McConnell (R-Ky.) told reporters Tuesday. "I haven't seen clear indication yet that we needed to pass something to keep him from being removed."
This story has been updated.
Calling all HuffPost superfans!
Sign up for membership to become a founding member and help shape HuffPost's next chapter