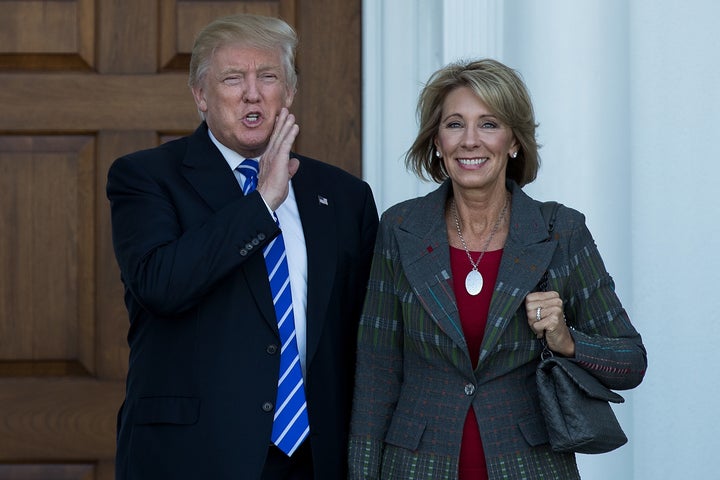 When it comes to religious education, President-elect Donald Trump could be a boon not only for the groups that cheered on his campaign, like evangelical Christians, but also for those he antagonized, like Muslims.
One of Trump's signature plans for education involves expanding school voucher programs, which allow students to use public funding to attend private schools. These types of programs often help religious schools ― in states with widespread voucher programs, like Indiana and North Carolina, many Christian schools and a few Muslim schools benefit.
Representatives from Christian, Catholic and Orthodox Jewish groups that advocate for school choice and voucher programs told The Huffington Post that they are looking forward to seeing Trump's plans in action. However, a representative from a group that works with private Muslim schools said the issue is more complicated for her community.
Trump's presidency might be good for the health of private, religious education in general, said Karen Keyworth, executive director of the Islamic Schools League of America. But even if certain policies seem like they could help Muslim schools thrive, she said there's no guarantee they will ― and that the Trump administration could negatively affect Muslim children overall.
"Trump and the people he is selecting are very openly anti-Islamic so we do not believe they are going to do anything for our schools," she said. "On the other hand, having somebody who is more private school-oriented is always a good thing for private schools and we are private schools."
"This is a mixed bag for us ― we would welcome more opportunity for private schools, but if anybody's going to tell us we're not involved in that pool of opportunity, we're going to have a problem with that," she added.
Private Muslim schools have been the targets of Islamophobia in the past. Some legislators have even soured on the idea of school voucher programs once they found out that these initiatives can benefit Muslim schools.
A Louisiana state representative walked back her support for a school voucher program in 2012 after she realized it would allow families to use public money to attend Muslim schools in the state.
"Unfortunately it will not be limited to the Founders' religion," Louisiana state Rep. Valarie Hodges told local outlet Livingston Parish News at the time, referring to her disappointment in discovering that vouchers did not exclusively support Christian schools. "I do not support using public funds for teaching Islam anywhere here in Louisiana."
Overall, Muslim schools represent a small portion of private, religious schools. There are only about 300 Muslim schools in the U.S., Keyworth said.
"Anyone [Trump] promotes is going to be viewed with mistrust."
Thirteen states and the District of Columbia have school voucher programs, and 17 states have scholarship tax credit programs that also funnel taxpayer money into private schools, according to the National Conference of State Legislatures. Typically, a family needs to have a child with special needs or an income below a certain benchmark to qualify for vouchers. The idea behind this system is that disadvantaged kids should be given the same choices about where to attend school as wealthy children.
Betsy DeVos, who Trump has nominated to be secretary of education, is a huge supporter of both school voucher programs and Christian education. DeVos ― who comes from a billionaire Michigan family ― is a devout Christian and has gone on record saying she uses education philanthropy to promote "greater Kingdom gain."
Leaders from groups that represent some religious schools cheered her nomination. For example, an executive director of an Orthodox Jewish advocacy group noted that the high costs of private schools are a major concern for his community, and school choice options help alleviate some of this burden.
Keyworth, however, is more wary of DeVos.
"Anyone [Trump] promotes is going to be viewed with mistrust," she said.
Rebecca Klein covers the challenges faced in school discipline, school segregation and the achievement gap in K-12 education. Tips?Email: Rebecca.Klein@huffingtonpost.com.
Popular in the Community