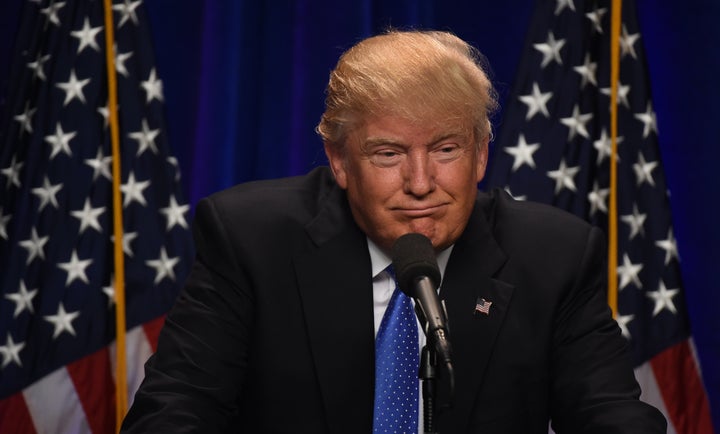 WASHINGTON – Donald Trump is a product of the 1960s, and in the parlance of his generation, he "let it all hang out" on Monday.
With a frightening and taunting intensity, the presumptive GOP presidential nominee sought to tap into the most primal fears of the American people: worry for their own safety and their identity as a nation.
In the wake of a mass murder in Orlando, Florida, perpetrated by a self-declared follower of the Islamic State, Trump recommitted himself to a ban on entry into the U.S. of all non-citizen Muslims. He even expanded the idea to include potential visitors from any nation or place that he (as president) would deem a threat.
He insinuated that both President Barack Obama and presumptive Democratic nominee Hillary Clinton were ignorant, weak-willed or complicit – or all three – in what he termed a total breakdown of U.S. immigration security.
And like an orange-haired knight of the 12th century, he in effect vowed to lead a crusade -- not to capture Old Jerusalem from the infidels, but to protect a New Jerusalem (America) from being overrun by what he repeatedly (at least 18 times) called "radical Islam" or "Islamic terrorists."
It was surely the most virulent attack on another culture and faith in American politics in decades. And it echoed vitriol of past centuries unleashed against Catholics, Jews, African-Americans and others once deemed to be outsiders.
Now many may hope that Trump's screed – delivered in Manchester, New Hampshire, at Saint Anselm College, an institution named in honor of a paragon of Christian rationalism – was a wild shot that landed harmlessly in the New England woods.
It was anything but. With the sure touch of a safecracker, Trump on Monday sought to bring forth the deep insecurities of an American electorate that is not only frightened about terrorism but more generally alarmed that the America they thought they knew is disappearing in the latest waves of immigration, networks of new technologies, and the rising power of distant cultures.
Trump, who burst onto the political stage a few years ago insinuating that Obama was a foreign-born Muslim agent, has now expanded that charge to include 1.6 billion Muslims around the world and other people from other places he deems dangerous. Chinese businessmen, Mexican drug dealers, NATO bureaucrats – they are all threats, but the leading edge of fear is Muslim immigration in Trump's worldview.
It is a view shared by more voters than perhaps Democrats and media elites appreciate. A poll in March showed that half of all voters agreed with Trump's call for a "temporary" ban on Muslim immigration to the U.S.
After Orlando, that number is sure to grow – especially if Trump has anything to do with it.
How to help the Orlando shooting victims:
Calling all HuffPost superfans!
Sign up for membership to become a founding member and help shape HuffPost's next chapter