WASHINGTON — A photograph of Donald Trump, Muhammad Ali and Rosa Parks that the founder of Trump's "diversity coalition" hailed as evidence the Republican nominee won an "NAACP medal" for "helping America's inner cities" was actually taken at an awards ceremony organized by a business associate with an ethnic grievance.
William Fugazy, a politically well-connected businessman who later pleaded guilty to perjury, gave the awards to Trump and 79 other people, most of them white, to protest the awarding of "medals of liberty" to a group of 12 recent immigrants that included a Chinese-born architect, a Costa Rica-born astronaut, a leading expert on the psychology of race, and former Secretary of State Henry Kissinger, but no "Irish, Italian, or Polish" people.
Michael Cohen, Trump's longtime attorney, adviser and campaign surrogate, posted the photo on Twitter earlier this week of Trump, Parks and Ali, "receiving NAACP medals for helping America's inner cities. A man for ALL people!"
The NAACP has not awarded any medals to Trump for "helping America's inner cities," the group told HuffPost. Nor have any other civil rights groups, according to Trump's biographers.
Here's the real story. In 1986, as preparations began for the centennial of the Statue of Liberty, a civic committee selected a group of 12 naturalized citizens to receive "medals of liberty" from President Ronald Reagan. The final list, announced that March, included composer Irving Berlin, who emigrated from Russia; Franklin Chang Diaz, an astronaut from Costa Rica; I.M. Pei, an architect born in China; and entertainment legend Bob Hope, who was born in England.
There was an immediate outcry. Fugazy, then Trump's real estate broker and head of the Coalition of Italo-American Associations, was angry that there were no native-born citizens among the 12 liberty medal winners (which was inevitable, since the award was for naturalized citizens) and that the list excluded certain ethnicities, "like the Irish, Italians and Poles."
Fugazy's Coalition of Italo-American Associations helped lead the campaign against the selections. "We think it's an insult to ― on the one hand ― ask for donations to restore the foremost international symbol of freedom for immigrants and ― on the other hand ― to exclude most of them from the Medal of Liberty list," Joseph Martorana, the group's executive director, told the Miami Herald, before claiming that "the ethnic groups excluded account for 76 percent of the nation's population."
Fugazy had plenty of support. New York Mayor Ed Koch, a Democrat, called the selections "idiotic" and announced plans to hand out his own awards.
"It's almost like denying some of the building blocks of the nation. It's an historical betrayal," New York City Council majority leader Peter Vallone told the Herald.
Six of the 12 recipients of the medals, including Berlin, Kissinger, violinist Itzhak Perlman, polio vaccine inventor Albert Sabin, author Elie Wiesel and University of Chicago president Hanna Holborn Gray, were of Jewish descent.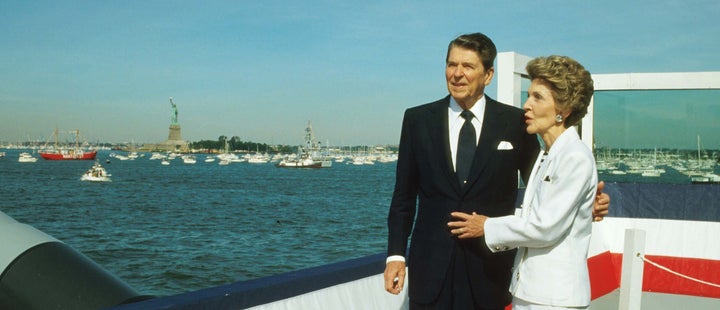 "These are shameful concessions to a Hollywood producer who lives in the world of fantasy," Paul O'Dwyer, a former New York City Council president, told the Herald, presumably referring to "Roots" producer David Wolper, also Jewish, who had organized the centennial festivities. "I don't know what some of these people have done for history ― although Kissinger and Bob Hope have certainly done well for themselves," he added. "All in all, it shows an abysmal ignorance of the history of our country."
Some people tried to defend the awards. "The great wave of Irish and Italian immigration took place before the First World War. It is therefore hardly surprising that most Irish Americans and Italian Americans are Americans by birth, not naturalization," historian Arthur Schlesinger Jr., a member of the committee that selected the 12 winners, noted in a letter to The New York Times.
But Schlesinger's letter didn't put the matter to rest. That the committee had included Massachusetts Sen. Ted Kennedy, who was of Irish descent, as well as New York Gov. Mario Cuomo and New Jersey Rep. Peter Rodino, both of Italian descent, didn't seem to absolve the committee, either.
Instead, the controversy continued into the summer. That June, Fugazy created a new organization, the National Ethnic Coalition of Organizations, or NECO, and a new award, the Ellis Island Medal of Honor.
In the original, uncropped version of the photo that Cohen shared, there are six people: baseball legend Joe DiMaggio, humorist Victor Borge, singer and anti-gay activist Anita Bryant, Ali, Parks and Trump.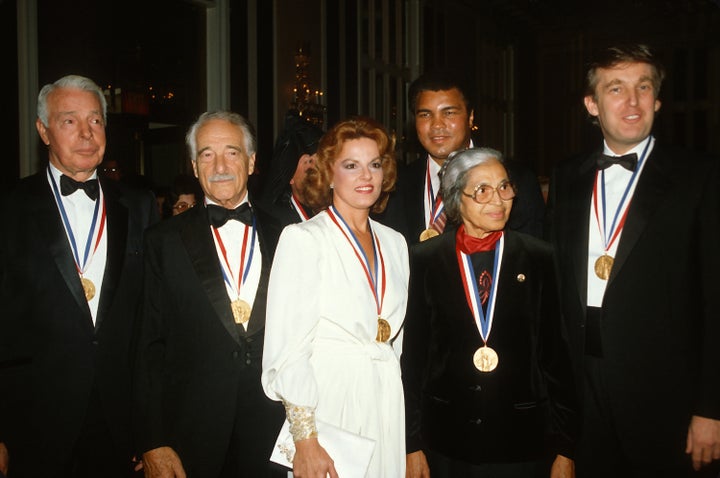 Since 1986, more than 2,000 people have been awarded the Ellis Island Medal of Honor, including then-first lady Hillary Clinton and Sen. John McCain (R-Ariz.). Officially, the medal criteria are broad and inclusive: Winners should "uphold the ideals and spirit of America," while "maintaining the traditions of their ethnic heritage."
In practice, the winners are mostly white Americans of European descent. NECO maintains a database of past medal honorees, which in many cases cites their "ethnic heritage." Below is McCain's listing, which notes his heritage is "Scottish/Irish."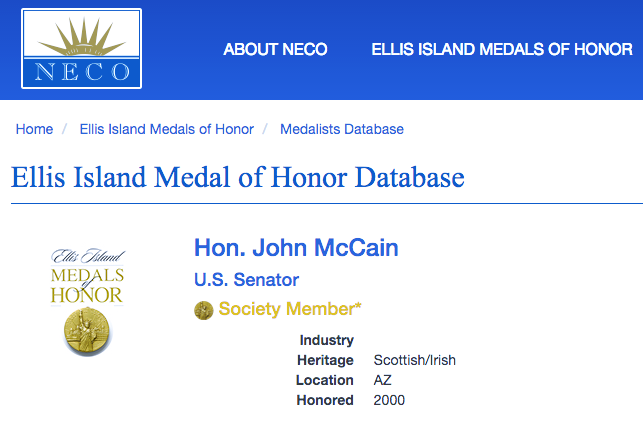 It's not clear precisely why Fugazy selected Trump to receive the medal in its inaugural year, save for their friendship and Trump's success in business. Fugazy died in 2015. Trump's campaign did not respond to questions about the award or about Cohen's tweet.
But Fugazy was working as a broker for Trump in 1986, helping him to purchase two new properties, a 1987 government ethics report revealed. Trump ultimately paid Fugazy more than $500,000 in fees.
In addition to brokering the purchases, Fugazy helped arrange a deal that year between Trump and auto executive Lee Iacocca, one of his closest friends, to buy a condo building in Florida. In the photo below (from left) Iacocca, Fugazy and Trump are attending the 1987 wedding of their pal George Steinbrenner, the owner of the New York Yankees.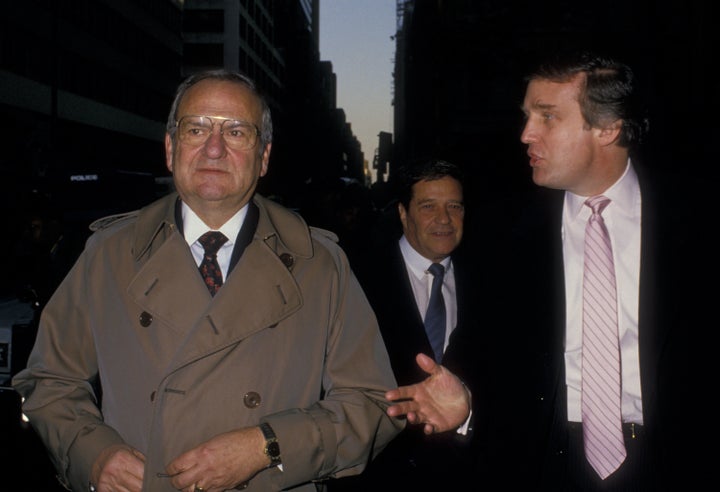 Despite his rich and powerful friends, Fugazy was in deep financial trouble in 1986, and declared personal bankruptcy that summer. Prosecutors later alleged that Fugazy lied in bankruptcy filings about who owned one of his companies. He struck a deal to avoid prison by pleading guilty to perjury. President Bill Clinton pardoned him in 2001, just hours before leaving office.
Whatever Fugazy's motive, it would have been difficult for anyone to make a solid case that Trump deserved an award for "helping America's inner cities," in 1986.
At the time, Trump and his father held the dubious honor of having been the defendants in one of the largest-ever housing discrimination lawsuits, a case sparked by a Justice Department civil rights investigation that found the Trumps discriminated against prospective tenants who were black.
The discrimination case was settled with an extensive consent decree. But by the mid-1980s Trump was back in court, this time trying to force poor and elderly tenants from their rent-controlled apartments in one of his buildings. In addition to the lawsuit, Trump shut off the water in the building and refused to make repairs.
As Trump's longtime special counsel, Cohen has been deeply involved in the GOP nominee's largely unsuccessful effort to win support from black and Latino voters, primarily as the founder and co-chair of Trump's minority outreach group, The National Diversity Coalition for Trump. Earlier this year, Cohen arranged for Trump to meet with black religious leaders in New York and then in Detroit, helping secure a small number of high-profile endorsements. And he frequently defends Trump against critics who point to Trump's long history of racist statements as proof that he is indeed racist.
Popular in the Community