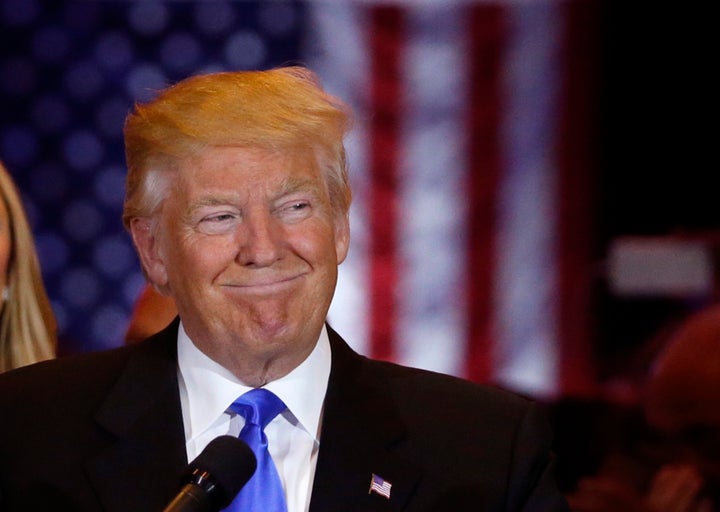 NEW YORK -- Hillary Clinton should not be alive right now.
In late September, the National Enquirer reported that Clinton was desperately sick, quoting sources who said "she'll be dead in six months."
Clinton outlived the anonymous sources' prognosis, but the likely Democratic presidential nominee can expect similarly dire headlines over the next six months, given the Enquirer's record of attacking rivals of presumptive Republican nominee Donald Trump.
Trump on Wednesday praised the Enquirer, which had most recently linked Texas Sen. Ted Cruz's father, Rafael, to the assassination of President John F. Kennedy. The national media ignored the bizarre JFK plot story for two weeks before Trump injected it into the news cycle Tuesday morning on Fox News, just as Indiana voters headed to the polls. And he kept defending the story, even after Cruz dropped out of the race.
"All I did was refer to it," Trump said on ABC's "Good Morning America" on Wednesday. "I'm just referring to an article that appeared. It has nothing to do with me. The National Enquirer gave you John Edwards. It gave you O.J. Simpson. It gave you many, many things. I mean, you can't knock the National Enquirer. It's brought many things to light."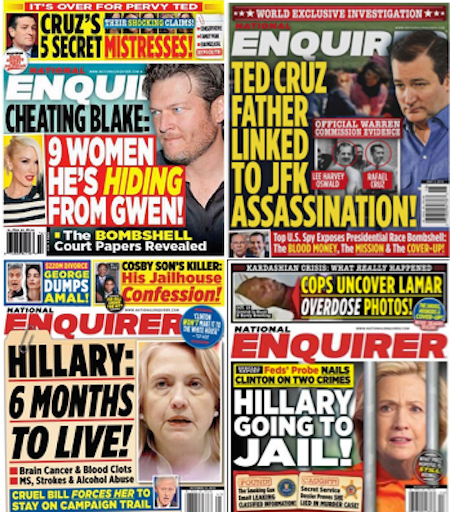 While the Enquirer only officially endorsed Trump in March, the tabloid's leanings have been on display throughout the Republican primary.
"Homewrecker Carly Fiorina Lied About Druggie Daughter," blared a September headline.
"Bungling Surgeon Ben Carson Left Sponge In Patient's Brain!" came weeks later.
'Family Man' Marco Rubio's Love Child Stunner!" dropped in December.
More recently, The Enquirer set its sights on Cruz, who emerged as Trump's most serious rival. In late March, the Enquirer published unsubstantiated rumors that Cruz had affairs with five women. Some news outlets had previously looked into Cruz infidelity rumors, but found no evidence to support them.
The National Enquirer was famously right about Edwards' affair during the 2008 campaign, so political reporters are reluctant to ignore its probes into the private lives of public figures.
Still, national media outlets are unlikely to cite the Enquirer's reporting alone, given its history of publishing unsubstantiated rumors and paying sources for information. Most majors news organizations didn't give the Enquirer's Cruz infidelity story any oxygen until Cruz himself publicly denied the report.
Trump's cozy relationship with publication may flow from his longtime friendship with David Pecker, CEO of American Media Inc, parent company of the Enquirer and RadarOnline.
In August, the New York Daily News reported that the Enquirer wasn't going to dig deeply into Trump because of his relationship with Pecker. New York magazine noted Trump's "alliance" with the Enquirer in October, and reported that the real estate mogul's campaign was behind the Enquirer's October story on Carson, who was then Trump's top rival. The Trump campaign at the time denied it was the source.
Pecker, meanwhile, has been silent about his relationship with Trump. An American Media spokesman said Pecker was not available for an interview.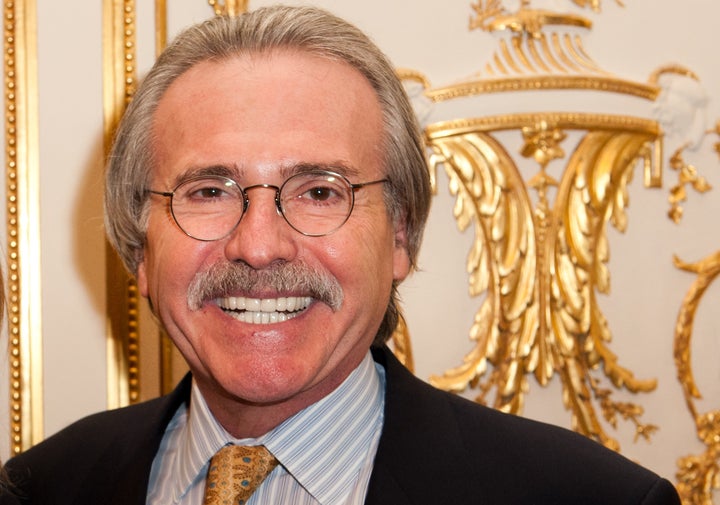 The rise of Trump, who doesn't subscribe to formal campaign conventions and has previously peddled bogus Barack Obama birther conspiracy theories, seems likely to boost the Enquirer's status in the political conversation.
Trump has already hinted at targeting Clinton's personal life in a general election campaign, presumably dredging up former President Bill Clinton's scandal with Monica Lewinsky in the 1990s. And he has surrounded himself, at times, with notorious Clinton antagonists, whose work has been promoted in the pages of the Enquirer.
Trump had lunch Monday with Ed Klein, author of salacious books, including hard-to-believe conversations that supposedly took place between Bill Clinton and Hillary Clinton. Klein claimed Hillary Clinton was in poor health in his book, "Unlikeable: The Problem with Hillary," which was cited in the Enquirer's story giving the Democratic front-runner six months to live.
Trump has also sought the advice of dirty trickster Roger Stone, co-author of "The Clintons' War on Women," published last year. Stone was the Enquirer's only on-the-record source for the report on Cruz's supposed mistresses, though he denied being the main source for the infidelity details. Just days before the New Hampshire primary, The Enquirer reported that Jeb Bush snorted cocaine on the night his father won the presidency, a claim attributed to Stone's recent book on the Bush "crime family."
CNN host Anderson Cooper, interviewing Clinton on Wednesday, noted Trump's promotion of the Enquirer.
"He's brought up a lot of stuff about a lot of people that nobody could have predicted, Cooper said. "He was quoting from the National Enquirer just yesterday. He's made references to your marriage, to your husband. Are you prepared?"
Clinton burst into laughter. "Well, he's not the first one Anderson," she said.
"If he wants to go back to the playbook of the 1990s, if he wants to follow in the footsteps of those who have tried to knock me down, and take me out of the political arena, I'm more than happy to have him do that," she said.
Popular in the Community