President Donald Trump's administration at some point considered mobilizing as many as 100,000 National Guard troops to round up unauthorized immigrants, according to a draft copy of an order obtained by The Associated Press.
Though the AP on Friday reported that the memo was written by U.S. Homeland Security Secretary John Kelly, the White House and the Department of Homeland Security quickly denied that the report was true.
"100% false. There is no effort to use the National Guard to round up," White House press secretary Sean Spicer said in an email to The Huffington Post.
"The Department is not considering mobilizing the National Guard," a DHS spokesperson said in a statement.
The AP's report says that an 11-page draft memo showed the Trump administration considering an unprecedented militarization of immigration enforcement as far north as Portland, Oregon, and as far east as New Orleans.
The memo, which has reportedly been circulating among Department of Homeland Security staff for two weeks, says participating troops would be authorized "to perform the functions of an immigration officer in relation to the investigation, apprehension and detention of aliens in the United States," according to the AP.
Eleven states would be targeted for raids, according to the memo. They include states on the U.S.-Mexico border like Arizona, California, New Mexico and Texas, and non-border states like Arkansas, Colorado, Louisiana, Nevada, Oklahoma, Oregon and Utah. Governors in those states would have final approval on whether troops under their control participate, according to the AP.
If the Trump administration were to go ahead with the plan, it could be a tough sell ― including to Republican governors.
The Huffington Post reached out to the governors of the 11 states listed in the memo. Arkansas, Colorado, Louisiana, Oklahoma, Oregon, Texas and Utah said they had not heard from the Trump administration on the issue. But the GOP governors of both Arkansas and Utah expressed deep reservations about the idea.
"I would have concerns about the utilization of National Guard resources for immigration enforcement with the current deployment responsibilities our guardsmen have overseas," Arkansas Gov. Asa Hutchison (R) said. "During my time at Homeland Security, we utilized National Guard partnerships for specific responsibilities along the border, so the concept is fine, but it's a matter of resources. In Arkansas, I believe it would be too much of a strain on our National Guard personnel."
Hutchison served as undersecretary for border and transportation security when the Department of Homeland Security was formed under President George W. Bush.
"While we cannot speculate as to what may be requested via official channels in the future, we have serious constitutional concerns about activating the National Guard to provide the mentioned services and the potential financial impacts of doing so," the office of Utah Gov. Gary Herbert (R) said.
The office of Oregon Gov. Kate Brown (D) emphasized that state agencies "are not permitted to arrest or detain immigrants based solely on their undocumented status."
During the 2016 campaign, Trump talked at various times about implementing a "deportation force" to conduct raids on undocumented immigrants. In August, during a high-profile speech in Arizona, he pledged to "triple the number of [Immigration and Customs Enforcement] deportation officers" and to "create a new special deportation task force focused on identifying and quickly removing the most dangerous criminal illegal immigrants in America who have evaded justice."
The National Guard is not part of ICE, but the memo obtained by the AP is reminiscent of that August pledge. Federal law permits the president to call up National Guard units in the various states when he or she believes that "unlawful obstructions, combinations, assemblages, or rebellion against the authority of the U.S. make it impractical to enforce the laws of the U.S. in any state or territory by the ordinary course of judicial proceedings."
Other statutes stipulate when the president may call the National Guard to service in concert with state governors, but Trump doesn't appear to meet any of these criteria.
President John F. Kennedy federalized the Alabama National Guard to enforce desegregation of the University of Alabama on June 11, 1963, enabling black students to register over the objections of Gov. George Wallace. In 1957, President Dwight Eisenhower federalized the National Guard to enforce desegregation of Central High School in Little Rock, Arkansas. And in the mid-2000s, President George W. Bush deployed Guard troops on the border to assist with Border Patrol operations.
The concept of a deportation force faces heavy opposition in Congress, including from top Republicans. At a recent town hall, House Speaker Paul Ryan (R-Wis.) said definitively that "there won't be a deportation force."
But it's not clear what purview, if any, the House would have over the mobilization of the National Guard, meaning that Ryan could be powerless to stop this from happening ― if he wanted to at all.
A recent uptick in arrests and deportation of undocumented immigrants stoked fears nationwide about potential use of a "deportation force." In a call with reporters a week ago, an ICE official said agencies had targeted several cities, including Los Angeles, New York and Chicago, in an "enforcement surge."
Trump has floated potential executive actions before, only to back away. Most notably, his administration looked into a religious freedom executive order that would have potentially curtailed LGBTQ rights. But they ultimately decided against going down that route. The AP story, likewise, says merely that the administration is "considering" this order on deportation.
"It is irresponsible to be saying this," Spicer told reporters on Air Force One Friday, according to a White House pool report. Spicer also denied that any document the AP had obtained is a White House document.
Below is a version of the order, as posted by Vox:
This story is developing and will be updated.
Amanda Terkel, Cristian Farias and Ben Walsh contributed reporting.
Support HuffPost
The Stakes Have Never Been Higher
Before You Go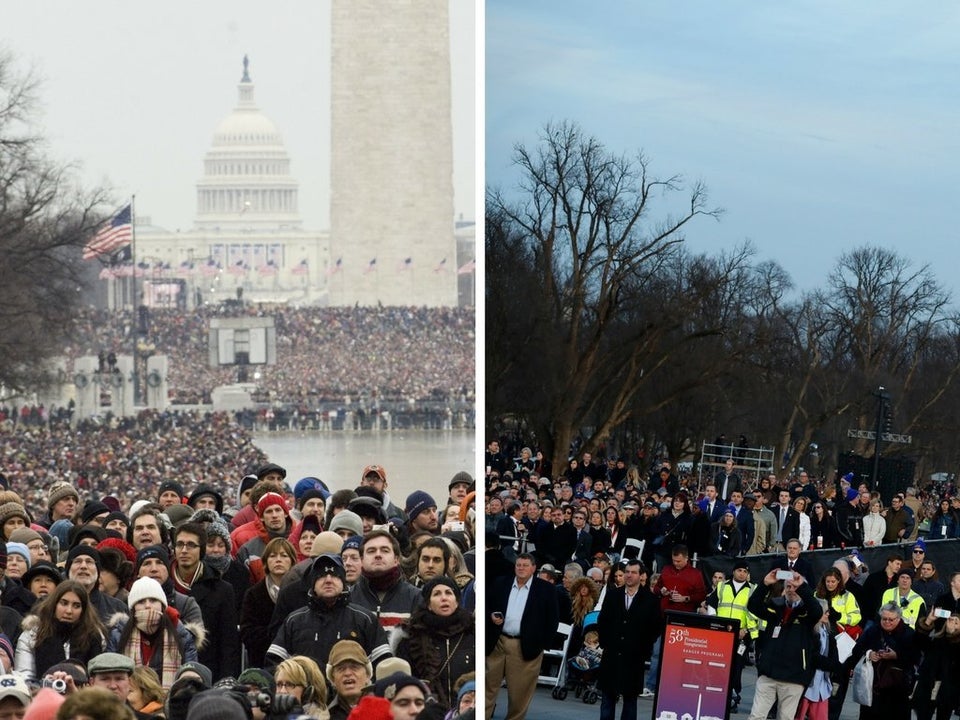 Obama /Trump Inauguration Crowds
Popular in the Community