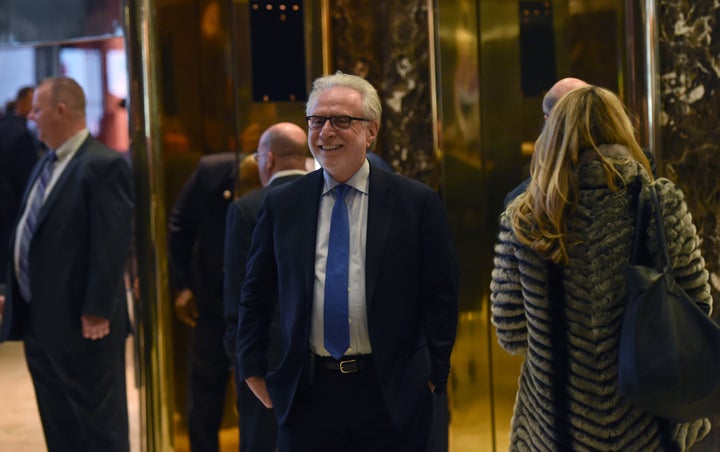 NEW YORK ― President-elect Donald Trump met privately with top network executives and anchors at Trump Tower on Monday for an off-the-record gathering that comes amid serious concerns about the level of access journalists will receive from the incoming White House.
The who's who of TV news included network presidents, such as NBC's Deborah Turness and ABC's James Goldston, and high-profile anchors like CNN's Wolf Blitzer.
Attendees at Monday's meeting declined to comment to reporters afterward, given the off-the-record ground rules. By agreeing to such conditions, journalists expected to deliver the news to the public must withhold details of a newsworthy meeting with the president-elect.
The New York Post reported that Trump harshly "scolded" the group, including telling CNN chief Jeff Zucker that everyone at the network "is a liar and you should be ashamed." Politico reported there was talk of having a "productive" relationship yet noted Trump complained to NBC News' president that the network uses unflattering photos of him.
But it's less common to have both network bosses and top on-air talent meet with a president or, in this case, the president-elect. And it isn't clear if the networks pushed to get Trump to speak on the record.
Concerns about the lack of a protective pool came up, a source familiar with the meeting told The Huffington Post.
New York Times reporters and editorial columnists will have an opportunity to question Trump on the record when he visits the paper on Tuesday, according to a Times spokesperson. The president-elect will also first meet privately with a small group at the paper, including publisher Arthur Sulzberger Jr. Trump repeatedly attacked the "failing" Times throughout the 2016 election and threatened multiple lawsuits, but also gave the paper significant access.
Although the gathering at the Trump Tower was off the record, the event wasn't kept a secret. Some of the most prominent figures in business began parading through the building ahead of a 1 p.m. meeting (as seen on C-SPAN's camera located in the building's lobby).
Here are the rest of the attendees:
ABC News: "Good Morning America" co-host George Stephanopoulos, "World News Tonight" anchor David Muir, chief global affairs correspondent Martha Raddatz
NBC News: "NBC Nightly News" host Lester Holt, "Meet the Press" host Chuck Todd
CBS News: "Face the Nation" host John Dickerson, "CBS This Morning" co-hosts Charlie Rose, Norah O'Donnell and Gayle King, Washington bureau chief Christopher Isham
Fox News: Co-presidents Bill Shine and Jack Abernethy, EVP of news editorial Jay Wallace, EVP of news and programming Suzanne Scott, and EVP of Fox Business Brian Jones.
CNN: President Jeff Zucker and Erin Burnett
MSNBC: President Phil Griffin
Related
Popular in the Community