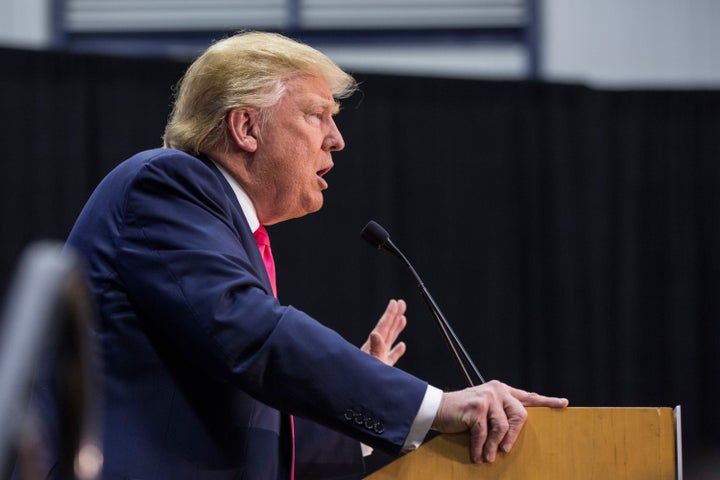 MANCHESTER, N.H. -- Republicans who aren't in Donald Trump's camp and independent polltakers and experts here are increasingly convinced that the fear-peddling billionaire is losing momentum and could even lose on Election Day.
"I've been convinced since day one that he would not win in the end," said Andy Smith, the respected dean of New Hampshire polling and a teacher at the University of New Hampshire.
Key insiders for Ohio Gov. John Kasich, Sen. Marco Rubio (R-Fla) and Sen. Ted Cruz (R-Texas) of course say the same thing -- but they are saying it with much more conviction than they did a few weeks ago.
"We have a chance to catch him," insisted former Sen. John Sununu, who is a key figure in Kasich's campaign. "People are looking for ways NOT to vote for Trump."
More than a third of voters have said they definitely would NOT vote for Trump, a very high number at the same time that there is a huge undecided vote, Smith told The Huffington Post in an interview. "There is a ceiling on his support, not a floor."
Though Smith's latest poll puts Trump at 28 percent and his nearest competitor -- Rubio -- at 15, Smith thinks that there is time for Trump to fall further, and perhaps for Rubio, Kasich or Cruz to catch up to him.
"Right now it is a slow leak in the tire, but the tire could also explode," said Smith. "Don't forget that in 2004, Howard Dean fell 14 points in one day after his meltdown in Iowa."
On television, Rubio ads are in particularly heavy rotation on local stations, aimed at women and low-information voters who are slow to make up their mind and are still available.
At the same time, Cruz is being hit on TV with a barrage of negative "independent" PAC ads aimed at shaking loose his support.
GOP types continue to disparage Trump's ground game here, especially after watching him underperform by 6 points or more in Iowa.
For example, other candidates harvest large amounts of data before and at local events, either in person or via apps such as Eventbrite. Trump's team gets a minimum of information and then does little to follow up on it, operatives say.
"The big rally is not how you do it here," said David Carney, a longtime GOP operative and campaign manager in New Hampshire.
Saturday night's ABC-run and RNC-sponsored debate at St. Anselm College will likely be Trump's last test before New Hampshire voters head to the polls.
In this case, he will not only be fending off the substantive attacks of others. He will also be trying to fight off the still-under-the-radar but real sense that he could become a two-time loser.
Calling all HuffPost superfans!
Sign up for membership to become a founding member and help shape HuffPost's next chapter