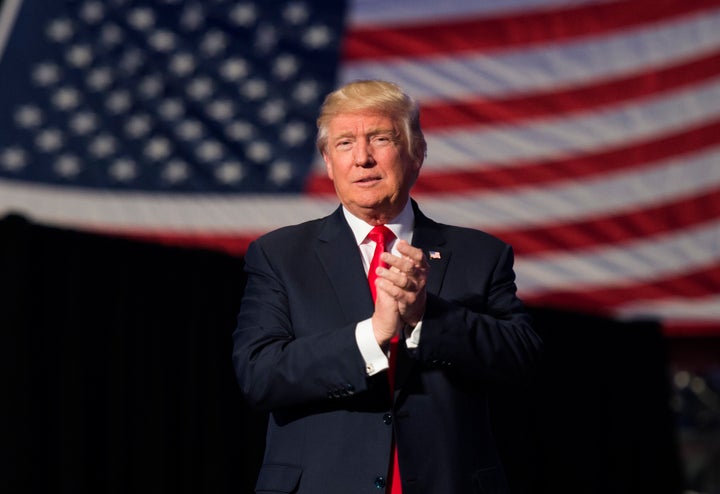 The results from New York leave Trump with a difficult ― although navigable ― path to the delegate majority. Polling in the state was on point. And there's little data to shed light on where the race goes from here. This is HuffPollster for Wednesday, April 20, 2016.
TRUMP STILL NEEDS TO WIN 58 PERCENT OF THE REMAINING DELEGATES - HuffPollster: "Donald Trump's romp through New York on Tuesday begins what will be a rampage through the next few weeks, as the race shifts toward the Trump-friendly territory of the Mid-Atlantic and Northeast. The coming run, though, won't be enough to guarantee Trump the Republican presidential nomination. For him to lock down victory before the GOP convention in July, the final states out West, including California, will be key….The likelihood of a contested convention hinges on how likely Trump is to get almost 60 percent of the remaining delegates. Assuming he wins about 85 delegates, as expected, in New York, he'll be about 51 delegates shy of staying on track to reach a majority in June, according to FiveThirtyEight's targets. That's not insurmountable. But racking up 396 of the remaining 674 delegates won't be easy." [HuffPost]
Update to Trump's delegate counts - As of Wednesday morning, it looks like Trump will claim either 89 or 92 of the delegates in New York and will need either 392 or 389 of the remaining 674 delegates to get to the 1,237 majority.
Cruz has gained some momentum, despite losing big in New York - David Byler: "For the last few weeks, Ted Cruz has been on a roll. He racked up delegates in Colorado, Utah and Wisconsin, gained significantly in national polls and (if you believe the betting markets) increased his chances at winning the Republican nomination by about 20 percent….Cruz's recent success seems to stem from picking up Marco Rubio's voters and cashing in on early investments in on-the-ground organization….Unfortunately for Cruz, the calendar might put an end to his momentum. Specifically, a slew of unfavorable states are around the corner, and decisive losses could cause Cruz to lose Rubio voters to Kasich and face more resistance in the delegate selection process." [RCP]  
SANDERS HAS NO REALISTIC PATH TO THE DEMOCRATIC NOMINATION - HuffPollster:"Despite closing in recently on front-runner Hillary Clinton in national polls, Bernie Sanders' path to the Democratic nomination has become increasingly difficult after Tuesday night's loss. Coming into Tuesday's Empire State primary, Clinton had 1,289 pledged delegates to Sanders' 1,045 delegates, meaning that Sanders didn't just need a win in New York — he needed a big win....To turn things around, Sanders needs to start winning many more contests by double digits….Adding in superdelegates brings Clinton's pre-New York total to 1,758 delegates and Sanders to 1,076 — a deficit that was already nearly impossible for him to overcome, but one he hopes to surmount by winning the pledged delegate count and swaying the superdelegates to come his way. But there is no conceivable scenario in which superdelegates would switch their votes if Sanders hasn't won the pledge delegate tally." [HuffPost]  
Democratic delegate update - As of Wednesday morning, Clinton has claimed 139 pledged delegates in New York and Sanders has 106. A couple of delegates are still unallocated, according to the AP. With superdelegates, Clinton's total from New York increases to 173.
Sanders' rise in national popularity came too late - Nate Silver: "[N]o matter whose numbers you're looking at, Sanders has gained on Clinton….There does seem to be a time trend in Sanders's favor. In retrospect, given how poorly she's fared in caucus states elsewhere, Clinton's narrow wins in the Nevada and (especially) the Iowa caucuses look impressive. However, those wins came early in the calendar, and there's room to question whether she'd have gotten the same results if those elections were held today….That Sanders has made gains so far doesn't necessarily mean he'll continue to do so, however….unless Sanders continues gaining ground, it will wind up being too little, too late for him."  [538]
A GOOD NIGHT FOR POLLS - Polls were spot on in both the New York Republican and Democratic primary on Tuesday night.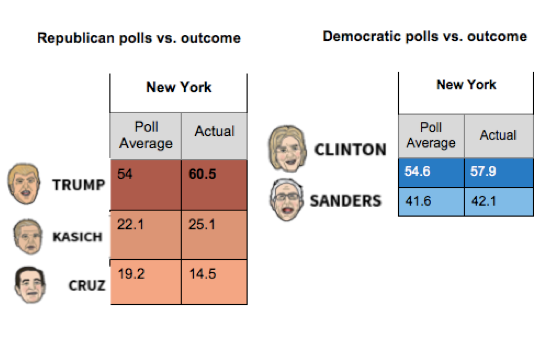 THERE'S NOT MUCH POLLING ON THE REST OF THE PRIMARY - At the beginning of 2016, each new primary meant an avalanche of new survey data. More than 240 polls were released tracking the GOP races in Iowa, New Hampshire and South Carolina alone, according to HuffPost Pollster's data. That glut of polling, however, no longer seems like quite so much of a problem. There have been fewer than 10 surveys conducted in the majority of the 18 primaries since Super Tuesday, with big states like Florida, North Carolina, Wisconsin and New York standing out as exceptions. As the calendar moves on, only Pennsylvania, California and New Jersey are likely to merit similar attention. There's virtually no information about how many of the other states that are still to vote will end up deciding. In 11 upcoming states, fewer than five surveys on the Republican primary have been conducted, with several offering no data at all. Things on the Democratic side look equally, if not more, sparse.
HUFFPOLLSTER VIA EMAIL! - You can receive this daily update every weekday morning via email! Just click here, enter your email address, and click "sign up." That's all there is to it (and you can unsubscribe anytime).
WEDNESDAY'S 'OUTLIERS' - Links to the best of news at the intersection of polling, politics and political data:
-A majority of New York Republican voters say the election has divided the party as opposed to energizing it. [ABC]
-Nate Cohn explains why Bernie Sanders probably won't catch up to Hillary Clinton in the delegate race. [NYT]
-Clinton and Trump lead the field in Connecticut. [Quinnipiac]
-Americans are divided on whether to take in refugees from other countries, but many see it as a moral obligation. [Marist Poll]
-Historical polling data shows America's long history of resisting civil rights protesters. [WashPost]
-A study finds that debates can change people's minds. [Vox]
Calling all HuffPost superfans!
Sign up for membership to become a founding member and help shape HuffPost's next chapter
BEFORE YOU GO