The New Yorker has done it again.
"Bad Reception," the cover illustration for the magazine's Feb. 1 issue, shows past U.S. Presidents John F. Kennedy, Abraham Lincoln, Theodore Roosevelt, Franklin D. Roosevelt and George Washington watching present-day presidential hopeful Donald Trump blathering on TV.
Their expressions range from shock and disgust to confusion and shame.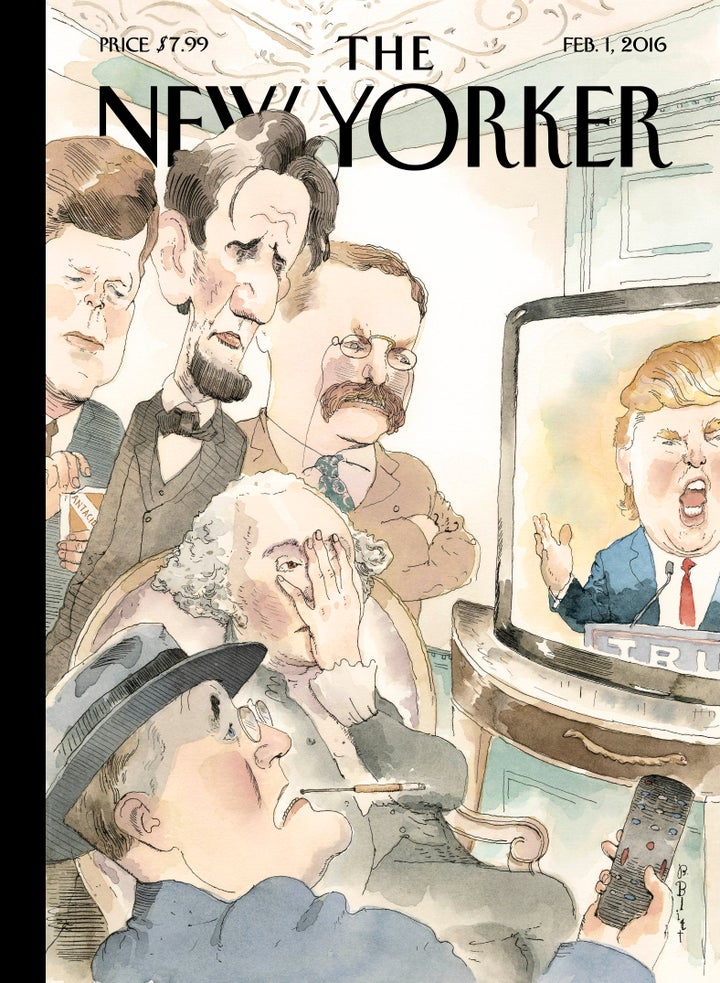 "In most historical portraits, Presidents are noble and dignified," Barry Blitt, the artist who drew the cover illustration, said in a brief New Yorker story about the cover. "My biggest challenge was to alter the Presidents' expressions to make them reflect attitudes of consternation."
Blitt is no stranger to attention-grabbing New Yorker covers. He was responsible for the magazine's controversial July 21, 2008 cover, "The Politics of Fear," which featured then-presidential candidate Barack Obama dressed in stereotypical Muslim garb and fist-bumping Michelle Obama, who was caricatured as an Afro-sporting, AK-47-toting black radical.
The cover followed former Fox News anchor E.D. Hill's infamous declaration that Michelle Obama had given the president a "terrorist fist-jab" as he approached the podium to accept the Democratic presidential nomination in June 2008.  
Of course, as Mother Jones' Tim Murphy notes, most of the presidents featured on the latest New Yorker cover didn't exactly have glowing track records when it came to civil rights and racial equality.
PHOTO GALLERY
If Donald Trump Wrote The Bible (God Help Us)
REAL LIFE. REAL NEWS. REAL VOICES.
Help us tell more of the stories that matter from voices that too often remain unheard.