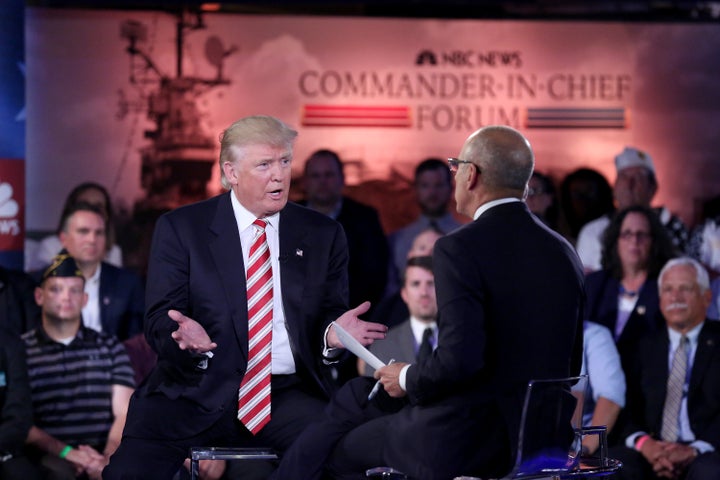 If the GOP nominee lies about being a vocal opponent of the Iraq War, as he did Wednesday and throughout the 2016 campaign, for instance, he should be called out. 
Trump responded Monday to the Lauer controversy, and growing calls for the TV journalists steering the debates to challenge Trump's and Hillary Clinton's falsehoods, by proposing there should be no moderators at all.  
"I think, maybe, we should have no moderator," Trump said on CNBC. "Let Hillary and I sit there and just debate. I think the system is being rigged so it's going to be a very unfair debate. And I can see it happening right now. Everyone's saying that [Lauer] was soft on Trump. Well now, the new person's going to try and be really hard on Trump just to show the establishment what he can do. So, I think it's very unfair what they're doing. I think we should have a debate with no moderators, just Hillary and I sitting there talking."
Trump presumably can't really expect the bipartisan Commission on Presidential Debates to tear up its entire debate process and remove the moderators. But the Republican nominee's pre-emptive complaints about "unfairness" could be an effective way of giving the moderators pause before aggressively challenging him ― also known as working the refs. Such pre-debate gripes could also be used to try to explain away a poor performance. 
For months, Trump has already been seeding doubts about the debate process in anticipation of his first matchup with Clinton on Sept. 26.
In July, Trump claimed the debate schedule, which had been announced in September 2015, was "rigged" in favor of Clinton because two of the upcoming debates will air against NFL games. It's not unusual for fall presidential debates to air against the NFL, which broadcasts games three nights a week, and Major League Baseball playoffs that take place throughout October. In criticizing the debate schedule, Trump falsely claimed the NFL complained to him about it. 
Trump already balked last month when it came to agreeing to the long-established debate schedule because he wanted to first know who would be moderating. "l demand fair moderators," he told Time magazine. Days later, Trump said "NBC Nightly News" anchor Lester Holt was "a good guy" when discussing who he'd find acceptable. 
"I'm okay with having, to be honest with you, I'm okay with having new faces," Trump told radio host Hugh Hewitt. "I like some of the old faces, too, but I'm okay with having new faces. But I don't want to have people that are unfair."
Holt was selected earlier this month to moderate the first Trump-Clinton debate, with ABC's Martha Raddatz and CNN's Anderson Cooper handling the second, town hall-style debate and Fox News' Chris Wallace moderating the third. There have been perceptions that Trump's public complaints during the selection process about being treated unfairly had an effect, Politico reported Monday. 
"[T]here is wide speculation among media executives that NBC's Lester Holt, who Trump is comfortable with, was chosen to moderate the first debate with Clinton later this month in order to appease the GOP nominee," Politico reported. "Similarly, some also believe that Fox News' Chris Wallace was tapped to moderate the third and final debate to lessen the likelihood that Trump skips it."
Wallace recently said he intends for the candidates themselves, and not the moderator, to fact-check claims during a debate, a view that drew criticism from journalists who expect the moderator to challenge outright lies. Lauer's performance three days later only raised concerns about whether the moderators will set the record straight if the candidates make demonstrably false claims. 
Trump suggested Monday that his rivals were the ones working the refs against him by criticizing Lauer, while expressing reverence for legendary Indiana basketball coach Bobby Knight's ability to literally do so.  
"Bobby would do numbers on the referee and toward the end of the game, they would just sort of, maybe subconsciously, they'd give him the calls," Trump said. "He was a master at it."
Calling all HuffPost superfans!
Sign up for membership to become a founding member and help shape HuffPost's next chapter
BEFORE YOU GO