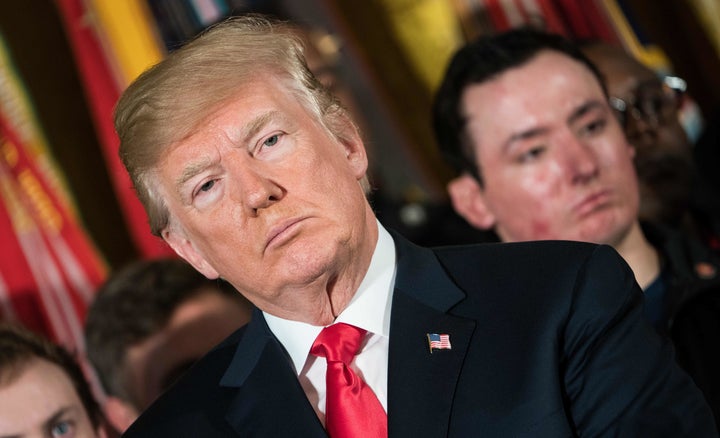 Rep. Luke Messer (R-Ind.) is launching an effort to nominate President Donald Trump for the Nobel Peace Prize. 
"We are seeing unprecedented progress toward peace, and it's a direct result of President Trump's strong leadership," Messer said in a statement Friday.
The GOP congressman is pointing to Trump's work on North Korea as the impetus for promoting the nomination. Messer first proposed the idea in March and has consistently pushed it since then.
At a historic summit this week, North and South Korea announced that they agreed to the goals of removing nuclear weapons from the Korean Peninsula and pursuing talks with the United States to declare an official end to the Korean War. 
"Our peace through strength strategy is delivering never before seen results," said Messer, saying Trump deserves the credit for the Korean leaders' announcement.
Messer said he is in the process of gathering congressional support for the nomination.
Trump has agreed to meet with North Korean leader Kim Jong Un, possibly in late May or early June. Mike Pompeo, Trump's newly confirmed secretary of state, met with Kim in secret three weeks ago. At the time, Pompeo was the CIA director. 
President Barack Obama was awarded the Nobel Peace Prize in 2009, less than one year into his first term ― an honor that infuriated conservatives. The Nobel Committee pointed to "his extraordinary efforts to strengthen international diplomacy and cooperation between peoples" and "attached special importance to Obama's vision of and work for a world without nuclear weapons."
Messer is seeking the Indiana GOP Senate nomination this year, and many of the candidates are trying to prove how much they're like Trump. Messer has pitched himself as a "conservative who supports the Trump/Pence agenda."
UPDATE: April 30 ― Rep. Mike Bishop (R-Mich.) also suggested the Nobel Prize for Trump, writing, "Other than the Reagan's triumph in tearing down the Berlin Wall, this is the most impactful moment for world peace in my lifetime. If the actions made by these leaders result in a peace treaty and the de-nuclearization of the Korean Peninsula, Moon Jae-in and President Trump must be awarded the Nobel Peace Prize." 
Calling all HuffPost superfans!
Sign up for membership to become a founding member and help shape HuffPost's next chapter