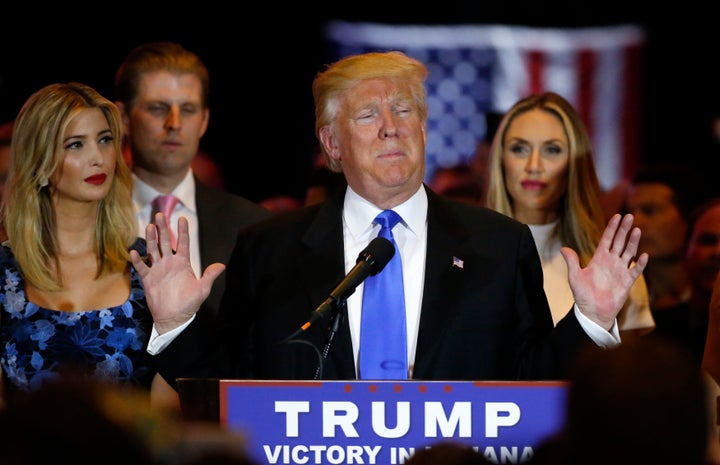 Much of the world woke up on Wednesday to the reality that Donald Trump is now the presumptive Republican nominee for president of the United States.
Trump's dominant victory in the Indiana Republican primary on Tuesday essentially secured his place as the GOP candidate, as Sen. Ted Cruz (Texas) suspended his doomed campaign the night of the vote and Ohio Gov. John Kasich followed suit on Wednesday.
International media has reacted to Trump's latest win with incredulity -- baffled that the real estate mogul and former reality TV star continues his advance toward the White House. Many outlets noted that the idea Trump could secure the nomination was "unthinkable" at the outset of his campaign.
"Just months ago, Trump as the presumptive nominee was a punchline -- now it's reality," journalist Lyndsay Duncombe said Wednesday on the Canadian Broadcasting Corporation's "World Report" radio program.
Other international coverage has tried to grapple with how Trump's unlikely path to the nomination happened, and what his chances now may be in the general election. Some outlets noted his sexist and racist rhetoric, while Israel's Haaretz stated that many Americans feel his likely candidacy is "the end of the world as we know it."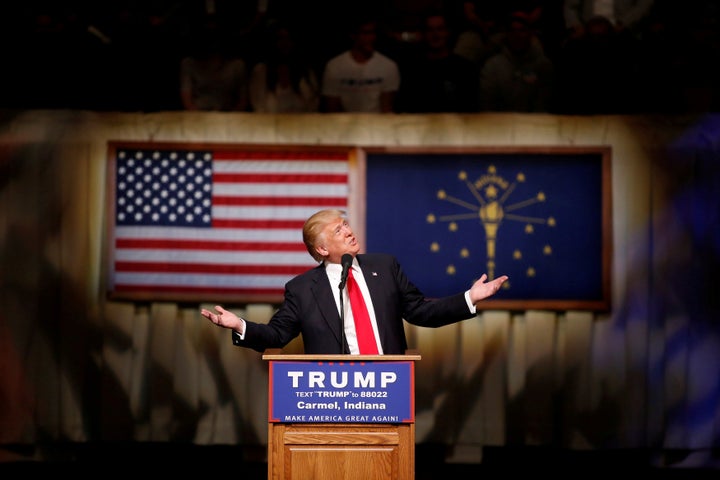 Here's a roundup of some reactions from around the world to Trump as the presumptive GOP nominee for 2016.
Canada's CBC reported on Trump's likely nomination with news reports and analysis pieces underscoring the fractured state of the Republican establishment and the new phase of the presidential race. Washington correspondent Keith Boag wrote about how far the GOP has veered away from its establishment's control:
The Republican establishment decided after the last election in 2012 that it couldn't rely on simply mobilizing its base anymore, that its future lay in expanding that base. Those Republicans wanted a party that would reach out to Hispanics, for example, and not threaten to round up their relatives, deport them back to Mexico and then wall them off.

...

But now Trump and that part of the party that he campaigned so hard against must live together as a team.
Also from the CBC, the "World Report" radio program's Lyndsay Duncombe summed up the state of the race.
"Just months ago, Trump as the presumptive nominee was a punchline; now it's reality, setting up a general election contest between a man widely condemned as sexist, and most likely the first female nominee for the White House."
He is the single most unpopular nominee in the modern history of polling. A plurality of Republican voters didn't care. Furious with the polished figures of the political establishment, eager for simpler times and receptive to Trump's anti-Muslim, anti-illegal-immigration, anti-free-trade message, they had chosen the insult-spewing businessman in almost every part of the country.
An iconoclastic candidate, with populist, reactionary and even racist speeches, Donald Trump is also the least convincing Republican primary candidate since 2000.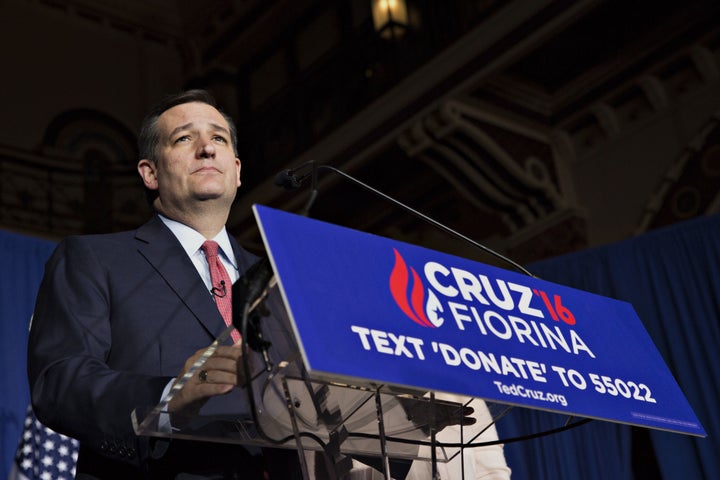 The tycoon is now all but certain to be the Republicans' presidential nominee — a result that a year ago would have seemed even more outlandish than Leicester City winning the Premier League.

Trump's campaign has proved hugely divisive for the party, with many believing that he is unelectable.
Leicester City had a 5,000-1 shot to win the U.K.'s soccer Premier League title, which it clinched this week.
Spain's El Pais newspaper covered Cruz's failure to mount a serious challenge to Trump's campaign, as well as what lies ahead as the race to the White House continues:
In recent weeks, Trump's belligerent attitude, coupled with his lack of political experience and inflammatory rhetoric, had made Cruz look by comparison like a calm, level-headed candidate who is open to dialogue – itself a far cry from the early combative spirit that Cruz had displayed in the Senate.

But the strategy has proven futile. The results in Indiana confirmed Trump's advance with a 17-point victory that opinion polls had already been forecasting. Cruz was unable to avoid defeat despite his attempts at mobilizing voters with support from the governor of Indiana, his announcement of a running mate, and his surprising deal with Kasich by which the latter agreed not to campaign in that state.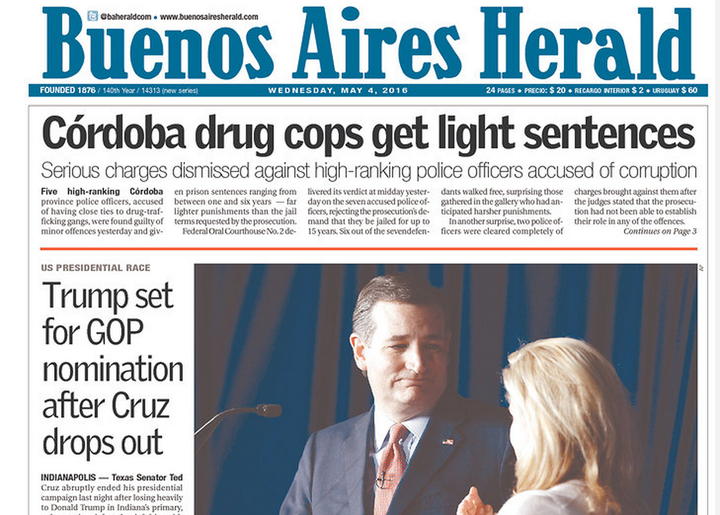 China's state-controlled Xinhua News Agency ran an article criticizing Trump's views on international trade and rhetoric toward China, citing economic analysts who have derided the candidate's policies on trade:
U.S. Republican presidential front-runner Donald Trump's blunt accusation that China "raped" the United States in trade and committed "the greatest theft in the history of the world" was refuted by western media and experts for its naive logic.

...

Analysts also believe Trump's verbal attacks on China were merely a tactic to cater to blue-collar voters who have suffered loss of jobs and industry.
Israel's Haaretz also noted how unlikely, and bizarre, Trump's takeover of the GOP has been. Correspondent Chemi Shalev wrote on the unexpected and concerning rise of Trump, and how he has gained his support from projecting success and confidence:
Many Americans had to pinch themselves on Tuesday night. It's the end of the world as we know it, they told themselves. The party of Abraham Lincoln, Ronald Reagan, Teddy Roosevelt and Dwight Eisenhower is about to anoint Donald Trump as its new leader.

...

Beyond his abrasive style and abusive rhetoric, his instinctive connection to white men's rage and his ability to change positions from one moment to the next, Trump owes his success to his success. In America, as in many other places, nothing succeeds like success.
...
His early successes then created their own momentum, which led to ever-greater victories, until he turned invincible.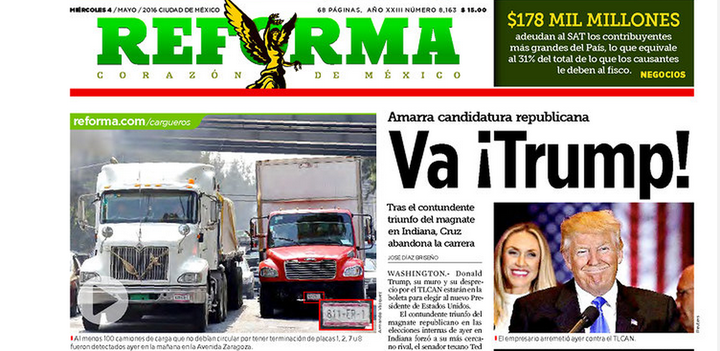 Alexandra Ma and Jesselyn Cook contributed reporting.
Related
Before You Go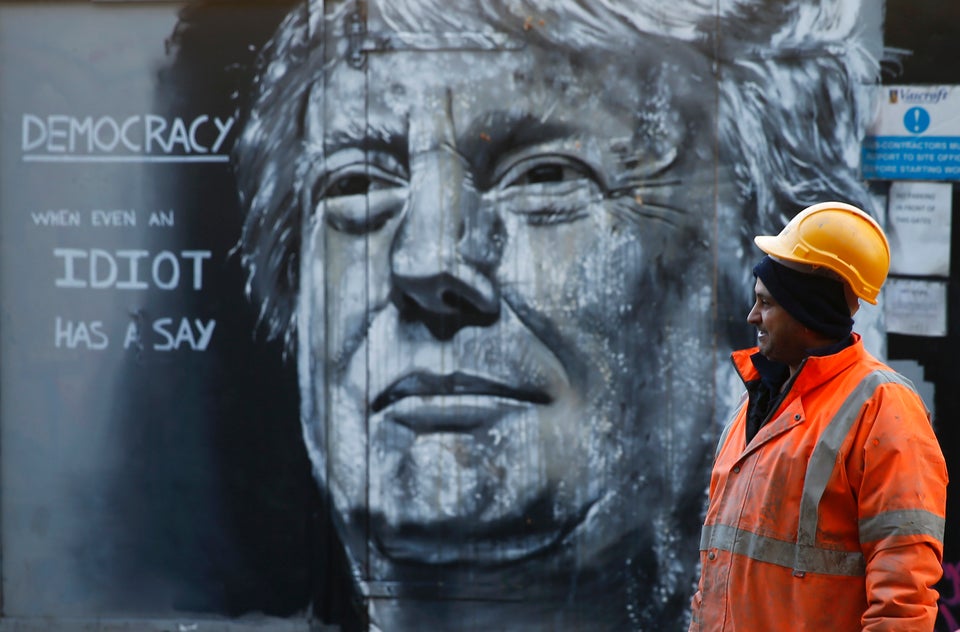 Anti-Trump Street Art From Around The World
Popular in the Community