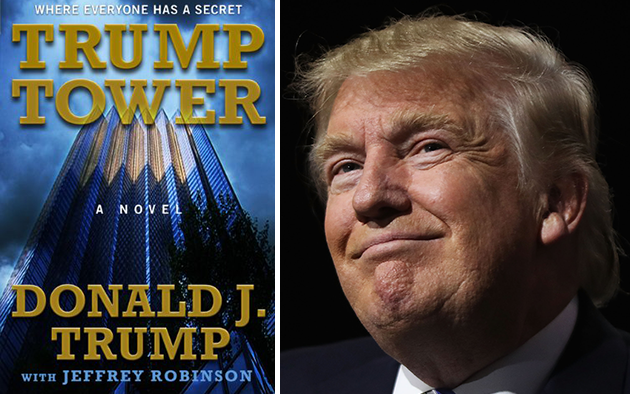 When Jeffrey Robinson's Trump Tower debuted in July 2012, it failed to receive much attention, despite boasting the tagline, "The sexiest novel of the decade," and an endorsement from Donald Trump himself.
"Jeffrey Robinson's novel Trump Tower bares it all," Trump writes in the only review blurb on the the back cover. "Here is the drama of the Ultra Rich, the Ultra Powerful, and the Ultra Beautiful who call the most glamorous address in the country their home. I can't wait to see it on television!"
One of the only critical reviews came from The New York Post, which claimed, "The red room of pain in Fifty Shades of Grey would fit right into Trump Tower." The review only discussed events that happen within the first few pages of the novel, such as a tenant of New York City's Trump Tower being held against her will in an act that's depicted as sexy BDSM but is not consensual. This clear moment of sexual assault is presented nonchalantly in the book.
Although the book depicts the graphic sex lives of those living and working in Trump Tower (such as an employee having sex on the set of "Celebrity Apprentice"), Trump's real-life building continues to promote the book prominently in its retail areas.
Just last year, the book was featured on the top shelf of the Trump Store in the building, above all other books by Trump. As of this month, Trump Tower is advertised in a display case right next to the main floor's Trump Bar and was one of the only books still sold at the tower's store (now largely a holding place for "Make America Great Again" campaign materials).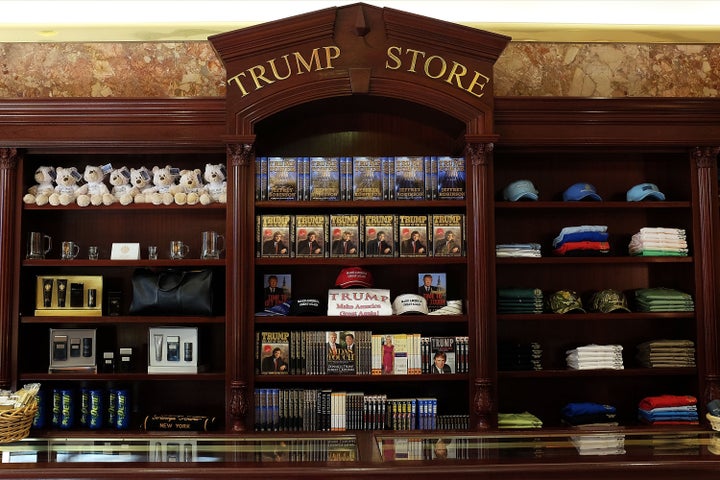 If it seems odd that Trump would have such an affinity for Trump Tower, it makes more sense once you know that the publisher originally marketed the book as "the debut novel from 'New York Times'-bestselling author, international business mogul, television superstar, and New York City icon, Donald J. Trump."
The Huffington Post obtained advertising materials that market Trump as the author of Trump Tower and reference a registered ISBN different than the eventual Trump Tower. The U.S. ISBN Agency, an organization that's responsible for the assignment of these numbers, confirmed that the ISBN is registered in their database. "The title was still on a Not Yet Published Status when it became unavailable," further clarified a representative from Perseus Books Group, the publishing house responsible for both iterations of Trump Tower.
On this original version of the book, which was supposed to be available in 2011, Trump's name is listed as the primary author above Robinson's, although the covers are nearly identical otherwise.
Libraries and booksellers who received this advertising copy later got an update that the publication was canceled, only to get a Trump Tower without Trump's name a year later.

Trump Tower is an incredibly sexist novel. Just about every single female character's level of attractiveness is described, while male characters get little physical description. Bust-size is repeatedly mentioned with lines like, "She was dressed in white, with her blouse open to her navel, which did nothing to hide her small breasts."
Even when a female character is briefly mentioned, much of the writing space is used to describe her appearance, often with a term like "plump." That descriptor is used for three different women in the book.
The novel also spends quite a bit of time describing various Trump properties, such as Mar-a-Lago and Trump National Golf Club. The main storyline focuses on the employees and tenants of New York's Trump Tower, but Trump himself pops up from time to time to dismiss a tenant as a crazy person, to discuss whether to fire someone, or to talk about his sex life.
The dominant arc of the novel follows the building manager as he tries to keep the tower running smoothly. The novel opens with the manager telling himself, "Donald Trump only thinks he rules Trump Tower." The book concludes, more than 400 pages later, with the manager overcoming multiple obstacles, only to have Trump undermine his authority in the very last paragraph.
Numerous typographical errors, bizarre "cameo" appearances by celebrities (not least among them Bill Clinton) and abrupt tonal shifts further make finishing the novel a challenge. The first section of the book is vaguely in the genre of erotica, with numerous descriptions of naked women and sex scenes. The remainder of the novel devolves into office politics, trade deals and a murder investigation. The building manager is a suspect in that murder, but is cleared when the cops just give up on the case. Nobody in the novel seemed to care about the murdered woman, so it's fine.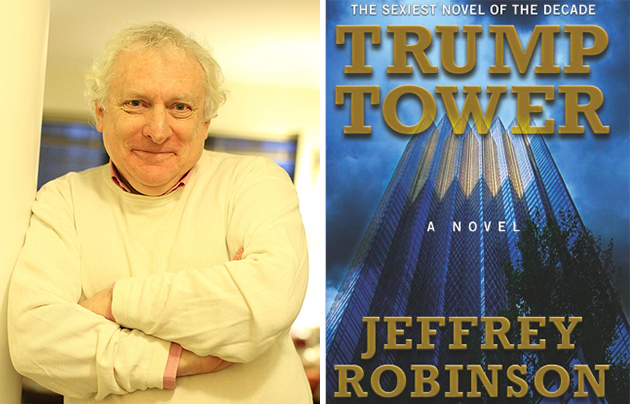 As with his nonfiction books, it appears Trump did not actually "write" this novel and instead hired Robinson as his ghostwriter. An old JLA speaker listing for Robinson happens to advertise that "he might also confess to ghost writing a novel for Donald Trump." (A representative for JLA told HuffPost, "Our biography is accurate.")
Trump has worked on a "Trump Tower" project since at least the late 1990s, when he tried to make it a television show. "We hired a writer out of Los Angeles and developed a pilot with Showtime," Bob Frederick of the Canadian production company MVP Entertainment explained to HuffPost. "And Donald was happy with it because it was more of a 'Dallas,' 'Dynasty,' 'Upstairs, Downstairs,' kind of concept. And although he had no creative say in the series, we did write him a check for his rights."
Part of the promotional copy for the published Trump Tower reads (emphasis ours):
In the great tradition of Arthur Hailey, Harold Robbins, "Dynasty," and "Dallas" comes Jeffrey Robinson's Trump Tower, where everyone's life is a drama. Leave your modesty downstairs. Trump Tower is the sexiest novel of the decade.
That television show didn't come to fruition, but Trump continued to try and make the project work with other networks, including Lifetime in 2008. For that iteration, Trump was going to be the narrator.
This is not to be confused with his other, more autobiographical failed television project, "The Tower." In February, The Washington Post secured part of the script Trump tried to develop with NBC. That project would have focused on a character named John Barron (a pseudonym Trump used occasionally when speaking with reporters), who was good at making deals.
Trump also has a reported obsession with the show "Dynasty" and so it makes sense he would want to insert himself into his own version. Joan Collins, one of the show's stars who claims she based her character off Trump, has said that when he tried to get a role in the cast and was told no, he shouted, "But I am 'Dynasty'!" Trump reportedly later tried and failed to cast Collins in his show "Celebrity Apprentice." The Guardian also claimed in 1990 that Trump had a romantic relationship with "Dynasty" star Catherine Oxenberg, although she has said those rumors were "a complete joke."
It remains unclear why Trump decided to take his name off the Trump Tower novel. Robinson refuses to talk to media outlets until after the election is over, a stance his rep reiterated after HuffPost sent along details in this story. The publisher for Trump Tower, Vanguard, effectively shuttered around the same time the novel debuted. Perseus Books Group, the press that oversaw Vanguard, did not return multiple requests for comment except to confirm the ISBN was in their database.
The listed designer for the book, Jeff Williams, still works at Perseus, but also did not respond, and neither did former employees of the Vanguard division.
Multiple booksellers and libraries confirmed that, despite having archived listings for Trump's Trump Tower, they did not have a physical copy for ISBN 10: 159315643X / ISBN 13: 9781593156435. Elements of the advertising material seem to have come through the service Nielsen BookData, which publishers upload information into. A representative from Nielsen said the company no longer had archived materials for that ISBN.
The Trump Tower that was originally registered may be different from the published version in other ways. Ad copy suggests the initial version was about 100 pages shorter. The teased plotline also includes slight differences from the published work, such as a character ― "the mysterious woman with the indoor swimming pool" ― who does not appear in Robinson's final version.
Television producer Bob Frederick said that Trump was wary of an early iteration of the potential program because it was "sexual in content" and he didn't "want a series that's about sex." As the published Trump Tower is heavy in sexual content, this might be among the reasons that Trump took his name off the project.
A representative for Trump did not return a request for comment.
As Trump is running for president, it makes sense to give Trump Tower as close a read as the other books he "wrote." And in this case, there is enough absurdity to stand out in a campaign already built on entertainment.
Here are just a few of the strangest sex-related scenes in Trump Tower ...
(Spacing in text has been adjusted for this article)
The general manager of Trump Tower checks if a tenant named Cyndi Benson is all right in her apartment, and describes her "gorgeous breasts":
Slowly opening the door — "Miss Benson?" — there she was, completely naked and gagged, her arms above her head, handcuffed to the top of the brass bedstead, with her legs tied to the bottom of the bedstead, stretched wide apart ... "Miss Benson ..."
Although she'd lately added blonde mesh highlights to her dark hair, her big, hazel eyes were the same as when they helped to make her famous, and her high cheekbones were the same, and her legs were the same but, as Belasco had already discovered — being two or three pounds heavier than she'd been as a teenager — she now had absolutely gorgeous breasts.
A tenant named Ricky walks out of his bedroom and orders a stranger to have sex with him:
Just then, Ricky heard some noise down the hall. He followed it to the second bedroom, opened the door, and saw a naked guy on top of a naked girl. He didn't know either of them. "Oy." The guy looked over but didn't stop. "Hey Ricky, I'm Bugs. She's Shari." "Don't mind me." Ricky stood there. Shari looked up, half-waved, and brought her feet up. "Pleased to make your acquaintance." He watched them for a moment, then stepped into the room and got into bed with them. "When you're done with him, luv," Ricky said to Shari, "you get on top of me. Just be careful this bleeding ankle bracelet don't leave no marks."
An elevator operator talks about his newborn child with a tenant and says, "He like his mama's titties a lot":
Jaquim pulled a photo out of his pocket and showed it to David. "Seven kilos already. That's the clothes you and Mrs. Cove bought for him. He like a lot." "Seven kilos. Good." David had no idea if that was good or not, but he knew he had to say something nice. Jaquim pointed to his chest and nodded, "He like his mama's titties a lot."
Later in that scene:
David mumbled, "I'd probably like his mama's titties, too," and, instead of using his key, he rang the bell.
A Hollywood agent named Zeke talks to Katie Couric at a party and brings up something Trump told him about the "absolutely gorgeous girls" he used to have sex with:
"That's what Trump wanted to know when I mentioned the deal to him. You know what I told him?" "What?" "I said, 'Donald, when you own the world, you get laid a lot.'" Couric looked at him askance. "And you know what he said to me?" Zeke nodded several times, "He said that when he was single and running around with some of the most beautiful women on the planet, absolutely gorgeous girls, he used to get laid all the time. He said, 'Zeke, I didn't have to own the world.' And I said to him, Donald, of course not, because you already owned the air rights." Couric smiled politely.
Two female tenants talk about getting lunch and wonder if they'll be able to keep their clothes on:
"Ladies who lunch," Cyndi said. "This time," Alicia suggested, "let's try to keep our clothes on."
A lingerie designer talking to a tenant about his goals:
As Firenzi himself described it once to Carson, "I create underwear for the whore that every man prays his mistress might become."
A friend of Ricky's gifts what he thinks is a cat:
"Open it," King said. "We found it in the neighborhood. A stray. And I figured with you all shut up in here like this ... " Ricky tore the box open and inside was a kitten. "Precisely what every guy needs ... a little pussy."
An NBC News employee telling a tenant, who also works at NBC, that she will get a promotion over two white co-workers:
"Come on, you're a shoo-in." He reminded her, "Two white guys and a great-looking minority girl with perfect boobs? No contest."
A married tenant named Tina decides to hook up with Ricky and some people ask if they can watch:
Then he saw Tina and smiled. "If it isn't me visiting nurse service." She walked up to him and grabbed his arm. "Come do me." "What a good idea," he said. "Don't mind if I do." One of the women in the living room asked, "Can we watch?" The guy next to her suggested, "Maybe we should film it." "Fuck you," Tina said to them and dragged Ricky back into his bedroom.
An employee of Trump Tower named Antonia talks on the phone with a Broadway actor named Tommy. Both consistently refer to themselves in third person throughout the novel:
"Take off your sweatshirt," he said again. Her hands were trembling. "No." "Yes," he said. "Take off your sweatshirt. She reached for the bottom of her sweatshirt, but all she could do was hold onto it. "No." "Yes." "I can't." "Yes you can. Do as I tell you. Take off your sweatshirt." She tried to swallow, but her mouth was totally dry. "I can't..." "Do it. Take off your sweatshirt. Do as I tell you." She closed her eyes, hesitated, then pulled off her sweatshirt.

"Did you do it?" "Yes." "Now... take off your jeans..." "No..." "Yes. Take off your jeans. Go on." Almost in a trance, she unbuttoned her jeans, opened them, and let them fall to her ankles. "What are you wearing now?" He asked. She kept her eyes shut tight and whispered, "My bra and panties." "Now take off your bra." Her hands were shaking as she reached behind her and did what he wanted her to do. "Yes?" He asked. "Yes," she said and let her bra fall to the couch. "Now take off your panties." She didn't budge.

She moved her hands and touched herself and now her knees were so weak that she couldn't stand up any more, and she fell onto the couch, still touching herself. He kept whispering to her, and she couldn't stop. "Tommy..." she groaned. "Tommy… Antonia wants Tommy..." "Antonia is going to have Tommy," he said. "Tonight. Tommy is coming to Antonia's apartment and Tommy will ring the bell, and Antonia is going to open the door for Tommy, completely naked..."

"Yes," she groaned. "Yes, Antonia?" "Yes... yes... completely naked." "And do whatever Tommy wants." "Yes." She couldn't stop. "Whatever Tommy wants." "Whatever Tommy wants." "Yes... yes," she said it very loudly. "Whatever Tommy wants."
A tenant named Mikey keeps convincing female guests to take off their tops:
Mikey walked up to her. "Don't let Wendy be the only one..." "Who's Wendy?" He pointed to the half-naked woman. "Sharon, over there." "I thought you said her name was Wendy." "The left one is Wendy, the right one is Sharon. What do you call yours?" Laughing, she yanked up her sweater and, bra-less, showed him a small tattoo on the side of each of her breasts. "Left ... and right."

"How cool is that," Mikey said, helping her out of her sweater. "Hey," Joey objected, "this is my new girlfriend."

"No, pal," Mikey insisted, "this woman's left and right belongs to the ages." He took her hand and began parading her around the room, showing everyone her tattoos.
After the woman fell asleep, Mikey came out, looked around and saw there were at least six women not wearing tops. He proclaimed, "I'm dead. I've gone to boob heaven."
Before You Go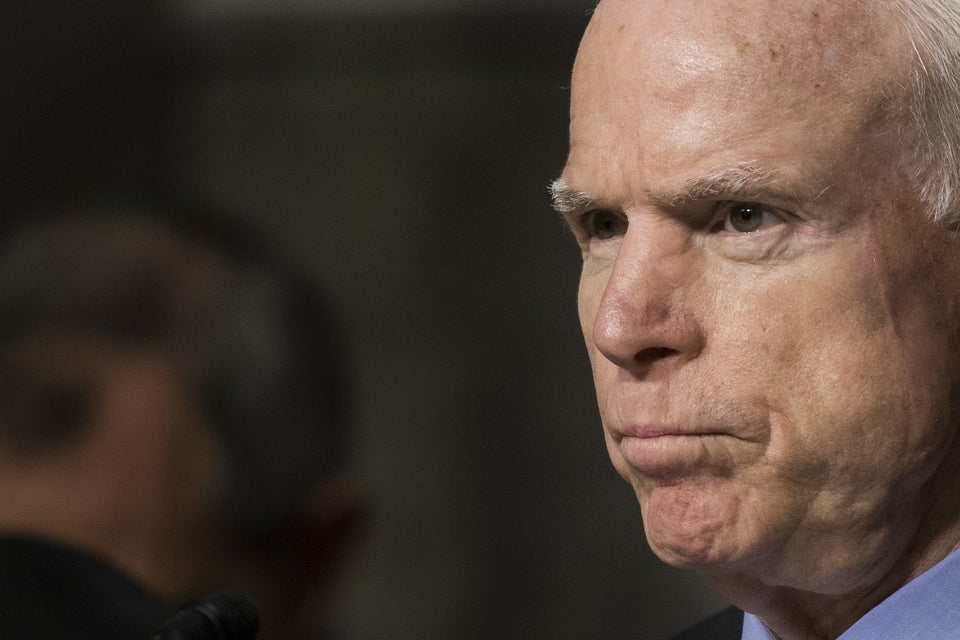 Republicans Who Have Withdrawn Their Support For Donald Trump
Popular in the Community