Donald Trump has denigrated Mexicans and Muslims, threatened to break international prohibitions on torture and shown a shocking disregard for the importance of a free press.
But none of that may be as disqualifying for the presidency as his casual attitude toward the use of nuclear weapons ― particularly in light of a news report from Wednesday morning.
The report came from Joe Scarborough, the host of MSNBC's "Morning Joe," during a segment about national security issues that featured former CIA director Michael Hayden. When Hayden said he knew of no prominent experts working with Trump, Scarborough jumped in:
I'll have to be very careful here. Several months ago, a foreign policy expert on international level went to advise Donald Trump, and three times he asked about the use of nuclear weapons. Three times he asked, at one point, if we have them, why can't we use them? That's one of the reasons he just doesn't have foreign policy experts around him. Three times, in an hour briefing, why can't we use nuclear weapons.
It's just one secondhand account ― and just a few hours later, Trump campaign manager Paul Manafort told interviewers on Fox News that Scarborough's story was all wrong. "The idea that he's trying to understand where to use nuclear weapons?" Manafort asked. "It just didn't happen. I was in the meeting, it didn't happen."
But Scarborough, a former Republican congressman, is as well-connected as anybody in Washington these days. One of his show's regular guests is Richard Haass, the president of the Council on Foreign Relations, who met with Trump at least once, in August 2015.
More important, as The Huffington Post's Igor Bobic points out, Trump's previous statements suggest he is far less reluctant to contemplate the use of nuclear weapons than any other recent president or major presidential candidate.
In a March interview with Bloomberg Politics, for example,Trump was asked whether he would rule out using tactical nuclear weapons against the self-described Islamic State, also known as ISIS. He replied, "I'm never going to rule anything out — I wouldn't want to say. Even if I wasn't, I wouldn't want to tell you that because at a minimum, I want them to think maybe we would use them."
Later, during an MSNBC town hall, he said, "I'm not going to use nuclear, but I'm not taking any cards off the table."
It's hard to overstate how unsettling Trump's posture on nuclear weapons is. Although precise details of launch procedures are classified, the U.S. has a two-person rule in place for the use of nuclear weapons, according to several published accounts. And under this rule, the secretary of defense must confirm a presidential order before it becomes effective. But in a Trump administration, the defense secretary would be a Trump appointee. In theory, that official would have a legal obligation to verify Trump's command.
"In military law and discipline, orders must be followed ― as long as they are legal," Heather Hurlburt, a national security expert at New America, told HuffPost. "So one could easily imagine a President Trump ordering a nuclear strike that military officers thought failed to meet Geneva standards."
"Trump is an elephant jumping up and down on one side of the scale. So damn dangerous."
The drama has played out in movies, usually with an unhinged president launching weapons against the Soviet Union or Russia ― or in response to some kind of false alarm. (Yes, false alarms have happened before.) But to imagine a first strike happening with Trump in the White House, it helps to imagine a different kind of scenario ― say, a terrorist attack somewhere in the U.S.
In the fevered, panicked environment that a homeland incident could provoke, it's not so crazy to imagine Trump ordering a nuclear strike against ISIS targets in Syria ― even though such a strike would, in fact, be crazy.
Probably the most generous interpretation of Trump's statements is that Scarborough's account is somehow inaccurate and that Trump merely intends to dangle the possibility of using nuclear weapons as part of his negotiating technique to intimidate foreign adversaries.
But even musing about the use of nuclear weapons would be profoundly destabilizing, because one of the most important checks on the use of such weapons is the knowledge that no nation that possesses them would actually use them without facing an existential threat.
As Hurlburt told HuffPost in an email:
If you are a government that the US sees as an adversary, the more you think the US might stage a bolt-from-the-blue strike, the more you are incentivized to act first to protect your interests, or to structure your security in ways that would survive and enable retaliation. Which heightens the possibility for misunderstanding and inadvertent conflict. The US and the Soviet Union, and even India and Pakistan, found it to be a wise choice to have nuclear doctrines that were quite transparent and predictable.
Commanders and officers in the field ― the people who would have to drop the bombs or launch the missiles ― are the final check on a president ordering first use of nuclear weapons. One person who knows all about that is John Noonan, who spent nearly four years manning an Air Force missile silo underneath the soil of Wyoming.
On Monday, following Scarborough's comments, Noonan explained why Trump's dalliance with nuclear weapons, however casual, makes him so unfit to be president.
The "idea that nukes would be used, say over Raqqa or Mosul, simply because we have no more allies and it's a simple, easy fix is nauseating," Noonan wrote in a series of tweets. "Simply signaling that you're open to using strategic weapons as a tactical solution rewrites the rule book. Russia, China, others will respond. Nuclear deterrence is about balance. Trump is an elephant jumping up and down on one side of the scale. So damn dangerous."
In a subsequent interview, Noonan noted that some of Trump's other comments ― like saying he would "take out" the families of terrorists ― would demonstrate a willingness to break with conventions about the proper use of nuclear weapons. "Once concern about civilian casualties and collateral damage is out the window," he said, "what's to stop you from launching a couple of B-61 gravity bombs off a pair of F-16s in Syria?"
After Noonan left the military in 2010, he got involved in politics ― as a writer for the conservative Weekly Standard and, later, an adviser to Republican presidential candidates Mitt Romney and Jeb Bush.
He is, in short, nobody's idea of a wimp. And he's scared.
Maybe you should be, too.
Before You Go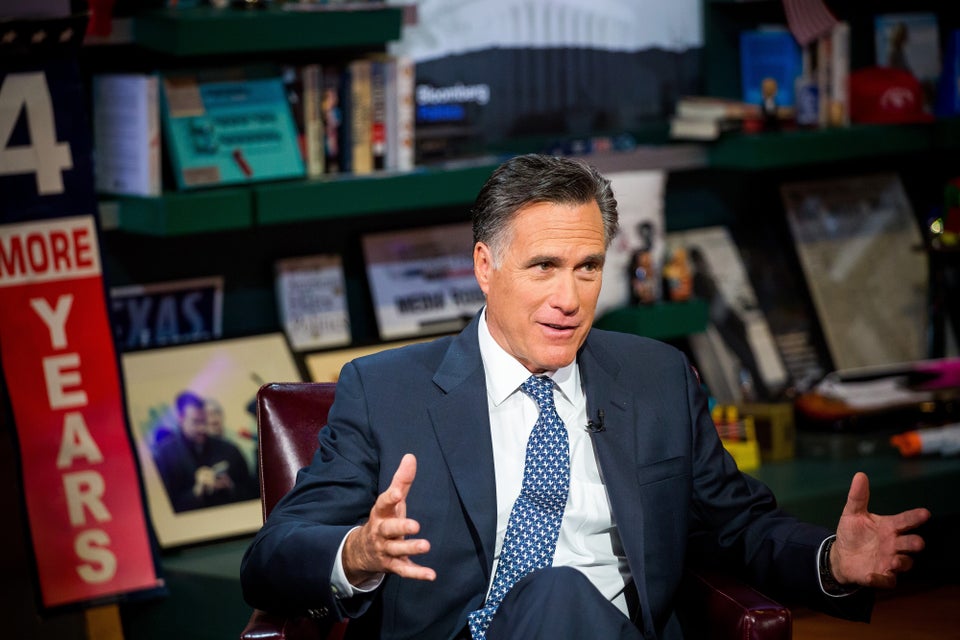 Republicans Who Have Refused To Back Donald Trump
Popular in the Community