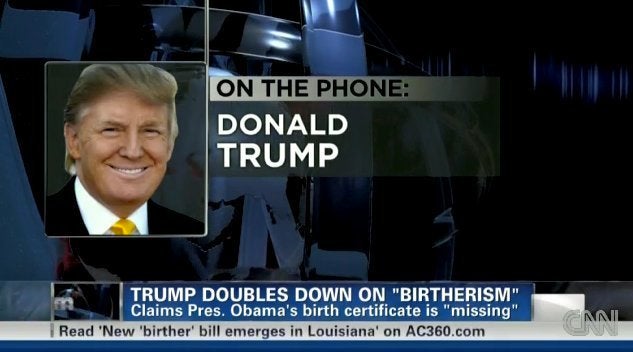 Potential presidential candidate Donald Trump said that President Barack Obama's birth certificate is "missing" during a phone interview that aired on Monday night's edition of "Anderson Cooper 360°" on CNN.
Trump made the suggestion when pressed on an indication he recently made that he has investigators on the ground in Hawaii in search of more information about where the president was born. Here's an excerpt of the exchange:
Anderson Cooper: You've said repeatedly that you have investigators in Hawaii looking into the president's birth certificate that you're looking into it very very strongly, that's a quote. In another interview, you said that your investigators quote can't believe what they're finding. We've had a team in Hawaii, talking to everyone in the state health dept to the school where Obama's mother went, other families who were in the hospital at the same time as when he was born, none of them say they've been contacted by anyone working for you.

Donald Trump: Well maybe they're not saying and maybe they're not contacting the same people Anderson. There's a lot of people in Hawaii. And frankly it's hard to believe he just doesn't issue his birth certificate. It would be so easy to do if in fact he has one. And a birth certificate is not a certificate of live birth, which is a much much lower standard as you know.
When asked to name one person his investigators have contacted in their probe in the Aloha State, Trump declined to answer the question, saying it would not be "appropriate" to reveal such details. He did confirm, however, that he does have a team looking into the matter.
"The birth certificate is missing, I've been told that's it not there or it doesn't exist," he said. "And if that's the case it's a big problem."
Lost in the renewed scrutiny into President Barack Obama's birth records is the fact that anyone can walk into a Hawaii vital records office, wait in line behind couples getting marriage licenses and open a baby-blue government binder containing basic information about his birth.

Highlighted in yellow on page 1,218 of the thick binder is the computer-generated listing for a boy named Barack Hussein Obama II born in Hawaii, surrounded by the alphabetized last names of all other children born in-state between 1960 and 1964. This is the only government birth information, called "index data," available to the public.

So far this month, only The Associated Press and one other person had looked at the binder, according to a sign-in sheet viewed Wednesday in the state Department of Health building. The sheet showed about 25 names of people who have seen the document since March 2010, when the sign-in sheet begins.

Those documents complement newspaper birth announcements published soon after Obama's Aug. 4, 1961 birth and a "certification of live birth" released by the Obama campaign three years ago, the only type of birth certificate the state issues.

Below, video of Trump's remarks.
Calling all HuffPost superfans!
Sign up for membership to become a founding member and help shape HuffPost's next chapter