WASHINGTON ― House Intelligence Committee Chairman Devin Nunes (R-Calif.) conceded on Wednesday that he had found no evidence to substantiate President Donald Trump's claim that former President Barack Obama had wiretapped Trump Tower.
Nunes, a fierce White House ally, told reporters that absent such evidence, he could conclude only that no wiretap had ever been put in place.
If you "take the tweets literally," Nunes said of Trump's tweets on the matter, "then clearly the president was wrong."
One day prior to Nunes' comments, White House press secretary Sean Spicer had said that Trump was "extremely confident" that the Department of Justice would produce evidence to support his claim.
Nunes and fellow California Rep. Adam Schiff, the ranking Democrat on the House Intelligence Committee, sent a letter to the Justice Department last week asking officials to turn over any existing evidence that would substantiate Trump's claim. In the letter, they asked for copies of applications submitted by the Justice Department to the Foreign Intelligence Surveillance Court and any warrants issued by federal courts relating to Trump and his associates. The Justice Department missed the lawmakers' deadline and has asked for more time to respond.
The top two members of the House Intelligence Committee appear to have already made up their minds about the veracity of Trump's tweets ― but they are split on how much it matters.
According to Schiff, Trump's willingness to "make such an accusation without basis" is a national security concern that could limit the country's ability to trust him in a time of crisis.
But Nunes said he believes "the president tweeting is a good thing." When a reporter asked if he'd advised the White House to avoid tweeting things that are not backed up by evidence, Nunes replied, "The American people, for the most part, enjoy it." (They don't.)
"It would be helpful if [the tweets] could be a little more focused," he conceded.
Even though Trump's tweet was "literally" incorrect, the chairman continued, there are legitimate concerns about the intelligence community's surveillance of Americans and subsequent leaks about individuals caught up in probes of possible ties between Trump associates and the Kremlin.
When a reporter asked Nunes if he had seen any evidence to suggest that there had been communication between Trump associates and Russian officials in addition to Russian Ambassador Sergey Kislyak (whose conversations with the president's campaign team have already been reported), Nunes said, "Not that I'm aware of."
Schiff quickly countered, "I wouldn't answer that question quite as categorically as my colleague" ― but declined to elaborate in a public setting.
The House Intelligence Committee has not yet spoken with Michael Flynn, Trump's former national security adviser, who was forced to retire after it was revealed that he misled members of Congress and other White House officials about his conversations with Kislyak, Nunes told reporters. Asked if the committee wanted to interview Flynn, as well as Trump associates Roger Stone and Paul Manafort, the chairman said they were welcome to volunteer information but he didn't plan to "call in witnesses based on just press reports alone."
Nunes must convince Schiff he is committed to thoroughly investigating allegations against his political ally in the White House if Democrats are to attach their names to the committee's findings and not disavow its conclusions as one-sided. The latter scenario would likely spur urgent calls for a broader select committee investigation.
Both congressmen say the committee's investigation has been hindered because they don't have access to a computer system that can easily comb through the classified evidence underlying the intelligence community's January conclusion that Russia had meddled in the election.
The committee will hold its first public hearing related to the investigation on Monday. Federal Bureau of Investigation Director James Comey and National Security Agency Director Adm. Michael Rogers are expected to testify.
The three other witnesses who were invited ― former Director of National Intelligence James Clapper, former CIA Director John Brennan and former acting Attorney General Sally Yates ― are expected to testify at a later hearing on March 28.
This article has been updated throughout to include information about the House Intelligence Committee's investigation.
Before You Go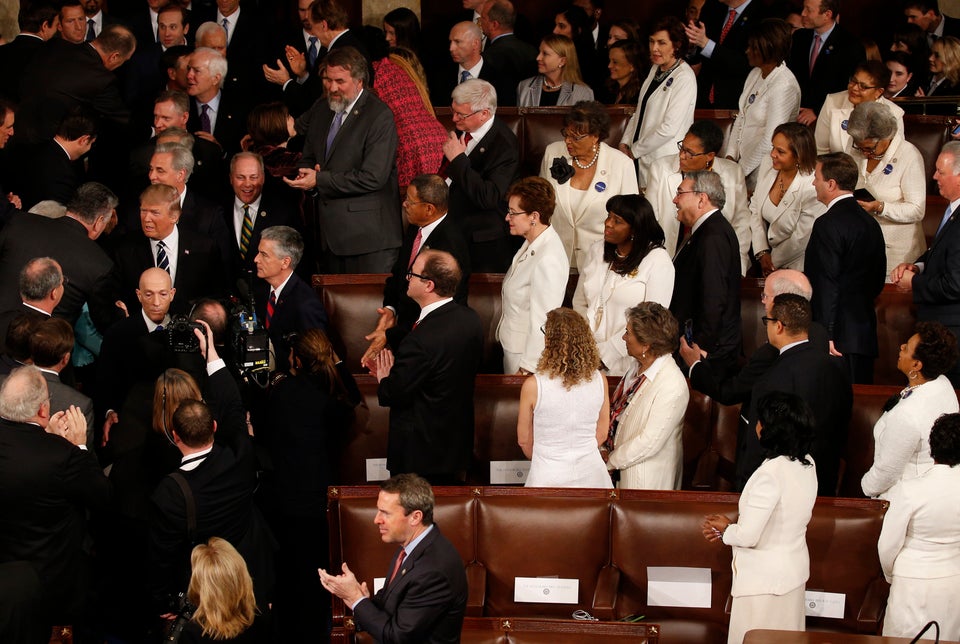 Trump's First Speech To Congress
Popular in the Community