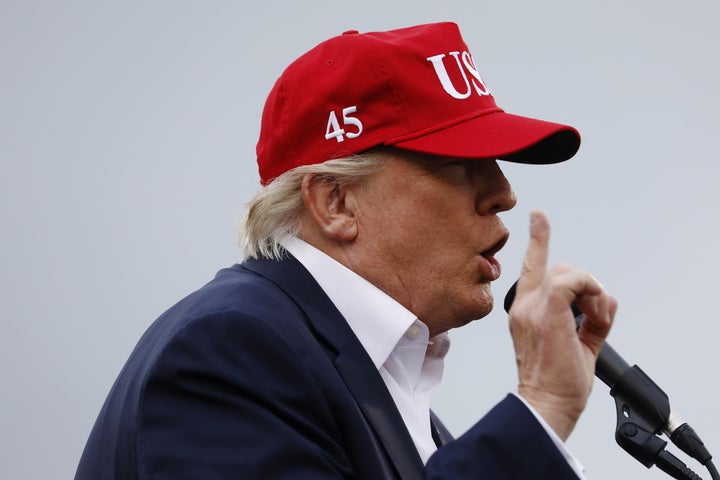 Donald Trump has not held a press conference in 144 days, but he did speak Sunday night to members of the press corps at his Mar-a-Lago estate in Palm Beach, Florida.
We just don't know what he said.
It's not unheard of for politicians and the press to meet socially and agree to off-the-record ground rules in order to speak more candidly. Top advisers to Hillary Clinton's presidential campaign dined privately with reporters just before she got into the 2016 race, and House Speaker Paul Ryan (R-Wis.) did something similar just last week. President Barack Obama has held several off-the-record discussions with influential columnists.
But the decision of journalists to allow Trump to speak off the record after canceling last week's press conference, and on the eve of the Electoral College vote, was particularly tone-deaf and reinforces perceptions that the press still doesn't know how to handle a master media manipulator.
Sunday's cocktail party was especially striking given Trump's overt hostility toward the press, an aspect of his presidential campaign that has not abated since the election. Trump railed against the "very dishonest" press in Mobile, Alabama, just a day before posing with journalists at Mar-a-Lago.
"Shameful," Mother Jones Editor-in-Chief Clara Jeffery tweeted Sunday night in response to photo of Trump, surrounded by reporters, giving a thumbs-up.
"Hard to imagine any possible justification for agreeing to an off-the-record cocktail party with the president-elect," Tim Grieve, McClatchy's vice president for news, tweeted Sunday night.
The Mar-a-Lago party was initially only to feature Trump transition aides, according to a BuzzFeed reporter present. However, Trump arrived and stayed for 30 minutes along with his wife, Melania, chief of staff Reince Priebus, and top aides Kellyanne Conway, Jason Miller and Stephen Miller. Among the attendees were journalists from The New York Times, CNN, NBC News and Reuters.
Though Trump's visit was off the record, photographs were apparently permitted. Mike Allen, the former Politico star reporter who recently co-founded the new media outlet Axios, tweeted photos of the opulent scene that drew criticism and mockery on social media.
"This tweet was the moment I realized the White House Correspondents Dinner will go on as usual," the Los Angeles Times' Matt Pearce said in response to the group photo.
Trump, whose tweets are already breathlessly covered by the news media, may have even less incentive to take questions from the press corps if they're willing to allow him to speak off the record in person.
Though Trump has done some interviews since winning the presidency, including with The New York Times and Fox News, he backed out of a planned news conference on Thursday. Trump had ostensibly called that event so he could address questions about his business ventures and his many looming conflicts of interest. Though he postponed that press conference until at least January, Trump found time over the past week to meet with hip-hop star Kanye West and hold four "Thank You" rallies.
The White House press corps is already bracing for change and reduced access during a Trump presidency. Just hours before journalists posed with a beaming president-elect, Washington Post columnist Margaret Sullivan asked, "As Trump era nears, is the media ready for the challenge?"
The scene at Mar-a-Lago doesn't inspire hope.
This post has been updated with further information about the attendees at Sunday's event.
Popular in the Community