Donald Trump has the least transparent hairdo in the history of this country. There's never been anything like it. Sadly we know very little about the Donald's hair and he has spent millions of dollars on hair products to make sure it stays that way.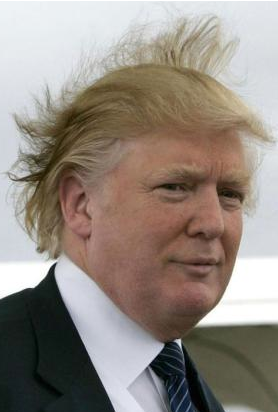 Many Americans have serious questions -- questions that should not be part of the national dialogue. Is it real? Is it a rug? A comb-over? Did the young Donald yearn to be one of the Ronettes or Dusty Springfield? Was he a closet fan of the tribal-rock musical "Hair"? Is his hair really made from Yellow Matter Custard?
It is for this reason that I have a deal for the Donald -- a deal that I do not believe that he can refuse. If Donald Trump agrees (or has his barber or make-up artist agree) to give all of his hairdressing records and dye applications, I will give to a charity of his choice (Therapy for Maniacal Moguls, Assistance for People Suffering from High Self-Esteem, Balder Relief Fund etc) a check for five trillion dollars!. That's a five with twelve zeroes. $5,000,000,000,000.
(That's right. Enough to pay for the entire Mitt Romney tax cut!)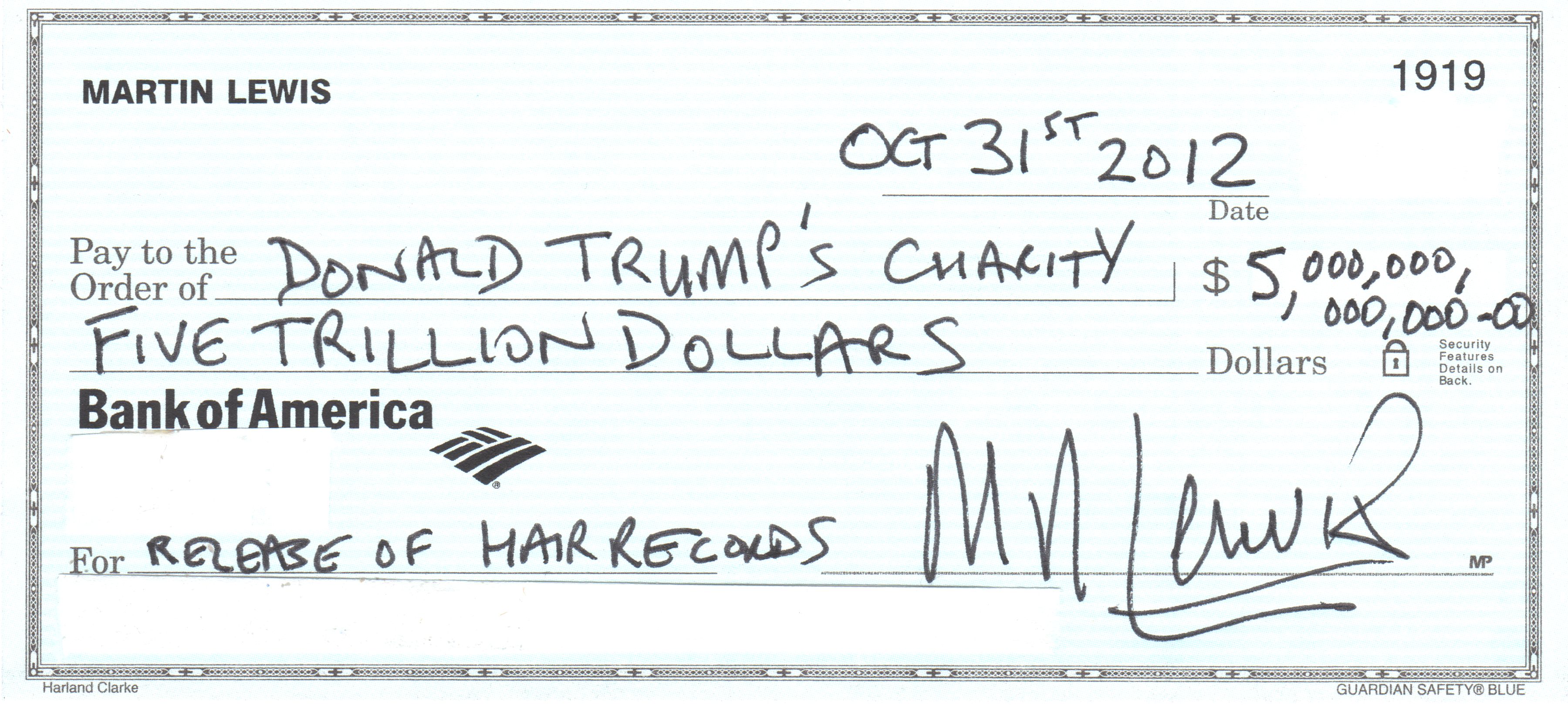 When he does that to my satisfaction, and if it's complete, the check will be delivered immediately. A lot of people will be very, very happy.
Frankly, it's a check that I very much want to write. I absolutely would be the most happy of all if I did in fact make this contribution through the Donald to a charity of his choice. One caveat -- the records must be given by October 31st at 5pm in the afternoon.
(Americans dressing up as Trump for Halloween that night need the information to help them perfect their "Delusional Donald" look.)
So Mr. Trump, not only will I be happy and totally satisfied, but the American people will be happy and the selected charity will be very very happy. Thank you Mr. Trump!
Background on this story
REAL LIFE. REAL NEWS. REAL VOICES.
Help us tell more of the stories that matter from voices that too often remain unheard.