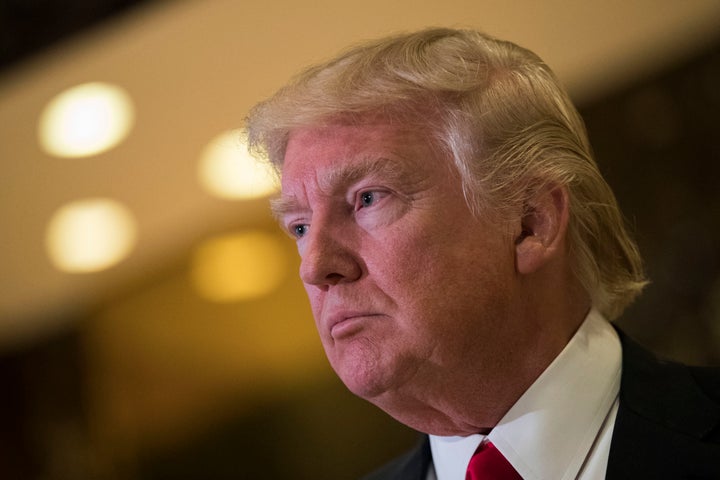 In an interview with CBS News posted on Sunday, Trump said that if he became president, he'd emulate former President Dwight D. Eisenhower's 1954 mass deportation program -- known by the offensive name of "Operation Wetback" -- and would send undocumented immigrants in the U.S. back to their countries of origin.
Trump told journalist Scott Pelley that he'd "round them all up in a very humane way, in a very nice way, and they're gonna be happy, because they want to be legalized."
When Pelley asked the GOP hopeful whether such a mass round up was even possible and what it would look like, Trump replied, "Did you like Dwight Eisenhower as a president at all?"
Seemingly trying to figure out where the conversation was going, Pelley replied, "Well, I wasn't around during Eisenhower's ..."
"But he was a fair man," Trump cut in.
"He was a great American," Pelley agreed.
"He did this with over a million people," Trump responded.
However, many people who have studied the mass deportation program view it as the opposite of "humane." The program expelled Mexican nationals and U.S. citizens, including children forced to leave with their undocumented parents.
"Like usual, he doesn't know what he's talking about," Rodolfo Acuña, professor emeritus of Chicano studies at California State University, Northridge, told The Huffington Post. "It's ridiculous."
Acuña noted that then-Attorney General Herbert Brownell, one of the pioneers of the ramping up of border security that accompanied "Operation Wetback," had once suggested that killing people who crossed into the United States illegally might act as a deterrent.
"Brownell said, 'Just give them some live ammo, let them shoot a few people. Then everyone will be scared and they won't come across the border,'" Acuña said. "Really humane."
At the time, U.S. authorities used trains and ships to send Mexican nationals deep into the interior of the country. "[A] congressional investigation likened one vessel (where a riot took place on board) to an '18th century slave ship' and a 'penal hell ship,'" according to historian Mae Ngai.
"In addition to violating the civil liberties of American citizens via questionable expulsions, 'Operation Wetback' violated the human rights of the people being deported," writes Gilbert Paul Carrasco, a professor of law who focuses on civil rights. "Deportations were characterized by disrespect, rudeness, and intimidation. Reports even mentioned immigration officers 'collecting fares' from persons being deported."

Popular in the Community