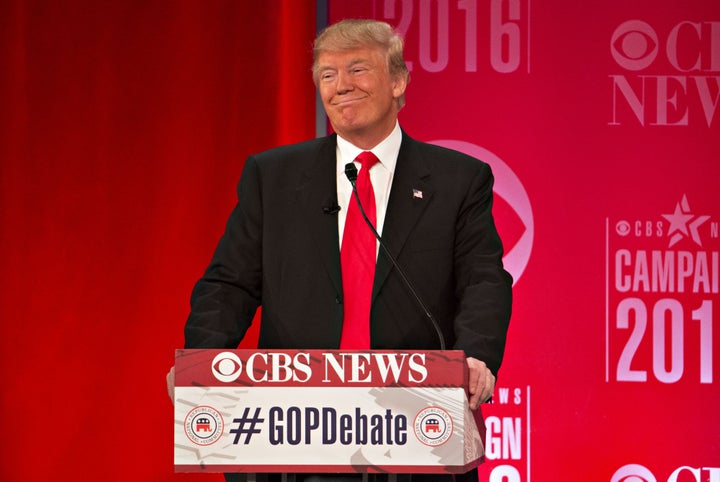 NEW YORK -- On Sunday's "Meet the Press," host Chuck Todd did something too rare in TV news this election cycle: He challenged Donald Trump's persistent claim of being a vocal opponent of the 2003 Iraq invasion.
"None of us have been able to find any instance where before the invasion you came out against this war," Todd told Trump, who has asserted repeatedly on the campaign trail, in several debates and in numerous TV interviews that he was publicly against the invasion.
"If you look at 2003, there are articles," Trump responded. "If you look at 2004, there are articles."
Just hours before Trump's appearance on "Meet the Press," CNN's John King said on "Inside Politics" that he couldn't find any such articles, either.
"Donald Trump repeated again last night in the debate that he was an early opponent of the Iraq war. Simply not the case," King said during a journalist roundtable.
"If you go back and look through time in 2003, before the war, there's no public record of Trump saying 'Don't do this,'" King continued. "There is, in 2004, after the war was going south, he became very vocal in saying Bush was mangling the administration of the war. But he keeps saying that he was out there vocally before the war. Mr. Trump, if there's a public record, send it on in. We'd love to see it. But it doesn't exist if you go looking for it."
Todd and King aren't alone, as several outlets, including this one, have failed to find evidence Trump publicly opposed the war before the March 19, 2003, invasion. His campaign has yet to produce such evidence.
The Huffington Post reported in September that there was no support for Trump's claim and noted that a Reuters article the real estate developer frequently cited to back up his assertion was published in July 2004 -- more than 16 months after the U.S invaded Iraq. But Trump's claim continued to go unchallenged in TV interviews, as HuffPost pointed out the following month.
On Saturday night, Trump claimed for at least the fourth time during a Republican debate this cycle that he was against the Iraq invasion.
"I'm the only one on the stage that said, 'Do not go into Iraq. Do not attack Iraq,'" Trump said. "Nobody else on this stage said that. And I said it loud and strong. And I was in the private sector. I wasn't a politician, fortunately. But I said it. And I said it loud and clear."
It's true that Trump said at a 2003 Oscars party shortly after the invasion that the war was a "mess." And he was a vocal critic of Bush in the summer of 2004.
But Trump's remark in September that there were "25 different stories" backing up his Iraq War opposition, and Saturday night's contention that his criticism was "loud and clear" before the invasion, are unfounded.
Despite fact-checks being available for months, TV interviewers -- who've had dozens of opportunities to challenge Trump's persistent claim -- largely failed to do so.
CNN's Jake Tapper appears to be only TV journalist who previously raised the issue directly, though Trump didn't acknowledge any inconsistency.
TRUMP: No, no, no. You don't make that kind of success without judgment. Don't forget this, I was against the war in Iraq. I told everybody. You have all the documents.

TAPPER: Back in 2004?

TRUMP: In 2003 and 2004.

TAPPER: I couldn't find anything in 2003.

TRUMP: I was against going into Iraq. That's good judgment. I was for bombing the oil before anybody else thought about it. That's good judgment. I have great judgment. I would say I have far better judgment than Ted and I think I have a really great temperament. It's a strong temperament. When they chop heads off of Christians in the Middle East, and other people also, when they chop off heads and when they treat people the way -- we're like medieval times, having a strong temperament is good.
While it's good to see Todd raise the issue with Trump directly on "Meet the Press," the Republican candidate again made the same unsupported claim on another Sunday show.
Trump told ABC News "This Week" host George Stephanopoulos that he was "the only one on the stage who said, 'Don't go into Iraq.'"
The host didn't follow up.
Related
Popular in the Community